Product Description
Details
More Colours Available:


Key Features:
- Belt-driven
- Anti-resonant sub-platter design
- Heavy 8mm, zero-resonance blasted-glass platter
- Precision CNC'd heavy full chassis: NO hollow spaces, NO plastic
- Ortofon OM5e moving magnet pickup
- 8,6" highly precise and light aluminium tonearm
- Low friction, vibration free tonearm bearing
- One-piece tonearm design with integrated headshell
- Super shielded, semi-symmetrical, low-capacitance phono cables - purpose designed by Pro-Ject
- Vibration absorbing feet
- Elegant dustcover with adjustable hinges
- Available in High-Gloss Black, Matt White and Walnut
- Hand-made in Europe
Pro-Ject T1: A New Generation of Turntable
The T1 from Pro-Ject Audio Systems is the first T-Line turntable, aiming to deliver true high-fidelity sound on a limited budget. Boasting premium materials, stylish ae- sthetics and a rich, lively sound, the extensive develop- ment process has ensured that there has been no com- promise in the sound performance when achieving such an affordable price.
The stylish CNC-machined plinth, available in High Gloss Black, Satin White or Walnut finish, features no plastic parts and is carefully manufactured to ensure there are no hollow spaces inside, therefore avoiding unwanted vi- brations within the chassis.
Superb build-quality, stylish looks and audiophile sound Precision CNC'd plinth and heavy zero-resonance glass platter
Carrying this philosophy through the design, the glass platter is also a heavy, zero-resonance design – again avoiding the flaws of plastic or lightweight steel alterna- tives. Finally, the purpose-chosen turntable feet also do a good job of isolating the T1 from ambient vibrations around your hi-fi system.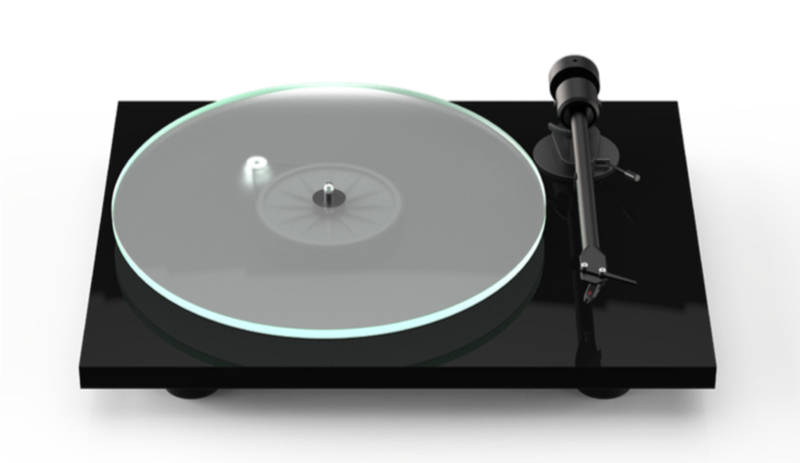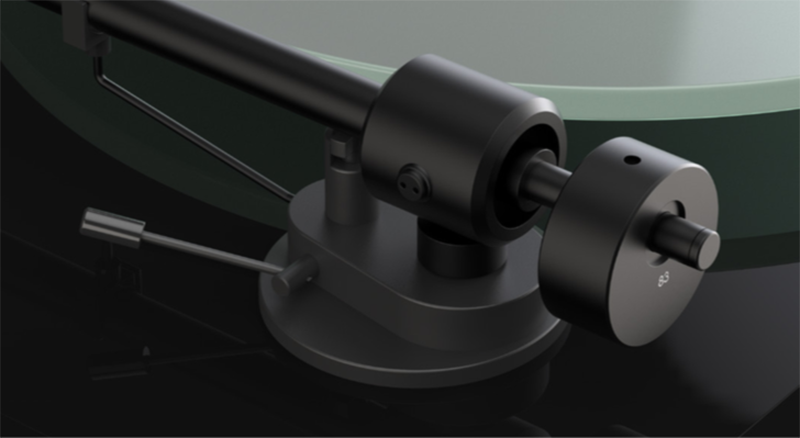 Pushing Audiophile Design to a new
Affordable Level
In the T1, the motor drives a belt-system, attached to a newly designed sub-platter, which is mounted into an ul- tra-precise 0.001mm main bearing with a hardened steel axle and brass bushing – just like our coveted Essential III turntables.
Ultra-precise motor and sub-platter design Lowest noise with immaculate speed stability
Alongside the chosen motor system, the T1 is therefore able to ensure a smooth, anti-resonant rotational plat- form for the tonearm and cartridge to ride across.
One-piece aluminium tonearm
Robust and stiff construction for pure sound fidelity
The tonearm on the T1 is a new model, based on previous Pro-Ject designs. With its straight, 8.6" effective length and stiff aluminium construction, this one-piece tonearm also features low-friction bearings for absolute accuracy in use. Besides the clean and stylish looks, the integra- ted headshell won't cause any additional vibrations eit- her, and is a big improvement over other detachable, screwed-on or glued-on headshells!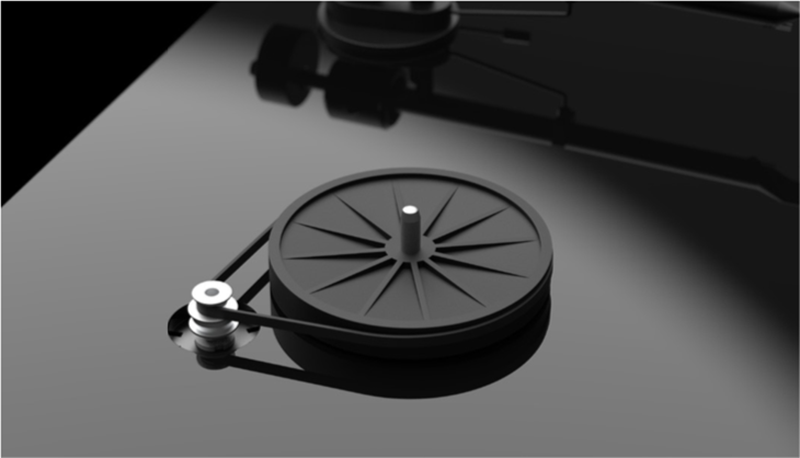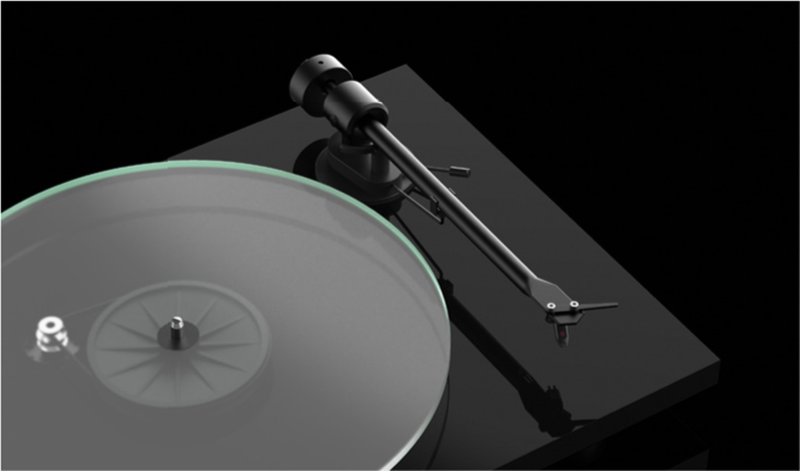 Supplied with an Ortofon OM 5E Moving Magnet cartridge - featuring an elliptical diamond stylus tip; this is a true
hi-fi playback system with no corners cut.
The T1 is then finished with super shielded, semi-sym- metrical, low-capacitance phono cables, purpose-desi- gned by Pro-Ject – not off-the shelf RCA cables. There is also a dust cover for extra protection and a felt mat to protect your records.
The T1 is a new affordable marvel. Still made in Europe by a turntable factory with decades of experience, it is a true hi-fi turntable that looks and sounds sublime.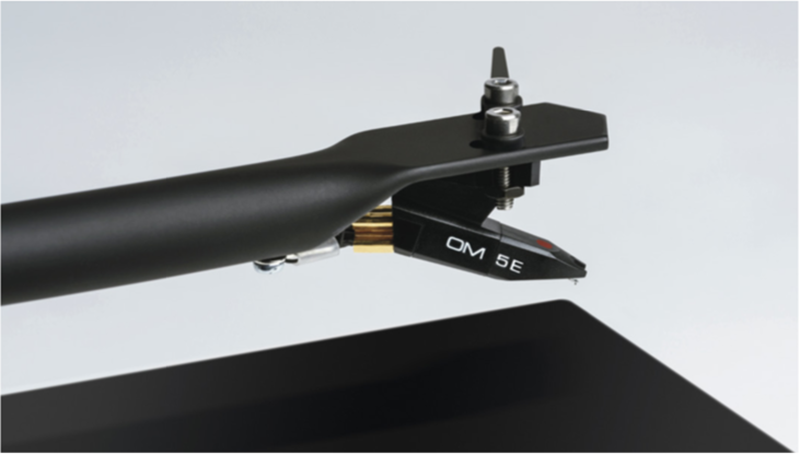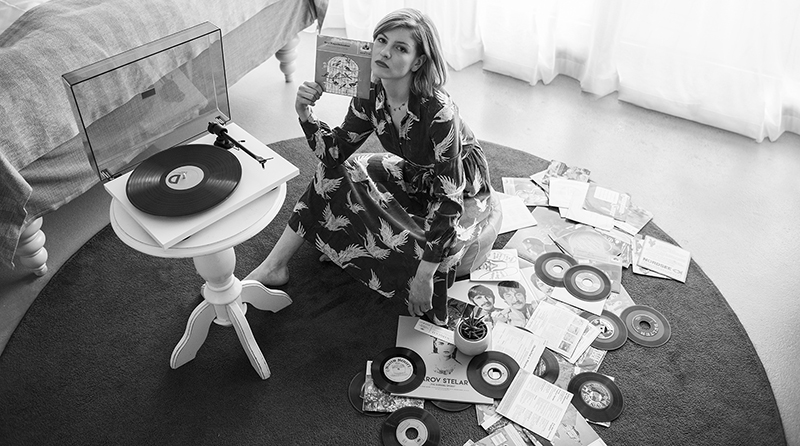 Features
Specifications
Features

SPECIFICATIONS

Speed:
33 / 45 RPM manual speed change (except T1 Phono SB)
Principle:
Belt drive
Speed Variance:
33: 0.70%
45: 0.60%
Wow & Flutter:
33: 0.25%
45: 0.23%
Platter:
Heavy 8mm, blasted-glass platter with felt mat
Main Bearing:
Stainless steel/brass
Signal to noise:
65dB
Tonearm:
8.6" aluminium
Effective arm length:
218.5 mm
Overhang:
18.0 mm
Effective Tonearm Mass:
8.0g
Counterweight for mass:
5 - 10g (pre-mounted)
Tracking Force Range:
0 - 50mN (pre-set to 17.5mN for OM 5E)
Output:
T1: Phono level only, captive RCA leads
T1 Phono SB: Switchable phono/line level, RCA leads
T1 BT: Switchable phono/line level or BT, RCA leads
Included Accessories:
Dustcover, feltmat
Power Supply:
T1: Captive UK mains lead
T1 Phono SB: Detacahable power supply
T1 BT: Detachable power supply
Power Consumption:
3W Max
Dimensions (W x H x D):
415 x 100 x 335 mm
Weight:
3.8kg (net)
Delivery
Due to the current Covid-19 restrictions - there may be delays of up to 48 hours to our estimated delivery times.

How will you send my item?
We ship to addresses within the UK using Royal Mail and DPD couriers.


How much does delivery cost?
Standard 2-3 working day delivery is FREE on all orders to mainland UK. Next working day courier service is available on all orders for a small fee of £4.99. On some items this is provided for FREE.
For orders to UK Non-mainland and International destinations, there will be an additional charge at checkout. Please see below for more information.


How long does delivery take?
Depending on the delivery service you choose, delivery usually takes between 1-3 working days to mainland UK from the moment we despatch your order. Orders to UK non-mainland and international destinations can take longer.


When will you despatch my order?
Orders placed before 4pm are processed and despatched the same day (excluding bank holidays and weekends). Orders placed on weekends will be processed and despatched the following working day.
*Please note that international orders may require extra checks before we are able to despatch your order so timescales may vary.
Can I track my delivery?
Yes - Order tracking is offered as standard on all items, whether they are shipped via DPD or Royal Mail. You will receive your tracking information via email once we have despatched your order.


UK Non-mainland and International destinations.
Due to the UK leaving the EU, some of our delivery partners have changed the way we ship to international and offshore destinations. This means that for the time being we are unable to ship items to these locations.
We are still accepting orders to these destinations however delivery times and prices are not final. We will confirm via email once we know more from our delivery partner.
Shipping for all items to UK Non-Mainland and International destinations will incur a charge at checkout. This charge is not final and we may need to charge for additional postage if required.
Shipping to international destinations may require further security checks and I.D. may need to be provided by the cardholder. We reserve the right to cancel any orders where you are do not pass our security checks or do not pay for appropriate postage.
Please note that we are unable to ship some items outside the UK. To avoid any disapointment please contact us before making your order.


What do you class as UK Non-mainland?
Rep. Ireland, N. Ireland, Channel Islands, Jersey, Guernsey, Isle of Wight, Isle of Man and Scottish Highlands. If you are unsure whether your address is classed as UK Non-mainland please feel free to contact us and an advisor will be happy to help.


For any further enquiries with regards to your delivery please contact us on 020 8813 7666 and one of our adviser's will be happy to help.
Returns

If you're not happy with your item or you've changed your mind.
Even though we're sure you'll be happy with your purchase, it's important that you are aware of how we deal with returns in the event that you need to send something back.
We understand how inconvenient it can be when you buy a product and aren't 100% satisfied with it. For this reason we have designed our returns policy to prevent any further inconvenience to you in these instances.


Under 14 days
You can return your goods for a full refund or exchange as long as you inform us of your intention to return the goods within 14 days of receipt, starting from the day after you receive your goods (Exclusions apply, see below.)

All return costs are down to the buyer and it is recommended that you return your items using a trackable method with appropriate insurance (if required).

Once we have confirmed your return, please ensure that you return the item within 14 days.

If a returns number is provided then please ensure that the parcel has this clearly marked.

Items need to be returned in "as new" condition in their original packaging. We don't mind if you open the product to check it, however any used or damaged products will be subject to a 25% handling fee so please take care when opening your items.


After 14 days
We will not offer a refund after 14 days of you receiving your delivery unless your product is faulty.


Exclusions from our returns policy
As we're sure you'll understand, there are some products that we can't offer returns on due to their nature. These include:
Special order items and cables cut from a reel (priced per metre). These items will be clearly identifiable.

In-Ear headphones due to health and hygiene reasons.

Products that include software which require activation.
Please note that these exclusions do not apply to items that become faulty.


If your product becomes faulty
We endeavour to get your items to you in fully working order, however in the event that your items do become faulty, please read below on what you should do next.
In a lot of cases with some products, faults can be fixed by performing some basic troubleshooting, so to prevent any further inconvenience to you we advise that you contact our Customer Service team who can guide you through some basic troubleshooting before sending items back.


Under 28 days
If your items become faulty within 28 days of delivery you are entitled to a full refund or exchange. Please contact our customer service centre who will provide necessary returns details.

Please send the items back with a cover note including a description of the fault and your original order number.

Once we have fully tested the item and confirmed the fault, we will process the refund or exchange including cost of carriage back to us (within reason).

If during our testing we cannot find a fault, no refund will be given and you will be charged for delivery of the item back to you.


After 28 days
After 28 days you will still be able to get your faulty items repaired or replaced within the manufacturers warranty and we will be happy to assist you with this. Please contact our customer service team to find out the best way to get your items repaired or replaced. Please be aware that after 28 days we will not cover you for any carriage costs.
You may also be interested in the following product(s)