Sonos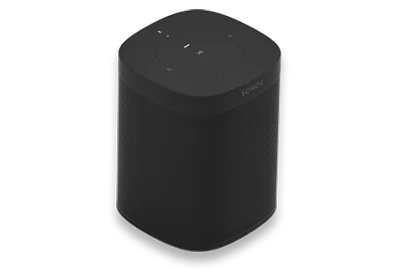 One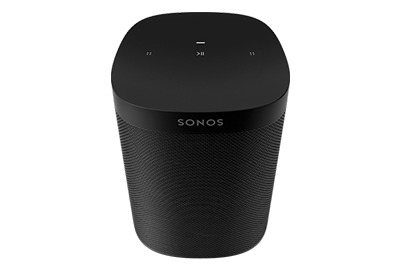 One SL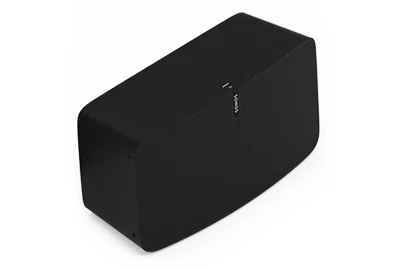 Play:5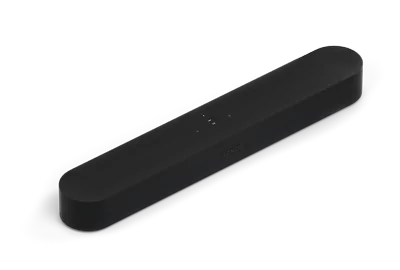 Beam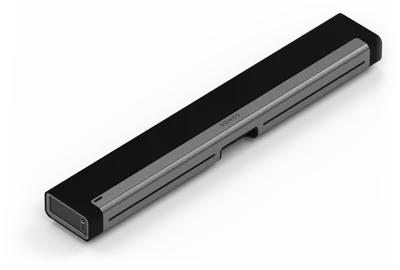 Playbar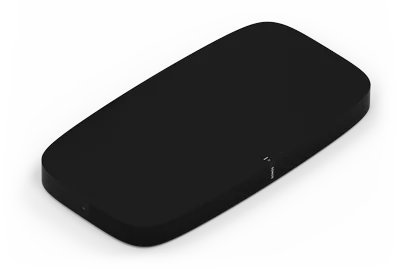 Playbase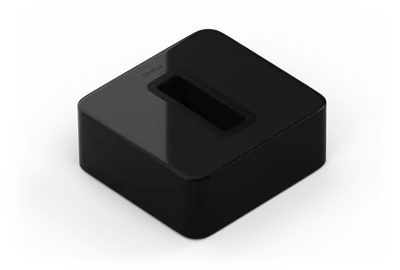 Sub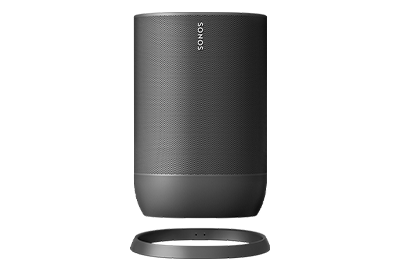 Move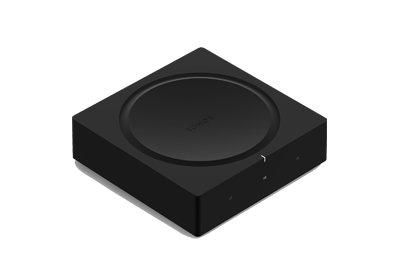 Amp
One
One SL
Play:5
Beam
Playbar
Playbase
Sub
Move
Amp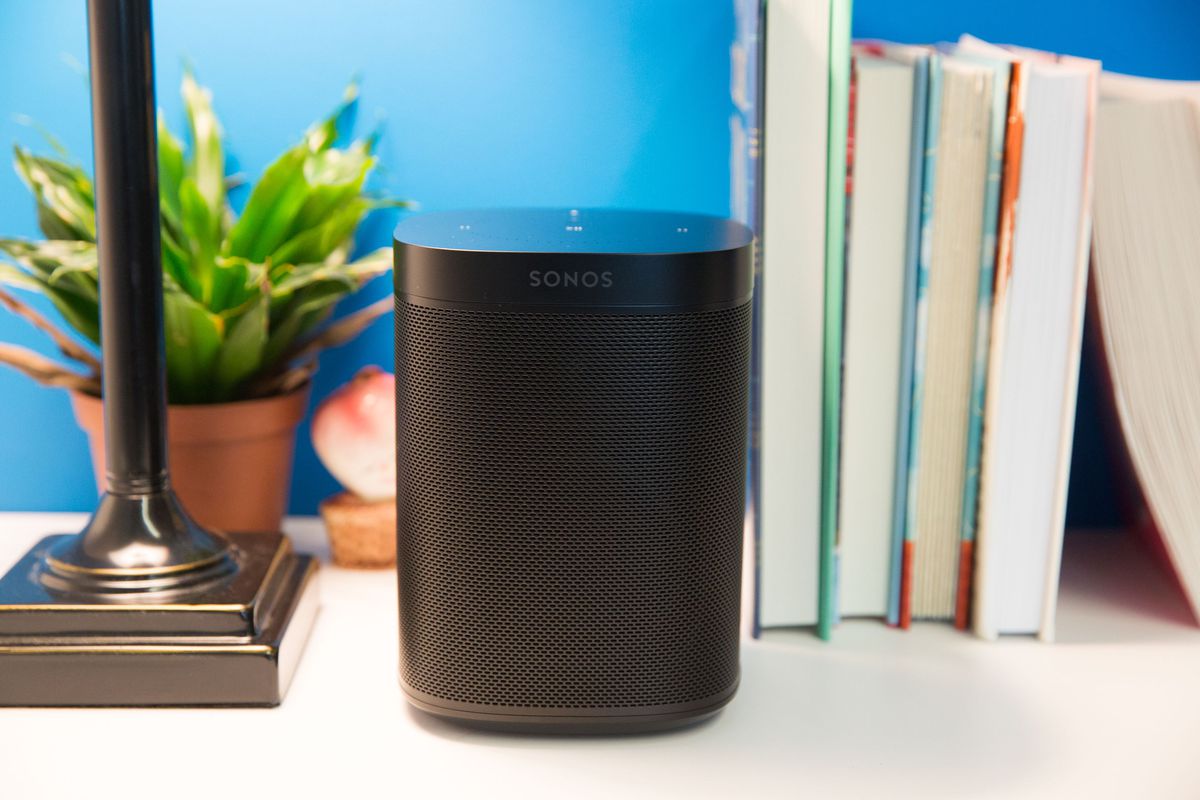 Sonos One
The smart speaker for music lovers. Sonos One with Amazon Alexa built in.
Sonos One blends great sound with Amazon Alexa, the easy-to-use voice service, for hands-free control of music and more. Use your voice to play songs while you cook. Tell Alexa to turn up the volume while you're in the shower. Or even request a lullaby when you're tucking the kids into bed. Sonos One connects with the Amazon Alexa voice service easily over Wi-Fi. Just set up the speaker, select the Sonos skill in the Amazon Alexa app (available on Fire OS, Android and iOS), and you're all set to play music, get news and answers, manage your smart devices, and enjoy other Alexa skills using nothing but your Sonos One.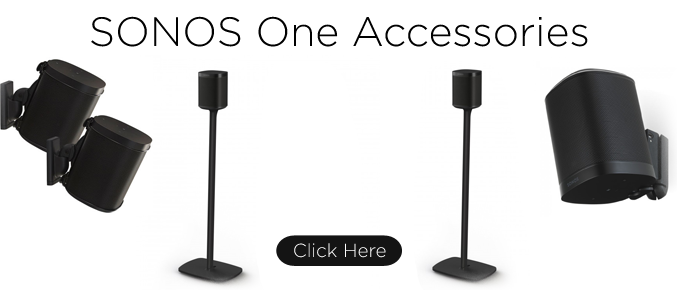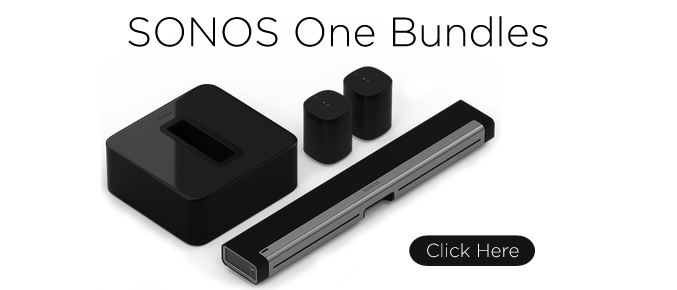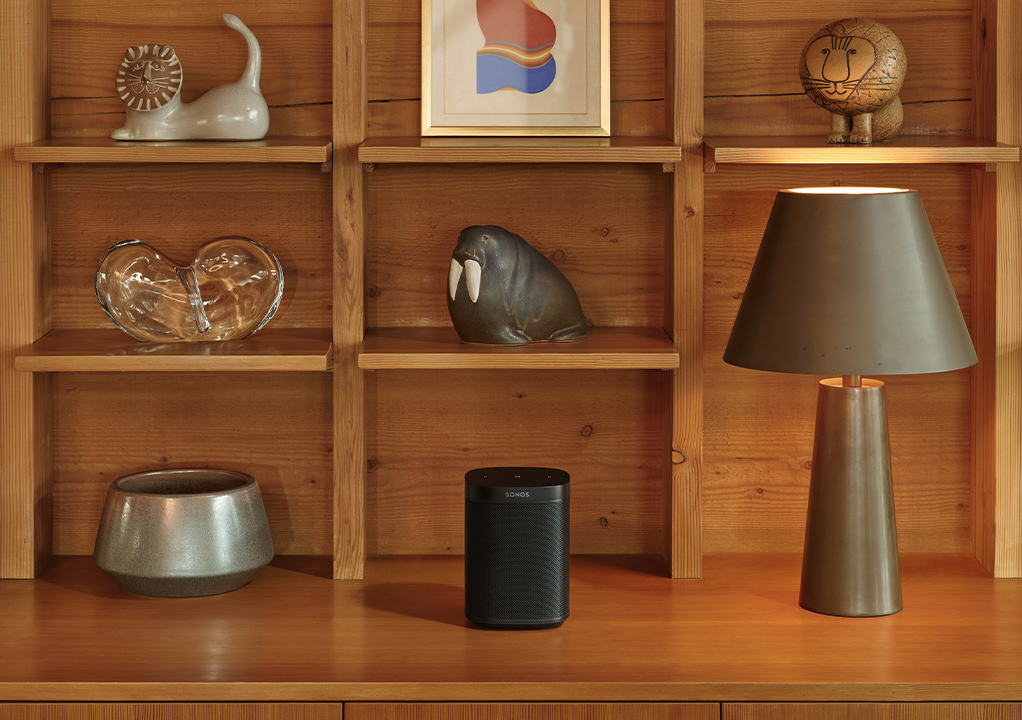 Sonos One SL
The powerful microphone-free speaker for music and more.
Get rich, room-filling sound with Sonos One SL, and control it with the Sonos app, Apple AirPlay 2, and more.
The compact design fits just about any space. Put it on your kitchen countertop or tuck it away on your office bookshelf.
Pair with Sonos One or another One SL in the same room for stereo separation and more detailed sound. Use a pair as rear home cinema surrounds with Playbar, Playbase, or Beam.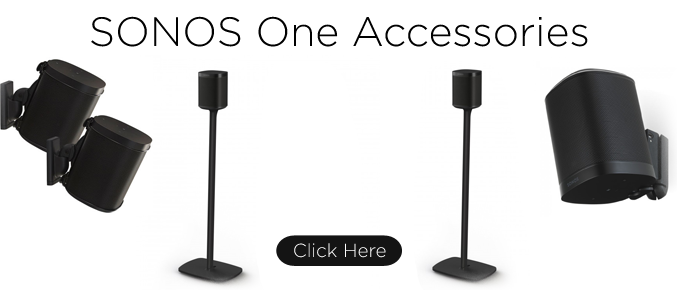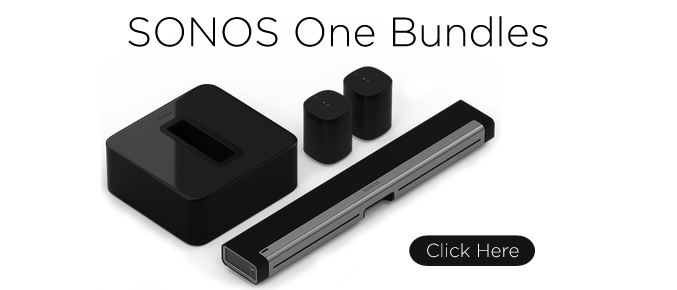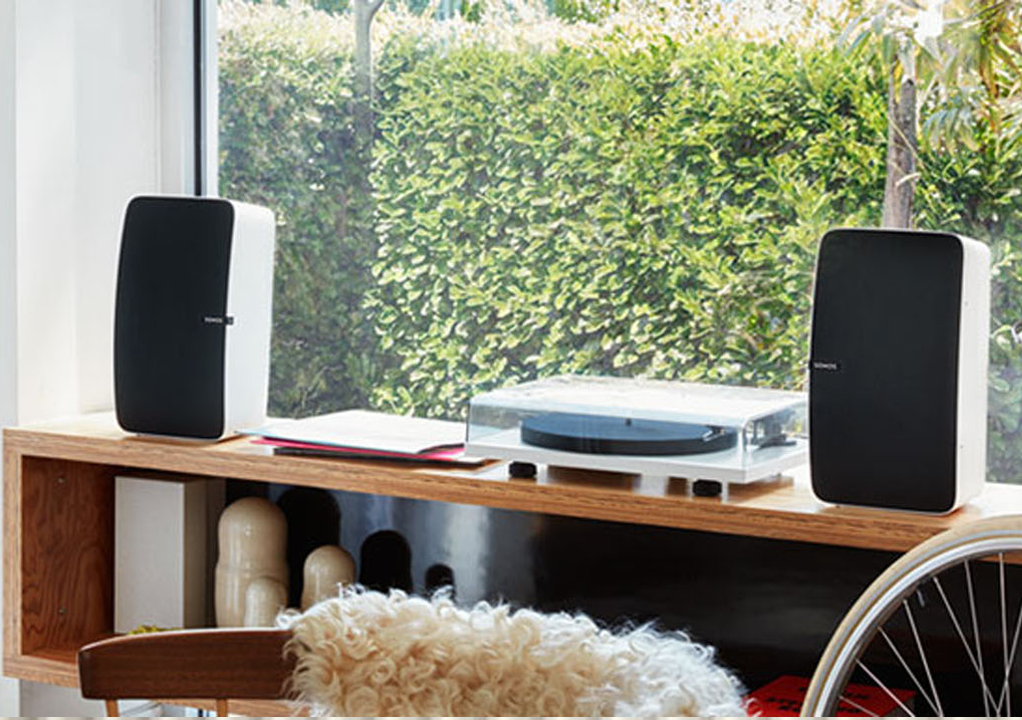 Sonos Play:5
Our biggest home speaker with the boldest sound.
Sonos PLAY:5 is the ultimate smart speaker; it fine tunes sound to bring you energy and emotion, just as the artist intended. Streaming your favourite songs just got easier, more immersive and more satisfying.
Connecting you to the music you love are three smartly synchronised mid-woofers and a trio of tweeters. Each with a dedicated amplifier, these components have been perfectly tuned to match the speaker's and acoustic architecture. The result? You'll hear and feel all the emotion and energy which was packed into the original recording.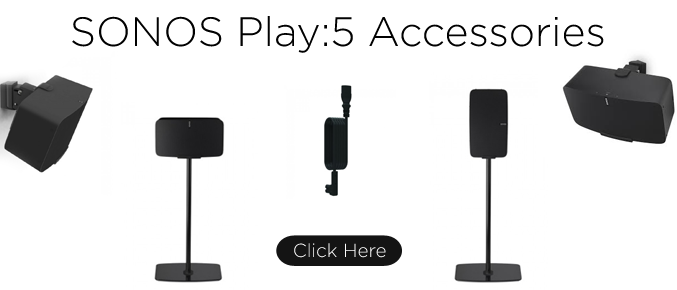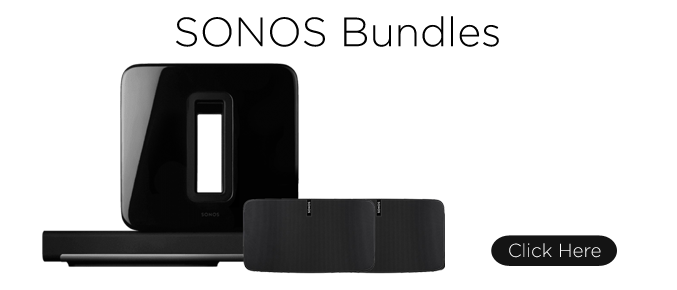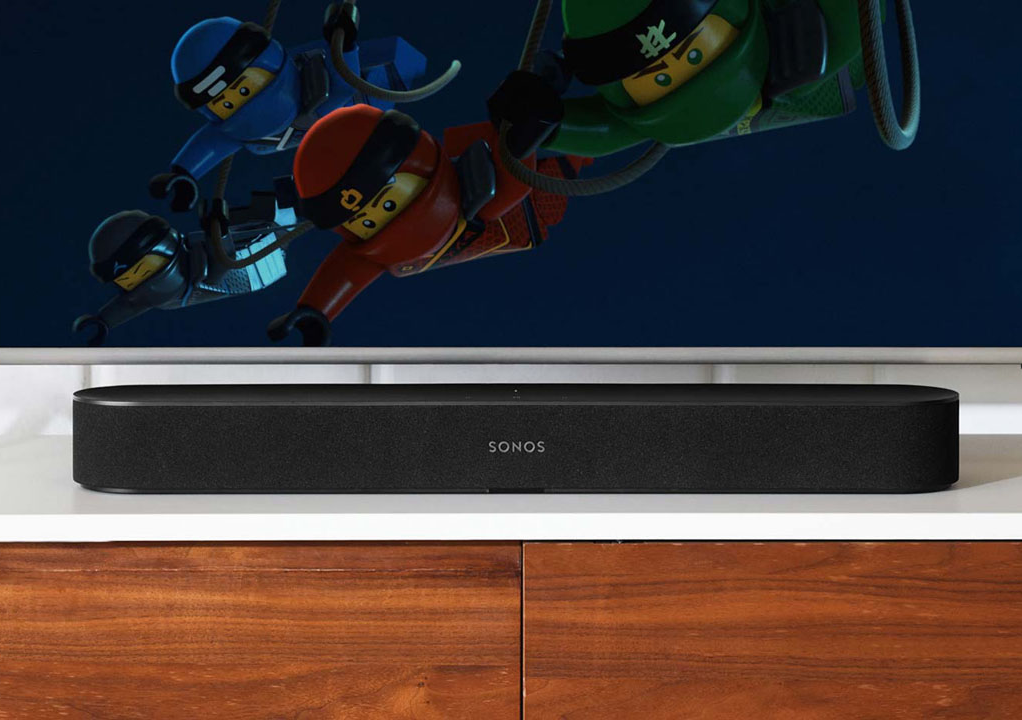 Sonos Beam
The smart, compact soundbar for your TV
The Sonos Beam Sound Bar lets you experience incredible sound while streaming music, watching TV and films, enjoying podcasts and audiobooks, or playing computer games. And all with voice control thanks to Amazon's Alexa.
Five far-field microphones detect your voice from any direction, anywhere in the room, even when the music is blasting.
Sonos Beam connects with the Amazon Alexa voice service easily over Wi-Fi. Just set up the speaker, select the Sonos skill in the Amazon Alexa app (available on Fire OS, Android and iOS), and you're all set.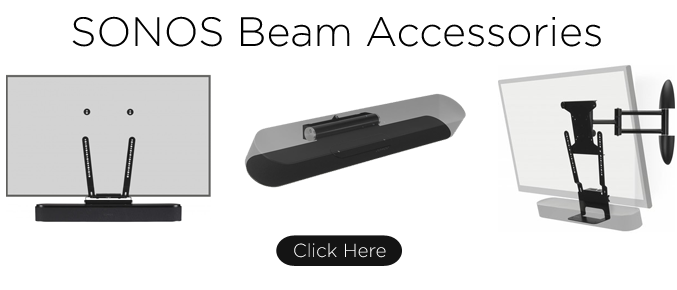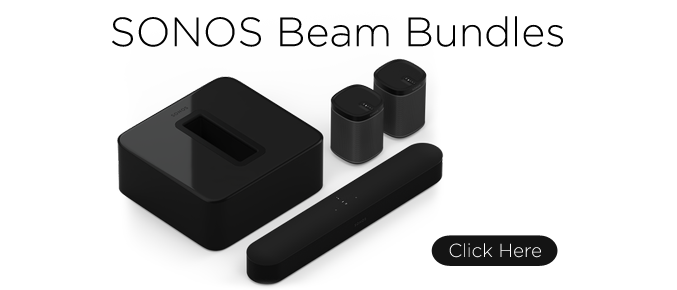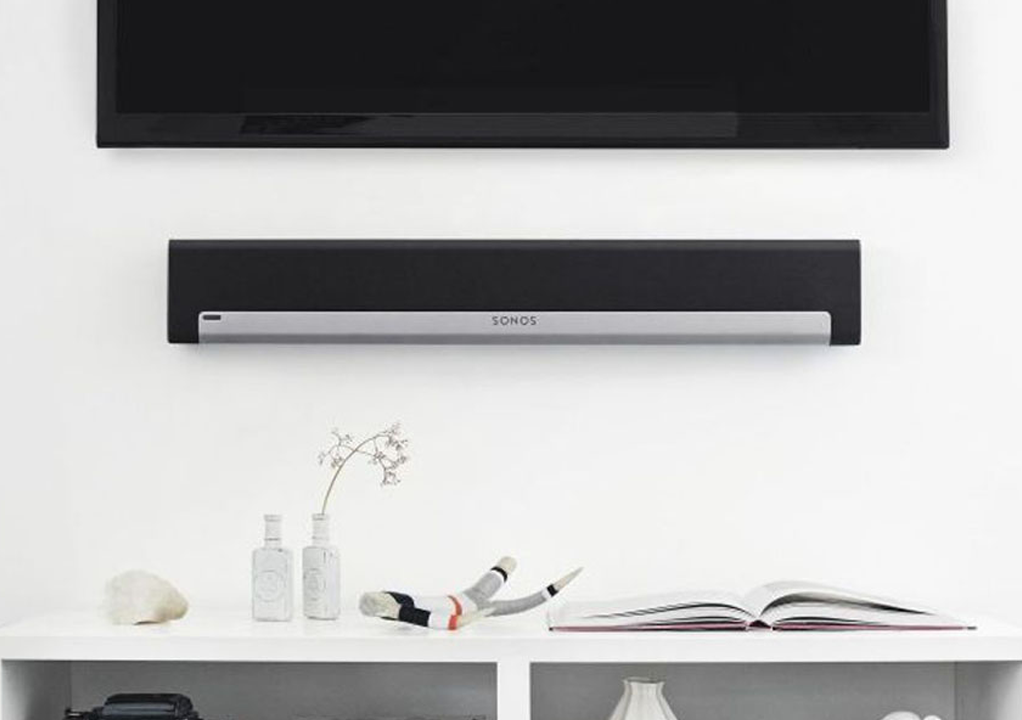 Sonos Playbar
The home cinema soundbar and music streaming speaker in one.
Bring Sonos quality sound to your games, movies and TV programmes with the Sonos Playbar sound bar. Immersive nine speaker design teases exceptional levels of detail from soundtracks and music. It's also ready to go with dual band N Wi-Fi, that guarantees simple, interference free wireless audio playback throughout the home.
Ready to drop into your existing Sonos wireless music setup. Get wireless, Hi-Fi sound in every room by streaming your iTunes library, your favourite music services like Spotify and Napster, and more than 100,000 free Internet radio stations, podcasts and shows from across the globe.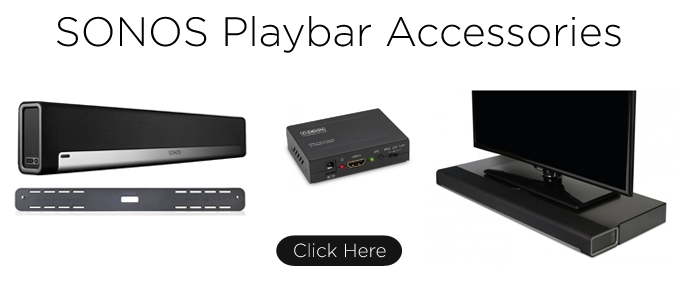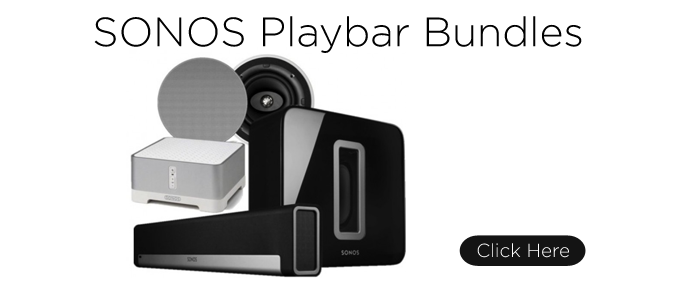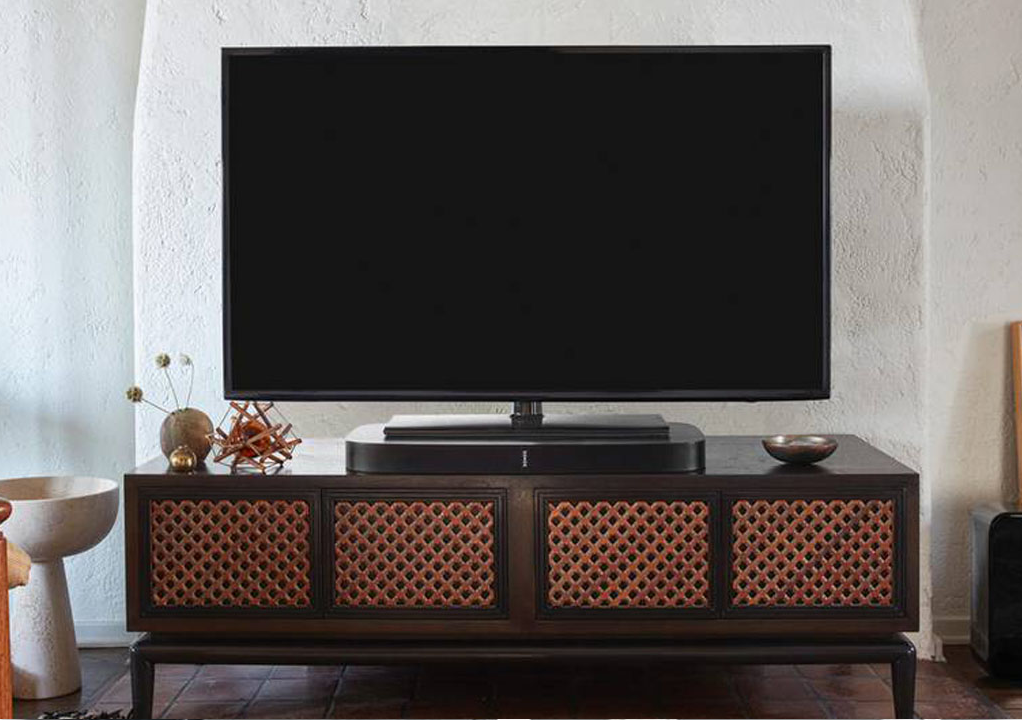 Sonos Playbase
All-encompassing sound and music streaming for TV's on stands and furniture.
Make everything on your TV sound awesome with the Sonos Playbase. Whatever you are watching gets an exceptional audio treatment through this mighty 10-speaker unit. And it can stream music direct from the internet when the TV's off. Built to sit neatly underneath the TV, it can support a TV with its own stand of up to 35kg. Slip it into your existing Sonos set up, or add additional Sonos speakers to pump the sound throughout the home. Whether films, games, programmes or your favourite tunes, the Playbase will ensure it all sounds simply stunning.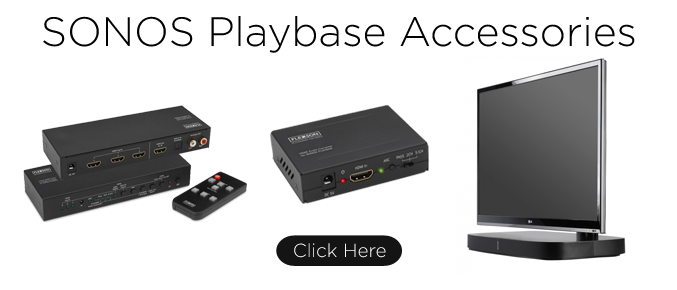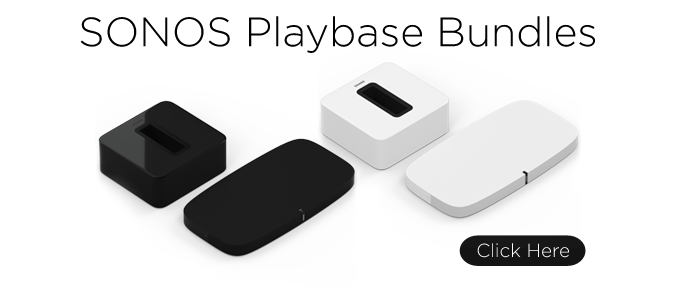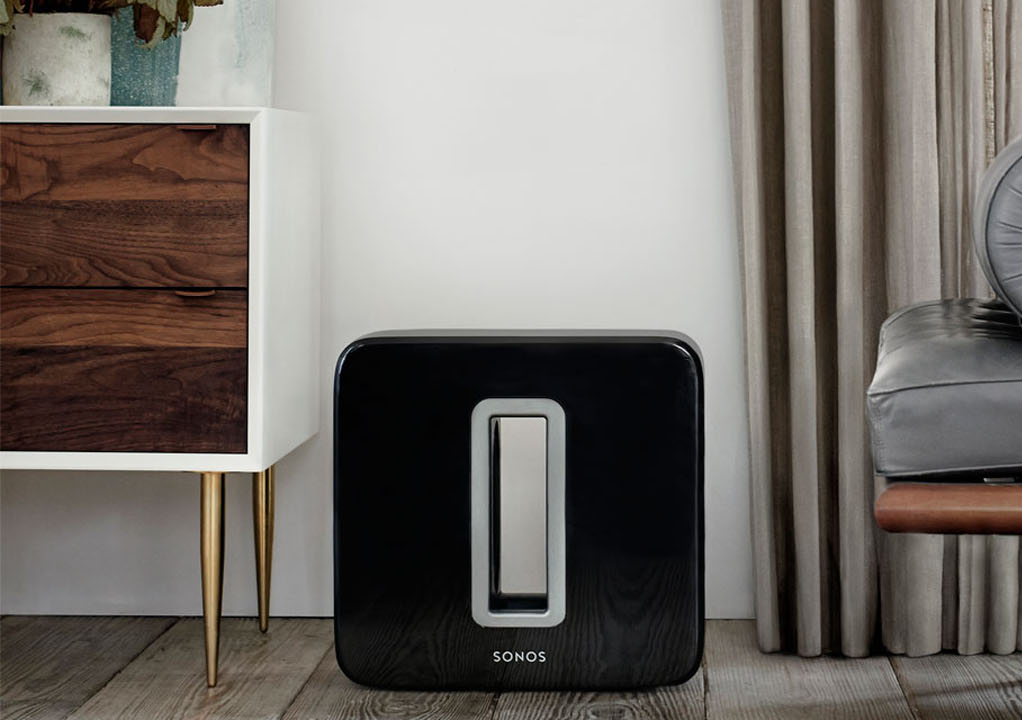 Sonos Sub
Powerful, deep-impact bass for your home cinema and music.
Push your Sonos music system to the limit with the addition of the SUB wireless subwoofer. This compact unit will add a completely new layer of richness to your listening with deep, rumbling bass that you'll feel, as well as hear. Engineered for easy setup and vibration free sound, you'll be enjoying premium, fuss-free sound straight out of the box.
Dual force-cancelling speakers - positioned face to face - direct the sound and force of the music for clearer listening, with no cabinet buzz or rattle.
No wiring. No programming. Press one button, follow the simple prompts and the system automatically adjusts audio settings to perfectly balance your SUB and the paired Sonos system for a flawlessly optimised, whole-room listening experience.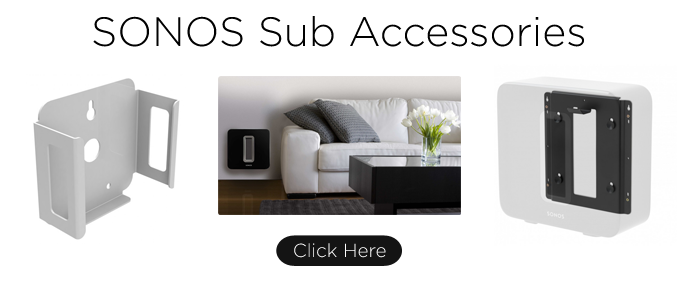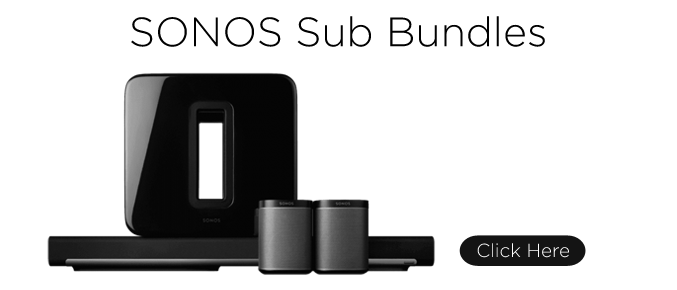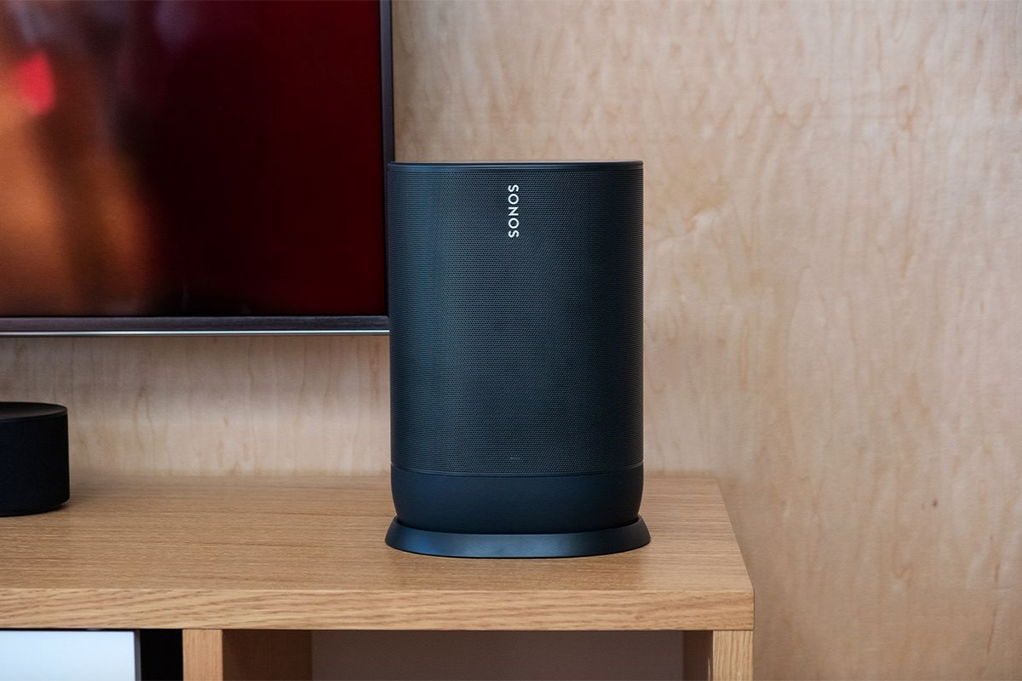 Sonos Move
The durable, battery-powered smart speaker for outdoor and indoor listening.
Get brilliant sound anywhere with the weatherproof and drop-resistant Move. Control with your voice, the Sonos app, and Apple AirPlay 2 at home, and stream via Bluetooth when WiFi isn't available.
Experience surprisingly deep bass, a wide soundscape, and automatic Trueplay™ tuning that perfectly balances the sound for where you are and what you're listening to.
The Google Assistant and Amazon Alexa are built right in so on WiFi you can play music, check news, set alarms, get your questions answered, and more, completely hands free.
No need to plug Move in. Set the speaker on the included indoor charging base for quick power while you listen.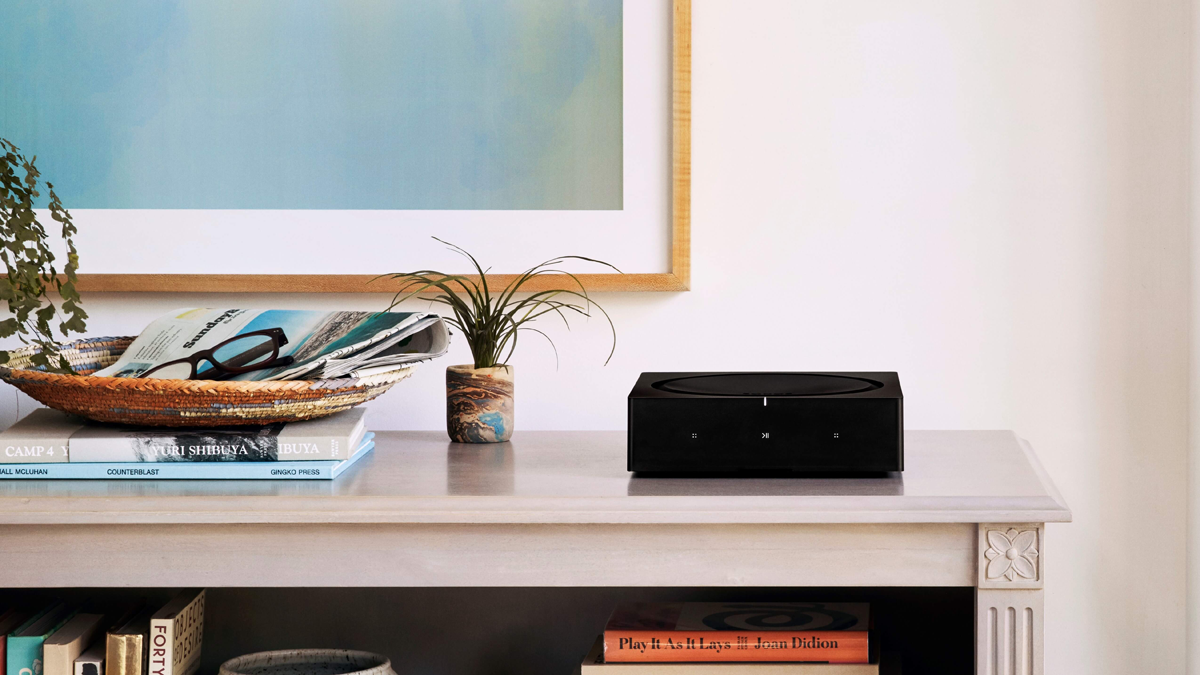 Sonos Amp
The versatile amplifier for powering all your entertainment.
The versatile amplifier for powering all your entertainment. Enjoy high-fidelity performance with 125 Watts per channel. Power your bookshelf, floor-standing, in-wall, and in-ceiling speakers whilst streaming everything you love with the Sonos app and AirPlay. Connect your TV to create the ultimate entertainment system. This Amp is built to last and improve over time.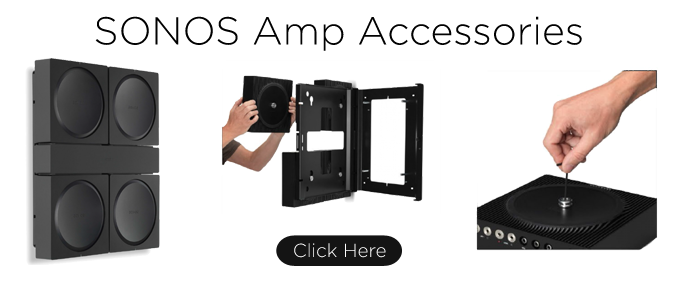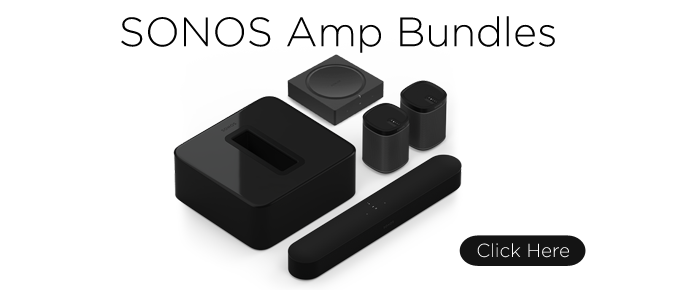 What is Sonos?
Sonos is the wireless home sound system that fills as many rooms as you want with great-sounding music, movies and TV.
Stream over 80 streaming services globally via WiFi. Sonos plays everything: the most popular streaming services, on-demand services, internet radio, your favourite podcasts and audiobooks.
One app gives you complete music control. The Sonos app helps you quickly search through all your services to track down your favourite music, play it and adjust the volume in different rooms throughout your home. And if your friends have the Sonos app, they can do the same.