Product Description
Details
Cable Packages Explained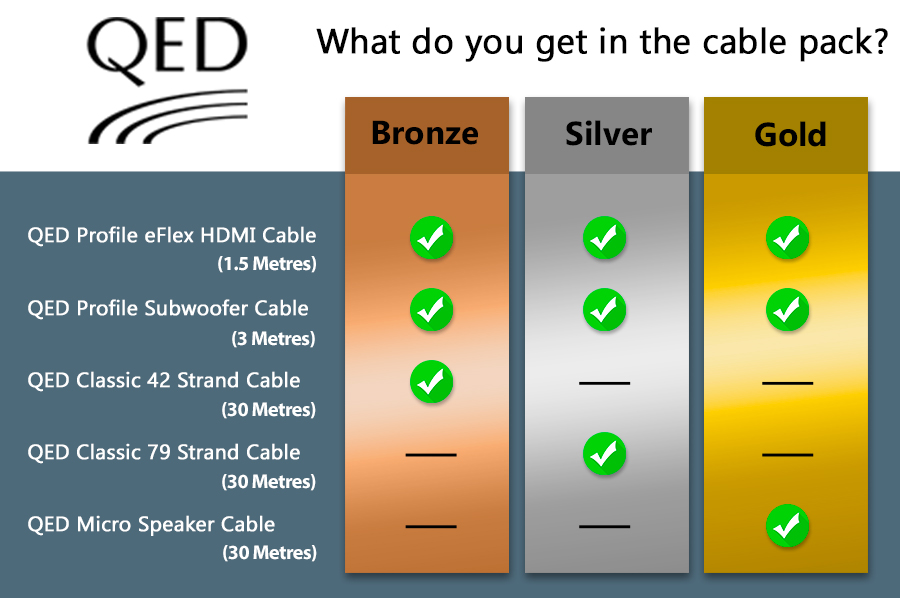 Yamaha RX-A2080 AVENTAGE 9.2-channel AV Receiver
A New Frontier in Sound.
Discover the thrill of the most advanced cinematic surround sound in the home. Breakthrough Surround:AI technology analyses the scene of the entertainment content and optimises the surround effect in real time while you watch. The AI technology built into the DSP analyses the scene of the entertainment content and then creates the optimal surround effect to reproduce it with the greatest effect. This AI instantaneously analyses scenes by focusing on distinct sound elements such as dialogue, background music, ambient sounds and sound effects, and automatically optimises the surround effect in real time, just as if a Yamaha sound engineer tunes the best sound specifically for you. This creates a compelling sense of realism with expressive power beyond conventional sound field effects, giving you the most profound entertainment experience possible.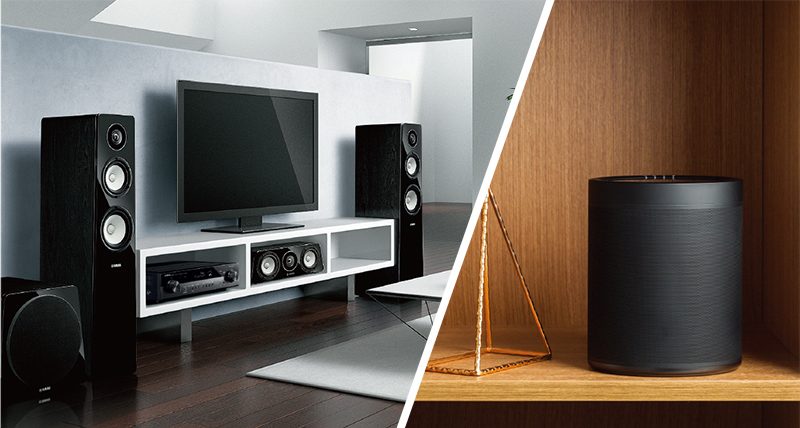 The Heart of the Smart Home.
State-of-the-art configuration options and unparalleled versatility satisfy the most demanding whole-of-home applications. MusicCast takes the headache out of multi-room audio. Simply connect all MusicCast devices to the same network and start sharing audio throughout the home. Take MusicCast for a test drive by downloading the free MusicCast app and using it demo mode.
Intuitively Simple to Use.
Simple and straightforward operation, whether using specially designed compatible apps, intuitive on-board menu, or in conjunction with Amazon Alexa voice control devices.
A World of Music
Streaming Services
Explore a world of music with music streaming services* built-in. Syncing your playlists and song likes from your smart phone or computer to the RX-A3080, music streaming services make it impossibly easy to either listen to your faves or discover new music.
* Music streaming service availability varies by region.
Easily Experience 11-channel Realism
Virtual Speaker Technology
The RX-A3080 is equipped with three Yamaha original high performance DSP devices, achieving high speed and large capacity audio signal processing. As a result, CINEMA DSP HD3 playback can reproduce up to 11-channel sound — on even a 7-channel system. The total reproduction of spatial data, including the vertical axis, helps create an overwhelmingly realistic sound field.
* Requires connection to a front presence speaker. Dolby Atmos and DTS: X signals cannot be used with these virtual features.
Convenient Enjoyment
Three HDMI Outputs
Since the RX-A3080 has three HDMI output terminals, simultaneous connection to the TV, LCD projector and other devices, is possible. Which means, for example, that you can use your TV as usual but use the projector for your favourite movies and special programming, or have the same main room content shown in other rooms as well — easily and without having to change any connections. Naturally, the built-in HDMI functionality is of the latest specifications, corresponding also to HDR (Dolby Vision Compatible, Hybrid Log-Gamma), 4K / 60p passthrough, 4K upscaling, and so on.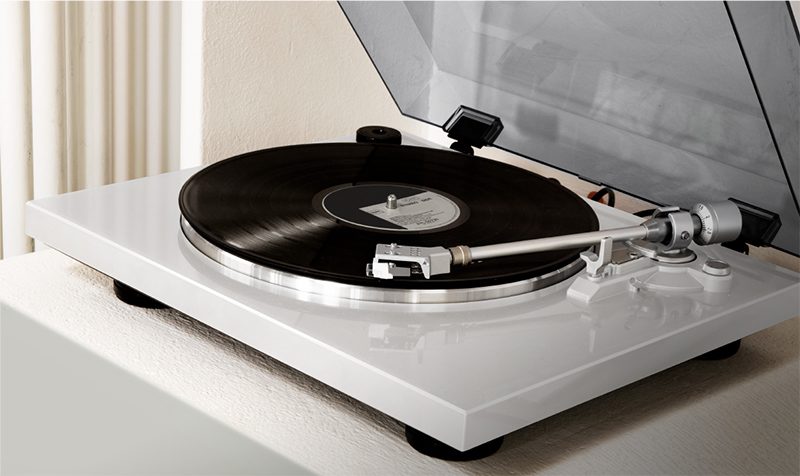 The Joys of Vintage Vinyl
Phono Input
This AV receiver provides phono input terminals, letting you connect a turntable and enjoy music from your vinyl collection.
Enhanced Home Theatre Sound
7.2-channel Pre-outs
You can add an external power amplifier (pre-main amplifier) to this AV receiver to improve and enhance the sound of your speakers. For example, using a power amplifier to drive the important front channel in home theatre gives you the added flexibility of building a system with an emphasis on sound quality
Enjoy Digital Radio
DAB/DAB+ Tuner
Digital Audio Broadcasting capability, with DAB and the enhanced DAB+, offers a large selection of radio stations with high sound quality. Other benefits include automatic selection of available stations from a convenient list, and helpful information display, including station name and music genre.
* Availability of DAB / DAB+ tuner function varies by region.

Let's Talk
Alexa on MusicCast
Alexa, ask MusicCast to play Favourite 1 in the Kitchen." With Alexa voice control integration, all you have to do is ask. The RX-A3080 name offers full compatibility with Amazon's range of voice control devices. Welcome to the smart home.
* Availability of voice command control via Amazon Alexa varies by region.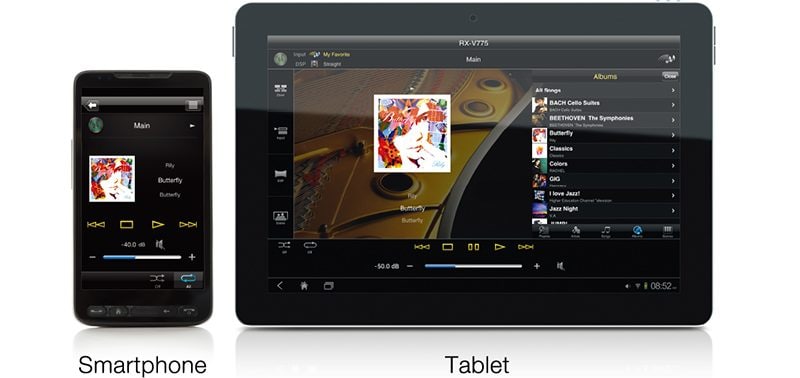 Easy Operation, Detailed Settings
AV Controller App
This easy-to-use app lets you conveniently and 'smartly' control your AV receiver's power, volume, input selections, DSP modes — and much, much more — from an iOS or Android™ device. You can also use as many as 23 different languages and customise the interface by hiding unused icons and renaming functions. A tablet version is also available.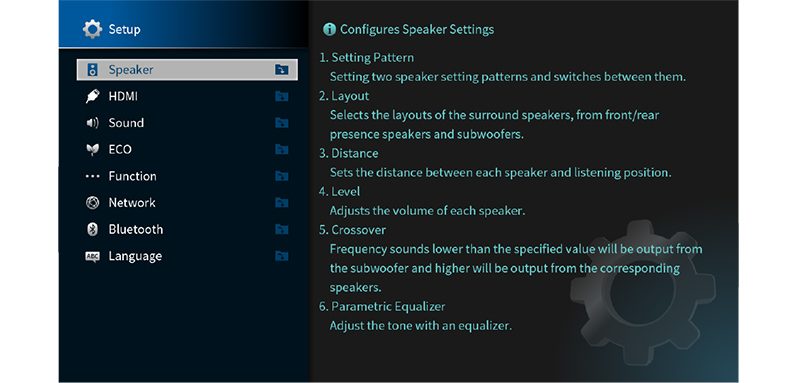 Easy to Use and Multilingual
Advanced Graphical User Interface
The latest graphical user interface from Yamaha has a high-resolution display with clear, easy-to-use menus and includes a selectable status bar that shows input source, volume level, DSP mode and audio format. The GUI provides a choice of eight languages: English, French, German, Spanish, Italian, Russian, Japanese and Chinese and can be displayed over both normal and 3D pictures.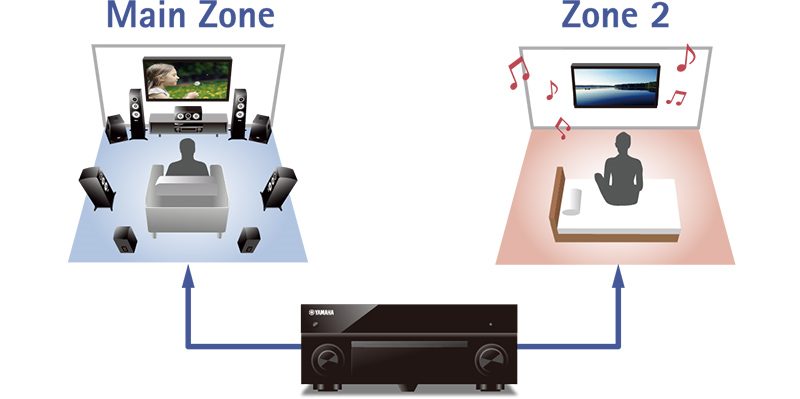 Playback in Multiple Zones
Advanced HDMI Zone Switching
You can transmit the video or audio content (not only HDMI input, but also other audio sources, such as digital or analogue audio, network content and FM/DAB radio) to a TV or home theater system in another room (Zone 2/4). This lets you enjoy viewing and listening to the same main room content (where the AV receiver is installed), or even different content. An on-screen graphical user interface makes it easy to browse and select content from the second zone no matter what is being played in the main zone.
Bi-amp Connection
This AV receiver features bi-amping capability, driving the treble and bass ranges of the front speakers (L, R) with independent amplifiers, making it possible to enjoy even higher quality sound from the front channels — an important consideration in home theatre setups
Music Enhancer
The Compressed Music Enhancer from Yamaha is now optimised for Bluetooth audio transmissions to ensure that your music will have vivid, energetic sound quality during wireless playback.
AV Setup Guide
This special app assists you with cable connections between the AV receiver and source devices. Additionally, it guides you through various settings such as speaker connections, TV and source device connections and power amplifier assignments.
Eco Mode
When ECO Mode is turned on it can reduce power consumption by about 20 percent*, thanks to an advanced energy saving design. *Compared to power consumption when ECO mode is off (Yamaha measurement).
KEF T305 Speaker System
Slim speakers, serious sound

KEF's revolutionary T Series is in a different league from any low profile speaker you've ever heard.

As one of the world's thinnest high performance home theatre systems, the new T Series combines several landmark innovations: a radical new ultra-low profile bass and midrange driver, and a large, fully vented new tweeter. By incorporating both in cabinets only 35mm (just over 1.25in.) deep, the T Series brings you all the pleasures of true audiophile quality sound in a speaker that perfectly complements the aesthetics of the latest flat screen TVs.
Ultra-slim bass driver
Clean, forceful response that brings the action vividly to life.
Instead of a cone, the radical new twin-layer bass and midrange unit has a flat diaphragm whose rigidity throughout the frequency range is maintained by very fine stiffening ribs, with the driver as a whole acting as a stressed member to help eliminate any unwanted resonance from the slim cabinet. The resulting response is as clean, accurate and distortion-free as a quality conventional speaker, with none of the bulk.

In addition to minimising the height of the magnets, we placed the entire suspension outside the magnet system so that it adds nothing to its height. Whether you opt for the standard satellite and centre speakers or the larger models with additional bass/midrange drivers, the result is an exceptionally shallow unit that allows the enclosure to have the same installed depth as current flat screen TVs without compromising acoustic integrity in the slightest. Lush yet well controlled, it's the kind of performance that brings soundtrack effects to life with a real sense of drama
Large new vented tweeter

A warm, natural sound that's so real you feel you're there.
The generous size of the sophisticated new 25mm (1in.) vented tweeter specially developed for the T Series allows exceptionally accurate reproduction, especially of the human voice. And silken, effortlessly pure high notes. The clarity is outstanding, even played loud.

KEF's unique 'tangerine' waveguide helps to disperse the sound image evenly throughout the room. The combined effect is remarkable: you find yourself immersed in a dense three-dimensional sound picture that completely engages you with what's happening on screen.
Total excellence
The perfect balance: engineering integrity with design flair.
Everything about the new T Series has been designed from first principles to achieve a sleek, unobtrusive look that matches the styling of modern TVs while still maintaining the high standard of audio fidelity KEF is famous for.

The precision etched logo and chamfered black anodised aluminium side trims hint at the meticulous attention to detail and superb build quality of what's inside. Ease of use is built in from the start, with KEF's ingenious Selecta-mount™ system concealed in the optional stand automatically adjusting each speaker's sound balance according to whether it's mounted on your wall, desktop or floor.
Features
Specifications
Features

Yamaha RX-A2080 AVENTAGE 9.2-channel AV Receiver

AV Receiver
Amplifier Section
Channel
9.2
Rated Output Power (1kHz, 1ch driven)
220 W (4 ohms, 0.9% THD)
Rated Output Power (20Hz-20kHz, 2ch driven)
140 W (8 ohms, 0.06% THD)
Maximum Effective Output Power (1kHz, 1ch driven) (JEITA)
220 W (8 ohms, 10% THD)
Dynamic Power per Channel (8/6/4/2 ohms)
165 / 210 / 285 / 405 W
Surround Sound Processing
Surround:AI
Yes
CINEMA DSP
Yes (HD3)
DSP Programs
24
Dialog Level Adjustment
Yes
Virtual Presence Speaker
Yes
Virtual Surround Back Speaker
Yes
Dialogue Lift
Yes (no presence speakers required)
SILENT CINEMA / Virtual CINEMA DSP
Yes (Virtual CINEMA FRONT)
Dolby Atmos
Yes
Dolby TrueHD
Yes
Dolby Digital Plus
Yes
Dolby Surround
Yes
DTS:X
Yes
DTS-HD Master Audio
Yes
Audio Features
File Format
MP3 / WMA / MPEG-4 AAC: up to 48 kHz / 16-bit, ALAC: up to 96 kHz / 24-bit, FLAC: up to 192 kHz / 24-bit, WAV / AIFF: up to 192 kHz / 24-bit, DSD: up to 11.2 MHz
Pure Direct
Yes (with video on mode)
Compressed Music Enhancer
Yes
High-resolution Music Enhancer
Yes
YPAO multi-point measurement
Yes with R.S.C. (Reflected Sound Control), 3D, 64-bit Precision EQ Calculation and Angle Measurement
YPAO Volume
Yes
Adaptive DRC (Dynamic Range Control)
Yes
Initial Volume & Maximum Volume Setting
Yes
A.R.T. Wedge
Yes
Bi-amp capability
Yes
Audio Delay
Yes (0-500 ms)
DA Converter
ESS 384 kHz / 32-bit SABRE Premier DAC ES9007S x 2
Video Features
4K Ultra HD Pass-through and upscaling
Yes (4K / 60p, 4:4:4)
HDMI 3D passthrough
Yes
HDMI eARC
Yes (via future firmware update)
HDMI Audio Return Channel
Yes
HDMI upscaling
Yes (Analogue to HDMI® / HDMI to HDMI)
Video adjustment
Yes
Deep Color/x.v.Color/24Hz Refresh Rate /Auto Lip-Sync
Yes
Connectivity
MusicCast Surround
Yes
HDMI Input/Output
7 / 3 (HDCP2.2, HDR10 / Dolby Vision / HLG and BT.2020 compatible)
HDMI CEC
Yes (SCENE, Device Control)
USB Input
USB Memory, Portable Audio Player
Network Port
Yes
Wi-Fi
Yes (2.4 / 5 GHz)
AirPlay
Yes
Bluetooth
Yes (SBC / AAC)
Front AV Input
USB / Analogue Audio
Digital Audio Input/Output: Optical
3 / 0
Digital Audio Input/Output: Coaxial
3 / 0
Analog Audio Input/Output
9 (front 1) / 0
Phono Input
Yes
Component Video Input/Output
2 / 0
Composite Video Input/Output
4 / 0
Preout
7.2-ch
Headphone Output
1
Tuner Section
FM/AM Tuner
Yes (FM only)
DAB Tuner
Yes (Availability varies by region.)
User Interface
On-screen display
Graphical User Interface
SCENE
SCENE PLUS (8 sets)
App Control
Yes (iPhone / iPad / Android phone / tablet)
Web Browser Control
Yes
Remote Control Unit
Yes (Preset)
Zone Control
Zone 2 Audio Output
Preout / HDMI
Zone 3 Audio Output
Preout
Zone 4 Audio Output
HDMI
Powered Zone
Zone 2 / 3
Zone Video Output
HDMI / Component / Composite
Zone HDMI
Yes (Advanced HDMI Zone Switching)
Zone B Output
HDMI
Zone GUI
Yes
RS-232C Interface
Yes
+12V Trigger Output
2
Remote (IR) Input/Output
1 / 1
Party Mode
Yes
General
Standby Power Consumption (IR only)
≤0.1W
Auto Power Standby
Yes
ECO mode
Yes
Dimensions (W x H x D)
435 x 192 x 474 mm (with antenna up: 435 x 269 x 474 mm); 17-1/8" x 7-1/2" x 18-5/8" (with antenna up: 17-1/8" x 10-1/4" x 18-5/8")
Weight
17 kg; 37.5 lbs.

KEF T305 SPEAKER SYSTEM PRODUCT INFORMATION

T301 / T301c

-Drive units: 2 x 115mm (4.5in.) dual layer MF
-25mm (1in.) aluminium HF
-Frequency response: 80Hz - 30kHz
-Crossover frequency: 1.7kHz
-Amplifier requirements: 10 - 150 W
-Sensitivity (2.83V/1m): 91dB (wall mount)
-88dB (floor stand mount)
-Maximum output (SPL): 110dB
-Impedance: 8 Ohms
-Internal volume: 1.4 Litres

T-2 - Closed box powered subwoofer

-Drive units:m 1 x 250mm (10in.)
-Frequency response: 30Hz - 250Hz
-Amplifier: 250 Watts built-in Class-D
-Maximum output (SPL): 110dB
-Low pass filter variable: Fixed 250Hz, 2nd-order
-Low level signal inputs: RCA phono socket
-Internal volume: 12.7 Litres
-Power requirements: 100 - 240 V ac ~ 50/60Hz
-Power consumption: 250V
Delivery
Due to the current Covid-19 restrictions - there may be delays of up to 48 hours to our estimated delivery times.

How will you send my item?
We ship to addresses within the UK using Royal Mail and DPD couriers.


How much does delivery cost?
Standard 2-3 working day delivery is FREE on all orders to mainland UK. Next working day courier service is available on all orders for a small fee of £4.99. On some items this is provided for FREE.
For orders to UK Non-mainland and International destinations, there will be an additional charge at checkout. Please see below for more information.


How long does delivery take?
Depending on the delivery service you choose, delivery usually takes between 1-3 working days to mainland UK from the moment we despatch your order. Orders to UK non-mainland and international destinations can take longer.


When will you despatch my order?
Orders placed before 4pm are processed and despatched the same day (excluding bank holidays and weekends). Orders placed on weekends will be processed and despatched the following working day.
*Please note that international orders may require extra checks before we are able to despatch your order so timescales may vary.
Can I track my delivery?
Yes - Order tracking is offered as standard on all items, whether they are shipped via DPD or Royal Mail. You will receive your tracking information via email once we have despatched your order.


UK Non-mainland and International destinations.
Due to the UK leaving the EU, some of our delivery partners have changed the way we ship to international and offshore destinations. This means that for the time being we are unable to ship items to these locations.
We are still accepting orders to these destinations however delivery times and prices are not final. We will confirm via email once we know more from our delivery partner.
Shipping for all items to UK Non-Mainland and International destinations will incur a charge at checkout. This charge is not final and we may need to charge for additional postage if required.
Shipping to international destinations may require further security checks and I.D. may need to be provided by the cardholder. We reserve the right to cancel any orders where you are do not pass our security checks or do not pay for appropriate postage.
Please note that we are unable to ship some items outside the UK. To avoid any disapointment please contact us before making your order.


What do you class as UK Non-mainland?
Rep. Ireland, N. Ireland, Channel Islands, Jersey, Guernsey, Isle of Wight, Isle of Man and Scottish Highlands. If you are unsure whether your address is classed as UK Non-mainland please feel free to contact us and an advisor will be happy to help.


For any further enquiries with regards to your delivery please contact us on 020 8813 7666 and one of our adviser's will be happy to help.
Returns

If you're not happy with your item or you've changed your mind.
Even though we're sure you'll be happy with your purchase, it's important that you are aware of how we deal with returns in the event that you need to send something back.
We understand how inconvenient it can be when you buy a product and aren't 100% satisfied with it. For this reason we have designed our returns policy to prevent any further inconvenience to you in these instances.


Under 14 days
You can return your goods for a full refund or exchange as long as you inform us of your intention to return the goods within 14 days of receipt, starting from the day after you receive your goods (Exclusions apply, see below.)

All return costs are down to the buyer and it is recommended that you return your items using a trackable method with appropriate insurance (if required).

Once we have confirmed your return, please ensure that you return the item within 14 days.

If a returns number is provided then please ensure that the parcel has this clearly marked.

Items need to be returned in "as new" condition in their original packaging. We don't mind if you open the product to check it, however any used or damaged products will be subject to a 25% handling fee so please take care when opening your items.


After 14 days
We will not offer a refund after 14 days of you receiving your delivery unless your product is faulty.



Christmas Returns Policy
Any product purchased between 27/11/20 and 24/12/20 will qualify for our extended returns policy.

If your purchase is made within this time you have until 01/01/2021 to inform us of your intention to return your items.

All orders placed within this time which are outside of the standard 14 day policy can only be returned for a credit. All credits need to be used within 90 days of issue.

Please ensure you inform our Customer Service team in writing or via email (returns@homeavdirect.com).

Any items being returned need be in brand new, unopened and unused condition.

All products must be returned to us within 14 calendar days after our Customer Service team have authorised a return.

Any promotional items received FREE at the time of purchase must also be returned, unused and unopened, otherwise the value of the promotional item will be deducted from the credit.
Please note: Our normal returns policy still applies on all orders if you are within the 14 day returns period.

Exclusions from our returns policy
As we're sure you'll understand, there are some products that we can't offer returns on due to their nature. These include:
Special order items and cables cut from a reel (priced per metre). These items will be clearly identifiable.

In-Ear headphones due to health and hygiene reasons.

Products that include software which require activation.
Please note that these exclusions do not apply to items that become faulty.


If your product becomes faulty
We endeavour to get your items to you in fully working order, however in the event that your items do become faulty, please read below on what you should do next.
In a lot of cases with some products, faults can be fixed by performing some basic troubleshooting, so to prevent any further inconvenience to you we advise that you contact our Customer Service team who can guide you through some basic troubleshooting before sending items back.


Under 28 days
If your items become faulty within 28 days of delivery you are entitled to a full refund or exchange. Please contact our customer service centre who will provide necessary returns details.

Please send the items back with a cover note including a description of the fault and your original order number.

Once we have fully tested the item and confirmed the fault, we will process the refund or exchange including cost of carriage back to us (within reason).

If during our testing we cannot find a fault, no refund will be given and you will be charged for delivery of the item back to you.


After 28 days
After 28 days you will still be able to get your faulty items repaired or replaced within the manufacturers warranty and we will be happy to assist you with this. Please contact our customer service team to find out the best way to get your items repaired or replaced. Please be aware that after 28 days we will not cover you for any carriage costs.