Product Description
Details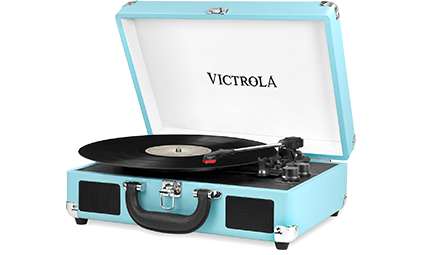 The Victrola portable suitcase turntable is an absolute classic and loaded with features. Includes built-in Bluetooth technology to wirelessly stream music from any Bluetooth enabled device, 3-speed (33 1/3, 45, 78 RPM) belt driven turntable and 3.5mm aux-in jack for playing music from any non-Bluetooth device. Portable design and carry handle with Built-in Stereo speakers allow for tunes wherever you may go. RCA Aux-in for adding your own external speakers and headphone jack included. Measures 13.9" x 10.1" x 5". Victrola Bluetooth Portable Suitcase Record Player with 3-speed Turntable, Black.
Features
Specifications
Features

FEATURES:

• 3-Speed Turntable (33 1/3, 45, 78 RPM)Plays your Favorite Vinyl Records

• Wirelessly Connect to your Smartphoneor Tablet via Bluetooth up to 33'Away

• Suitcase Design Conveniently Packsup to Go with you Anywhere

• Built-In Stereo Speakers, Aux-In, RCAConnections and Headphone Jack

• Measures 13.9" x 10.1" x 5"