Twin Technics SL-1210 MK7 + Reloop KUT Direct Drive DJ Turntable + Mixer Bundle...
✓ 2 Year Warranty included
✓ Authorised UK Dealer
✓ Special Order Item - Please contact us for ETA
PLEASE CALL FOR AVAILABILITY
It's finally here... The SL-1210 Direct Drive Turntable has continued evolving as the world standard DJ turntable. A perfect bundle for that turntable enthusiast looking to perfect their skills.
Bundle Includes
2 X SL-1210 MK7 Turntables With Lids
Reloop KUT - 2 Channel Battle Mixer
2 X Reloop Concorde Black Cartridges
FREE Turntable Cleaning Kit
Regular Price
£2,549.99
On Sale Price
£2,199.00
YOU SAVE 13.76%
Rediscover Music for All
Technics has pursued all possibilities for delivering a premium music experience to all music fans, and will continue to do so into the future. This commitment is also demonstrated clearly in the SL-1210MK7. Packed with accumulated technologies and knowhow, it aims to contribute to the further development of the club DJ culture.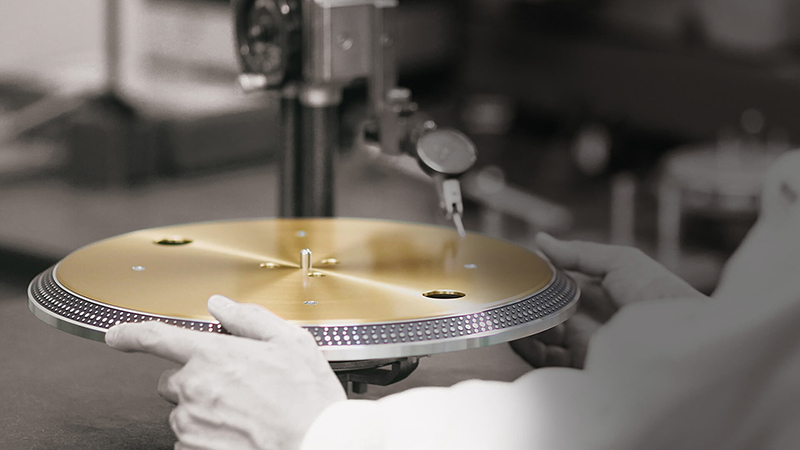 The Direct Drive System That Pioneered the DJ Culture
The direct drive motor (D.D. Motor) formed the core of the SL-1200 Series. In addition to providing unparalleled accuracy, the D.D. Motor technology that was introduced in 1970 offered reliability for long-term use with its excellent durability. This further evolved with the SL-1210MK7, and achieved even higher sound quality as the Coreless Direct Drive Motor.
S-shaped Tonearm, a Technics Tradition
The SL-1210MK7 comes with a static balance S-shaped tonearm to carry on the Technics tradition. The tonearm moves in a unique arc as it tracks the record disc, and reproduces music with high fidelity. The bearing section features a high-precision bearing structure. The tonearm provides high tracking performance without stylus skipping even under hard usage such as scratching.
Stable Operation under All Conditions
Each insulator foot consists of an internal spring and rubber, and the bottom surface is covered with a cushion material. They effectively shut out vibration even in a loud sound environment. If the turntable cannot be set up on a perfectly level surface, its height and inclination can be adjusted by turning individual insulator feet.
Pitch Control for a New Chapter in Music History
Pitch control on the SL-1210 was originally utilised for the precise adjustment of rotation speed. Club DJs began using this function to match the pitch between two tracks to achieve smooth transition. This technique led to the explosive popularity of the SL-1210 worldwide. The current vertical fader was first installed on the SL-1200MK2. This change was made to simplify use for DJs. The MK7 has newly incorporated full digital control to enable accurate and stable adjustment within the range of ±8/16%.
User-friendly Stylus Light
The light that illuminates the stylus and its position on the record was featured for the first time on the SL-1200MK2. Technics opted for a popup-type light, not a detachable type, for easier use. The SL-1210MK7 comes with a white LED that offers high brightness and a long life. The illumination was improved and its range was reviewed to ensure optimal visibility.
Symbol of the SL-1200 Series
The original purpose of the strobe light, a standard feature on all models from the first-generation SL-1210, was to enable an accurate visual adjustment of the rotation speed. Since Technics incorporated quartz control, in models starting with the MK2, the rotation speed became extremely stable; thus, there was no need for the strobe anymore. However, DJs wanted the familiar strobe on the turntables they use, so it is still provided on the current model. The SL-1210MK7 comes with an LED strobe that can be set to illuminate in red or blue.
Sound Quality Backed by Functional Beauty
The SL-1200 Series was originally developed in pursuit of pure audio performance. The vibration-absorbing cabinet and insulators suppress undesirable noise, while the gimbal suspension tonearm provides high tracking performance for high-fidelity sound reproduction. The design has not been changed much for more than 40 years, thus retaining the ultimate functional beauty achieved in the first-generation model. The SL-1210MK7 has also further unified the all black design scheme, even in every part, to become more stylish and attractive.
RELOOP KUT
DYNAMIC FX – DIGITAL PERFORMANCE EFFECTS
In the centre of the mixer is the dynamic FX section with 7 effects, including phase/flange, white noise, LPF/HPF filter, gate/crush for creative remixing. The on/off function can toggle the effects, the large easy-grip knob caps offer pleasant resistance and the green status LEDs show immediately if an effect is active.
INNOFADER – A HIGH-QUALITY AND PRECISION FADER SECTION
Together with its very smooth battle line-faders, KUT is particularly well-suited for precise cutting thanks to the supplied innoFADER, with its non-contact technology meeting even the highest standards. Crossfader and linefader curves can be customised and adapted to personal preferences. KUT also has a crossfader reverse function (hamster switch).
HIGH-SPEED 8 IN/6 OUT USB AUDIO INTERFACE
With the integrated audio interface, with excellent sound quality in 24-bit/96 kHz, incoming signals from a turntable, CD player or even the combined master output can be recorded via USB. This means that your mix can be directly recorded onto PC & Mac. KUT can also be used as a hardware mixer with DVS systems that allow for freely configurable audio interface support.
CLASSIC CONSTRUCTION WITH A VISUALLY SEPARATED PANEL LAYOUT
The 2-channel layout with 3-band EQ and switchable modes (classic/isolator) has a very clear design and is generous in its dimensions. An additional AUX/MIC channel with combined XLR/6.3mm jack socket plus 3.5mm mini jack input gives the option of connecting a microphone or another line source. 2 headphone outputs (6.3mm & 3.5mm) are located on the front panel. The high-retention USB 2.0-port has proven to be particularly resistant and ensures a stable cable connection. KUT was designed with an oldschool look out of brushed champagne-gold & black aluminium. The fader section is clearly separated visually on the faceplate.
IN COOPERATION WITH BPM SUPREME
With any purchased KUT the DJ record pool adds a 90 days Premium Membership with a value of 60 $ for their huge audio & video library - contending latest releases directly received from the record labels.
More Information
Features

SPECIFICATIONS

Technology for Rotational stability
Coreless Direct Drive Motor
High-Precision Motor Controller
Construction for vibration tolerance
High-Dumping Turntable Platter
Rigid Cabinet Construction
High-Dumping Insulator
High quality parts
High Sensitive Tonearm
Detachable PHONO Terminal
Technics definitive design
Inherited SL-1200 Series
Turntable section
Drive Method: Direct Drive
Turntable Speeds: 33 1/3, 45rpm (with switch 78 rpm)
Starting Torque: 0.18N・m / 1.8kg・cm (1.56 lbs-in)
Build-up Characteristics: 0.7 s. from standstill to 33 1/3 rpm
Wow and Flutter: 0.025% W.R.M.S.
Turntable Platter: Aluminum die-castDiameter:332mm (13-5/64")
Weight:Approx. 1.8kg (4.0 lbs) (Including slipmat and slipsheet)

Tonearm section

Type: Universal, Static Balance
Effective Length: 230mm (9-1/16")
Overhang: 15mm (19/32")
Tracking Error Angle:
Within 2° 32' (at the outer groove of 30cm(12") record)
Within 0° 32' (at the inner groove of 30cm(12") record)
Offset Angle: 22° • Arm Height Adjustment Range: 0 - 6mm
Stylus Pressure Adjustment Range: 0 - 4g (Direct Reading)
Head Shell Weight: Approx. 7.6g
Applicable Cartridge Weight Range:
[without auxiliary weight] 5.6 - 12.0g (14.3 - 20.7g (including head shell))
Head Shell Terminal Lug: 1.2mmφ 4-pin terminal lug
Terminals
Audio Output: PHONO (Pin Jack) x 1, EARTH TERMINAL x 1
General

Power Supply:
Power Consumption: 8W (Approx. 0.2W (Standby))
Dimensions (W x H x D): 453 x 169 x 353mm (17-27/32 × 6-21/32 × 13-29/32 inch)
Weight: Approx. 9.6kg (Approx. 21.2lbs)
Accessories:
Turntable, Slipmat, Slipsheet, Dust cover, EP record adaptor, Balance weight, Head shell, Screw set for cartridge, PHONO cable, PHONO earth lead, AC power supply cord, Owner's Manual
Includes 2 X Reloop Cartridges

Reloop KUT

Digital 2-channel battle mixer with classic design, including a dynamic effect unit
Developed for turntablists and scratch artists
innoFader with non-contact technology for precise cutting
Very smooth and high-quality battle linefaders
Customisable curves for crossfader and linefaders
Crossfader reverse function (hamster switch)
Dynamic FX section with 7 combined effects: Phase/flange, white noise, LPF/HPF filter, gate/crush
Creative toggling of effects via the on/off function
Green status LEDs give direct visual feedback of the dynamic FX section
High-speed 8 in/6 out USB audio interface with excellent sound quality in 24-bit/96 kHz
Recording of incoming signals (phono/line/master) via USB to PC/Mac
Selection of USB-recording source via switch on the back
DVS-enabled for software with freely configurable audio interface support
3-band EQ with switchable modes (classic/isolator)
Additional Aux/Mic channel with combined XLR/jack socket
Two headphones outputs via 3.5/6.3 mm jack socket
MIDI-compatible control elements
High-retention USB 2.0-port, particularly resistant
Visually separated panel layout, clear separation of fader section
Brushed black aluminium and metallic gold finish
Fader-start via 3.5 mm control cable
Kesington Lock to secure the device

TECHNICAL DATA

Frequency response: 20 Hz – 20 kHz
Inputs: 4x phono RCA, 4x line RCA, USB IN
Outputs: Master XLR (balanced), master RCA (unbalanced), booth RCA (unbalanced), headphones 3.5/6.3 mm jack
EQ range at 70 Hz, 1 kHz, 13 kHz: -25 dB/+12 dB
EQ range MIC at 100 Hz, 10 kHz: -12 dB/+12 dB
Dimensions: 355 x 254 x 104 mm
Weight: 4 kg
Due to the current Covid-19 restrictions - there may be delays of up to 48 hours to our estimated delivery times.

How will you send my item?
We ship to addresses within the UK using Royal Mail and DPD couriers.


How much does delivery cost?
Standard 2-3 working day delivery is FREE on all orders to mainland UK. Next working day courier service is available on all orders for a small fee of £4.99. On some items this is provided for FREE.
For orders to UK Non-mainland and International destinations, there will be an additional charge at checkout. Please see below for more information.


How long does delivery take?
Depending on the delivery service you choose, delivery usually takes between 1-3 working days to mainland UK from the moment we despatch your order. Orders to UK non-mainland and international destinations can take longer.


When will you despatch my order?
Orders placed before 4pm are processed and despatched the same day (excluding bank holidays and weekends). Orders placed on weekends will be processed and despatched the following working day.
*Please note that international orders may require extra checks before we are able to despatch your order so timescales may vary.
Can I track my delivery?
Yes - Order tracking is offered as standard on all items, whether they are shipped via DPD or Royal Mail. You will receive your tracking information via email once we have despatched your order.


UK Non-mainland and International destinations.
Due to the UK leaving the EU, some of our delivery partners have changed the way we ship to international and offshore destinations. This means that for the time being we are unable to ship items to these locations.
We are still accepting orders to these destinations however delivery times and prices are not final. We will confirm via email once we know more from our delivery partner.
Shipping for all items to UK Non-Mainland and International destinations will incur a charge at checkout. This charge is not final and we may need to charge for additional postage if required.
Shipping to international destinations may require further security checks and I.D. may need to be provided by the cardholder. We reserve the right to cancel any orders where you are do not pass our security checks or do not pay for appropriate postage.
Please note that we are unable to ship some items outside the UK. To avoid any disapointment please contact us before making your order.


What do you class as UK Non-mainland?
Rep. Ireland, N. Ireland, Channel Islands, Jersey, Guernsey, Isle of Wight, Isle of Man and Scottish Highlands. If you are unsure whether your address is classed as UK Non-mainland please feel free to contact us and an advisor will be happy to help.


For any further enquiries with regards to your delivery please contact us on 020 8813 7666 and one of our adviser's will be happy to help.

If you're not happy with your item or you've changed your mind.
Even though we're sure you'll be happy with your purchase, it's important that you are aware of how we deal with returns in the event that you need to send something back.
We understand how inconvenient it can be when you buy a product and aren't 100% satisfied with it. For this reason we have designed our returns policy to prevent any further inconvenience to you in these instances.


Under 14 days
You can return your goods for a full refund or exchange as long as you inform us of your intention to return the goods within 14 days of receipt, starting from the day after you receive your goods (Exclusions apply, see below.)

All return costs are down to the buyer and it is recommended that you return your items using a trackable method with appropriate insurance (if required).

Once we have confirmed your return, please ensure that you return the item within 14 days.

If a returns number is provided then please ensure that the parcel has this clearly marked.

Items need to be returned in "as new" condition in their original packaging. We don't mind if you open the product to check it, however any used or damaged products will be subject to a 25% handling fee so please take care when opening your items.


After 14 days
We will not offer a refund after 14 days of you receiving your delivery unless your product is faulty.


Exclusions from our returns policy
As we're sure you'll understand, there are some products that we can't offer returns on due to their nature. These include:
Special order items and cables cut from a reel (priced per metre). These items will be clearly identifiable.

In-Ear headphones due to health and hygiene reasons.

Products that include software which require activation.
Please note that these exclusions do not apply to items that become faulty.


If your product becomes faulty
We endeavour to get your items to you in fully working order, however in the event that your items do become faulty, please read below on what you should do next.
In a lot of cases with some products, faults can be fixed by performing some basic troubleshooting, so to prevent any further inconvenience to you we advise that you contact our Customer Service team who can guide you through some basic troubleshooting before sending items back.


Under 28 days
If your items become faulty within 28 days of delivery you are entitled to a full refund or exchange. Please contact our customer service centre who will provide necessary returns details.

Please send the items back with a cover note including a description of the fault and your original order number.

Once we have fully tested the item and confirmed the fault, we will process the refund or exchange including cost of carriage back to us (within reason).

If during our testing we cannot find a fault, no refund will be given and you will be charged for delivery of the item back to you.


After 28 days
After 28 days you will still be able to get your faulty items repaired or replaced within the manufacturers warranty and we will be happy to assist you with this. Please contact our customer service team to find out the best way to get your items repaired or replaced. Please be aware that after 28 days we will not cover you for any carriage costs.