Product Description
Details
Cable Packages Explained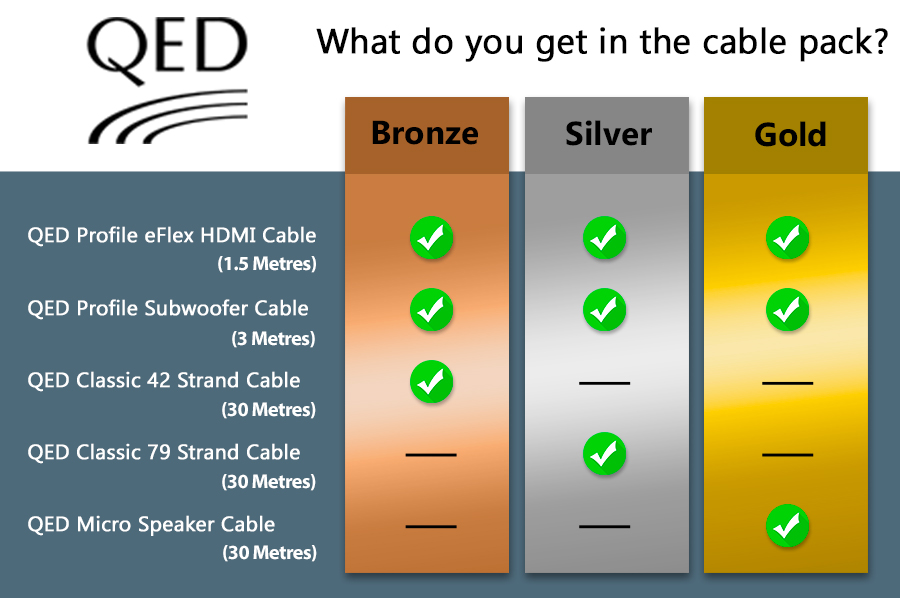 Onkyo TX-NR686 7.2-Channel Network A/V Receiver‎
Mind-blowing entertainment every day of the week
With high-current Dynamic Audio Amplification driving your surround system to THX Certified Select™ cinema reference levels, you can transport your audience to the heart of the movie. DTS:X® and Dolby Atmos® soundtracks complement the latest in 4K HDR video via HDMI® pass-through supporting 4K/60p, Dolby Vision™, HDR10, HLG, and the BT.2020 color standard. Now with cross-compatible 3D audio upmixing solutions from Dolby Surround and DTS Neural:X®, you can enjoy regular multichannel movies with spatially immersive sound. Cast music from mobiles to the receiver and other compatible systems in your home over Chromecast built-in, DTS Play-Fi®, or FlareConnect™ wireless multi-room platforms. AirPlay and Bluetooth® technology are also on board. Enjoy built-in streaming services as well Hi-Res Audio via network and USB, all with the dynamic and emotional sound only an Onkyo can deliver.
THX® Certified Select™ reference sound
THX Certified Select guarantees the high-volume sound experienced at a commercial cinema in your home. To gain certification, amplifiers must pass severe THX bench-tests covering every aspect of audio performance. THX Certified Select components suit rooms where screen-to-seat viewing distance is about 3 meters and room volume around 57 cubic meters.
Dolby Atmos® and DTS:X® with upmixing solutions
Object-based audio lets sounds play independently through any speaker, moving all around your audience so they feel 5.2.2-ch Dolby Atmos or DTS:X soundtracks with natural conviction. DTS Neural:X® and Dolby Surround upmixing solutions find spatial cues in legacy multichannel soundtracks and upmix them for 3D audio playback through your object-audio-ready speaker system. Both solutions offer cross-compatible support for common movie soundtracks, such as Dolby® Digital 5.1, Dolby® TrueHD, and DTS-HD Master Audio™, so you can enjoy more immersive 3D sound from your movie library as well as with supported video streaming services.
Wi-Fi, AirPlay, Spotify®, and Bluetooth®
Dual-band 5 GHz/2.4 GHz Wi-Fi assures stable connectivity so you can enjoy smooth streaming over AirPlay, the Spotify app, and the local network. Bluetooth technology also provides simple wireless streaming from music applications.
Onkyo Controller app for easy multi-room management
Onkyo Controller app collects streaming services and network-attached audio into one intuitive interface. Control playback, navigate internet services, and distribute audio all over the home with ease.
Chromecast built-in, now with the Google Assistant
Stream any music from your smartphone, laptop, or PC to the TX-NR686 with ease. Control playback with Chromecast-enabled apps you know and love from your iPhone, iPad, Android™ phone or tablet, Mac® or Windows® laptop, or Chromebook™. If you have a speaker device featuring the Google Assistant, such as the Onkyo Smart Speaker G3, you can cue, play, and control music playback on your TX-NR686 by voice.
Ready for DTS Play-Fi® multi-room audio
DTS Play-Fi allows you to enjoy high-quality music from connected online services, networked media servers, and your device library over Wi-Fi® to any number of compatible products using the Onkyo Music Control App for iPad, iPhone, and Android smartphones/tablets. DTS Play-Fi can synchronize the music in every room. Each member of your family can use their own device to listen to their music in a room or group of rooms. DTS Play-Fi lets you structure a comprehensive multi-room ecosystem that satisfies virtually any need. For more information, visit www.play-fi.com.
More streaming services and internet radio
Amazon Music, TIDAL, Deezer, and TuneIn are baked into the GUI, making it easy to select from music and radio programs with Onkyo Controller or Onkyo Music Control App.
FlareConnect™ wireless multi-room audio
FlareConnect shares audio from network and external audio input sources between compatible components. Enjoy effortless multi-room playback of LP records, CDs, network music services, and more with supported components and speaker systems. Music selection, speaker grouping, and playback management across the home are built into the Onkyo Controller app.
Supports 4K HDR, BT.2020, 4K/60 Hz, and HDCP 2.2
Six rear HDMI® inputs support pass-through of 4K HDR in HDR10, HLG, and Dolby Vision™ formats. They handle the BT.2020 4K Video Standard, 4K/60 Hz playback, and HDCP 2.2 for premium content. Front HDMI connects video cameras or consoles, while rear Sub Out is ideal for connecting a projector.
Give life to sound with Dynamic Audio Amplification
High-current power is proven by an ability to drive four-ohm speaker loads, which test the toughest multichannel amplifier. Heaps of muscle means superior control for fast dynamics and high energy. Non-phase-shift amps present a detailed and cohesive audio image, while VLSC™ eliminates high-frequency distortion for ultimate clarity of sound.
Graphical User Interface with Easy Setup
With speakers and media players connected, plug in the AccuEQ mic and let the receiver GUI guide you through setup, from speaker calibration (including AccuReflex phase correction for Dolby Atmos-enabled speakers) through to network connection. The refined interface makes control simple and enjoyable.
Powered Zone 2 and Zone 2 line-out
Powered Zone 2 speaker outputs let you send amplified audio sources, including network, S/PDIF, and analog, to a pair of speakers in another room. Line outputs can connect home cinema sources to a separate hi-fi system. Manage playback distribution with Onkyo Controller.
Dali Opticon 6 5.1 Speaker Package
Dali Opticon 5.1 Speaker Package consists of a pair of Opticon 6s on fronts, Opticon 2 on rears, Opticon Vokal centre and K-14 F subwoofer.
Opticon 6
The Second floorstander in the Opticon range, Dali Opticon 6 is preceded by the Opticon 5 and followed by the Opticon 8. Standing a metre high and capable of seriously sonorous sounds, the Dali Opticon 6 is a master of music that delivers thunderous bass and perfectly pitched mids and highs in unequalled equilibrium.
Its high sensitivity and even impedance load together with its impressive ability to reproduce undistorted audio makes the Opticon 6 the perfect balance between size and performance. Add in the gold-plated bi-wiring terminals and Opticon 6 is the sender of soul-moving music to the ears of those that demand more.
Opticon 2
Second in the range, Dali Opticon 2 is preceded by the Opticon 1 and followed by the Opticon 5 floorstander. The Dali Opticon 2 compact stand-mount speaker builds on the power of the Opticon 1 with a sizeable 6.5" low-loss Wood Fibre Woofer and a 28mm ultra-light Soft Dome Tweeter to bring out every detail in the audio signal.
The woofer and the more spacious cabinet make the speaker a true 2-way compact performer. Engineered to extract every last nuance, Dali's Soft Magnetic Compound magnet motor system is incorporated which was originally developed for the Epicon range and ensures audio comes almost completely free from distortion thanks to the low-level electrical conductivity.
Opticon Vokal
Dali Opticon Vokal is the pinnacle of the Opticon range and your home cinema set up. It is a perfect match for any speaker in the Opticon range yet still powerful enough to match the flagship Opticon 8. The Opticon Vokal centre speaker presents the perfect balance of power and control. Arguably the most crucial component, it handles the bulk of the direct front action and delivers clear movie dialogue and crisp detail.
The Opticon Vokal features the same low-loss Wood Fibre Woofer found in the flagship Epicon series alongside unique SMC (Soft Magnetic Compound) magnet motor system and a reworked version of the Hybrid Tweeter module from Rubicon, all of which contributes to producing audio exactly as the recording artist originally envisioned it.
Dali Sub K-14 F
The SUB K-14 F incorporates a 14" woofer with a deep black coloured aluminium cone. Chosen for its stiff, yet lightweight properties, the aluminium cone ensures a greater transient response than you would normally expect from a subwoofer in this category.
Whether the task is to fill the room with stereo music or to feel the subtle tremor from a movie soundtrack, the Dali K-14 F subwoofer will deliver. It has greater power and deeper bass than the Ikon SUB MK2 from a smaller and more modern cabinet. Compatible with all Dali loudspeakers including the Opticon range, it perfectly completes this stereo surround set up.
Features
Specifications
Features

Onkyo TX-NR686 7.2-Channel Network A/V Receiver

THX® Certified Select™ cinema reference sound
Supports 5.2.2-channel Dolby Atmos® and DTS:X® playback
165 W per channel
HDMI® 7 in (1 front*1) / Main Out, and Sub Out*2 supporting 4K/60 Hz, HDR10, HLG, Dolby Vision™, BT.2020, and HDCP 2.2 pass-through
Dynamic Audio Amplification with 4-ohm speaker-driving capability
384 kHz/32-bit DAC and VLSC™ filtering for superior clarity
Supports Chromecast built-in and works with the Google Assistant
Dual-band Wi-Fi®, DTS Play-Fi®, AirPlay, Amazon Music, Spotify®, TIDAL, Deezer, TuneIn*3
FlareConnect™ wireless multi-room audio

ADVANCED FEATURES

HDMI terminals supporting HDR10, HLG, Dolby Vision™, BT.2020, 4K/60 Hz pass-through, and HDCP 2.2
5.2.2-channel Dolby Atmos playback and Dolby Surround upmixing for audio formats including DTS® codecs
DTS:X playback and DTS Neural:X® 3D upmixing supporting Dolby® formats
AccuEQ Room Acoustic Calibration with AccuReflex phase alignment for Dolby Atmos-enabled speakers
Supports Onkyo Controller app*4 for intuitive multi-room operation
Stable 5 GHz/2.4 GHz Wi-Fi connectivity
Chromecast built-in wireless audio streaming technology that works with the Google Assistant
DTS Play-Fi multi-room audio with Onkyo Music Control App*4
AirPlay audio streaming from iTunes and iPad, iPhone, and iPod touch
Hi-Res Audio playback including DSD 5.6 MHz/2.8 MHz*5, 192 kHz/24-bit FLAC*6, WAV (RIFF)*6, AIFF, ALAC*6, and Dolby® TrueHD*7
Supports Amazon Music, Spotify, TIDAL, and Deezer music streaming services and TuneIn internet radio
FlareConnect multi-room audio distribution to compatible components
Powered Zone 2 speaker outputs and Zone 2 line-output with DAC supporting digital*8 and analog audio playback
Bluetooth® wireless technology for mobiles, laptops, and PCs (Version 4.1 + LE, Profile: A2DP v1.2, AVRCP v1.3)
Advanced Music Optimizer improves compressed digital audio quality, including Bluetooth audio
Support for front L/R bi-amping in a 5.2-channel speaker layout
480i de-interlacing (480i to 480p) via HDMI for legacy video formats

AMPLIFIER FEATURES

165 W/Ch (6 Ω, 1 kHz, 1% THD, 1 Channel Driven, IEC)
Dynamic Audio Amplification delivers thrilling multichannel and stereo performance
High-current power drives large speakers with 4-ohm resistance
H.C.P.S. (High Current Power Supply) customized transformer
VLSC (Vector Linear Shaping Circuitry) high-frequency noise removal (for front L/R channels)
Non-phase-shift amplification circuitry for clarity and detail
Discrete output stage circuitry for low distortion

PROCESSING FEATURES

Dolby Atmos and DTS:X reproduction (supports 5.2.2 channels)
HDMI support for 4K/60 Hz, HDR10, HLG, Dolby Vision, 3D, Audio Return Channel, DeepColor™, x.v.Color™, LipSync, Dolby Atmos, Dolby TrueHD, DTS:X, DTS-HD Master Audio™, DSD, DVD-Audio, Super Audio CD (SACD), multichannel PCM, and CEC
High-grade AKM (AK4458) 384 kHz/32-bit multichannel DAC
PLL (Phase Locked Loop) jitter-cleaning technology for S/PDIF audio
32-bit Digital Signal Processing (DSP)
Listening modes for gaming (Rock, Sports, Action, and RPG)
Theater-Dimensional virtual surround function
Direct Mode for audio reproduction close to original source quality
Tone controls (bass/treble) for front L/R channels

CONNECTION FEATURES

7 HDMI inputs (1 front) and 2 outputs (1 Main Out, 1 Sub Out)
Powered USB terminal (5 V, 1 A) for audio playback
2 composite video inputs and 2 component video inputs
3 digital audio inputs (2 optical and 1 coaxial)
6 analog audio inputs, 1 stereo 3.5 mm analog input (front)
Phono input (MM) and equalizer for turntable connection
2 subwoofer pre-outs
6.35 mm headphone jack (front)
Speaker setup mic input (front)
Speaker posts with screw knobs

OTHER FEATURES

Crossover adjustment for each channel (40/50/60/70/80/90/100/120/150/180/200 Hz)
A/V Sync Control (up to 500 ms in 5 ms steps at 48 kHz)
Graphical User Interface with overlaid On-Screen Display via HDMI
Quick Setup Guide via GUI and easy connection diagram on rear panel
Large input selector buttons
Economical HDMI pass-through and Network Standby functions
IP control support for home automation systems
3-mode display dimmer (normal/dim/dimmer)
40 FM/AM random presets
Simple remote control

Dali Opticon 6 5.1 Speaker Package

Opticon 6

Enclosure Type: Bass Reflex
Distance From Wall: 20 - 100cm
Freq Range (+/-3dB): 49 - 32,000Hz
Sensitivity: (2,83 V/1 m) 89.0dB
Crossover Principle: 2+½ way
Super HF: 17 x 45mm Ribbon
HF Driver: 1x28mm Soft Textile Dome
LF Driver: 2 x 6 ½" Wood Fibre Cone
Connection input(s): Bi-Wiring
Dimensions (HWD): 1000 x 195 x 330mm
Weight: 18.9 Kg

Opticon 2

Enclosure Type: Bass Reflex
Distance From Wall: 10 - 80cm
Freq Range (+/-3dB): 59 - 27,000Hz
Sensitivity: (2,83 V/1 m) 87.0dB
Crossover Principle: 2-way
HF Driver: 1x28mm Soft Textile Dome
LF Driver: 1x 6.5" Wood Fibre Cone
Bass Reflex Tuning: 46.5Hz
Dimensions (HWD): 351 x 195 x 297mm
Weight: 7.8 Kg

Opticon Vokal

Enclosure Type: Bass Reflex
Distance From Wall: 0 - 30cm
Freq Range (+/-3dB): 47 - 32,000Hz
Sensitivity (2,83 V/1 m): 89.5dB
Crossover Principle: 2 + ½ way
Super HF: 17 x 45mm, Ribbon
HF Driver: 28mm Soft Textile Dome
MF Driver: 1x 6½" Wood Fibre Cone
Bass Reflex Tuning: 43.5Hz
Connection input(s): Single Wire
Dimensions (HWD): 201 x 435 x 312mm
Weight: 8.8 Kg

K-14 F

Freq Range (+/-3dB): 29 - 160Hz
Maximum SPL: 115dB
Crossover Frequency: 40 - 120Hz
LF driver: 14" long stroke Al diaphragm
Enclosure type: Bass Reflex
Bass Reflex Tuning Frequency: 34Hz
Stereo: Low-pass filtered
Max Power Consumption: 650W
Dimensions (HWD): 429 x 396 x 428mm
Weight: 26.4 kg