Product Description
Details
Cable Packages Explained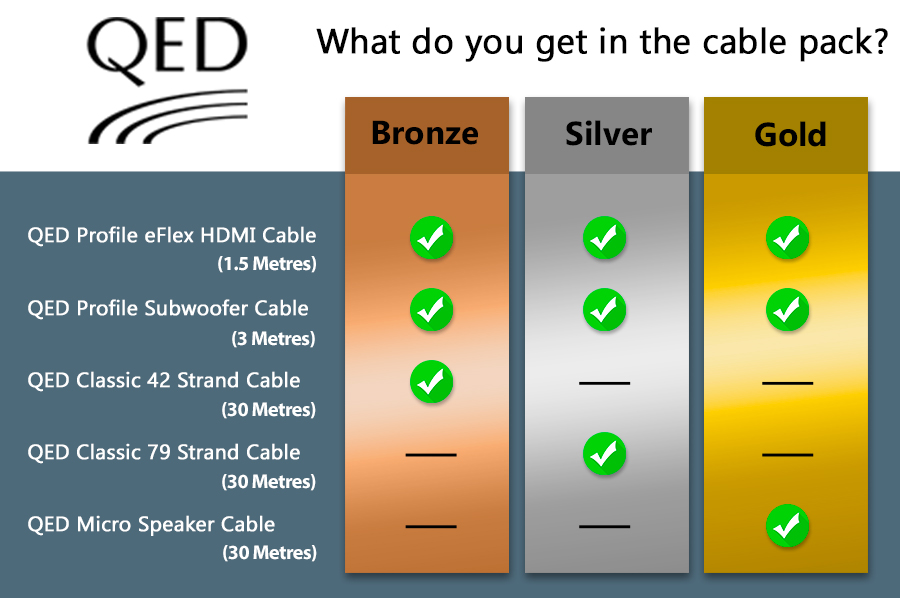 Onkyo TX-NR575E
Unlock Dolby Atmos® and DTS:X™ Playback
Object-based soundtracks allow independently mixed sound to play through any speaker in your system. Effects move all around as they do in real life, so you experience 5.2.2-channel Dolby Atmos or DTS:X formats as the director intended. DTS Neural:X™ identifies spatial effects in multichannel soundtracks and upmixes for 3D playback, while DTS:X offers independent dialog volume control for movies. Dolby Surround is also included to upmix legacy multichannel formats for playback in a Dolby Atmos-enabled environment.
FireConnect™ Wireless Multi-room Audio
FireConnect™ mirrors network audio and external analog sources connected to a master component—from streaming services to vinyl records—on FireConnect™-compatible speakers in other rooms. Music selection, speaker grouping, and playback management across the home are built into Onkyo Controller app for iOS and Android™.
Note: FireConnect™ is enabled with a firmware update. Sharing audio from external inputs depends on the model and is enabled with a future firmware update. Sampling rates of 44.1 kHz and 48 kHz are supported. FireConnect™ is a technology based on Blackfire provided by Blackfire Research Corp., USA.

Onkyo Controller Supports Next Generation Network Audio
Onkyo Controller app collects streaming services and network-attached audio into an intuitive interface. Control playback, navigate internet services, and distribute audio all over the home with ease.

Music Made Easy with Chromecast built-in*
Stream any music from your smartphone, laptop, or PC to the TX-NR575E with ease. Control playback with Chromecast-enabled apps you know and love from your iPhone, iPad, Android phone or tablet, Mac® or Windows® laptop, or Chromebook.

Stream Anything with DTS Play-Fi®*
DTS Play-Fi is a wireless protocol that works with any audio app on mobiles and PC. Flick whatever's playing to the receiver, even different sources to different components at the same time.

Wi-Fi®, AirPlay, Spotify®, and Bluetooth®
Selectable 5 GHz/2.4 GHz Wi-Fi assures stable connectivity so you can enjoy smooth streaming over AirPlay, the Spotify app, and the local network. Bluetooth wireless technology also provides quick and simple wireless streaming from your choice of music application.

Internet Radio and Streaming Services
TIDAL, Deezer, and TuneIn are baked into the GUI, making it easy to select from a huge range of music and radio programs using Onkyo Controller.

Supports HDR10, Dolby Vision™, BT.2020, 4K/60 Hz, and HDCP 2.2
Four rear HDMI inputs support pass-through of HDR10 and Dolby Vision, the BT.2020 4K video standard, 4K/60 Hz video, and HDCP 2.2-protected premium video content untouched from source to screen.

Powerful Amplification for Dynamic Sound
High current power is proven by the ability to drive four-ohm speaker loads, which will severely test the strongest multichannel amplifier. Heaps of muscle means superior control for improved clarity and transient response, restoring energy to stereo and multichannel sound. Further, VLSC™ eliminates pulse-noise for optimal playback of high-quality stereo sources.
Graphical User Interface with Easy Setup
With your speakers and media players connected, plug in the AccuEQ mic and let the GUI guide you through initial setup, from speaker calibration (including AccuReflex phase correction for Dolby Atmos-enabled speakers) to network connection. The refined interface makes control simple and enjoyable.

Powered Zone 2 and Zone 2 Lineouts
Powered Zone 2 speaker outputs let you send amplified network and analog audio sources to a pair of speakers in another room. Line outputs can connect your home cinema network and analog audio sources to a separate hi-fi system. Control playback using Onkyo Controller.

* Requires a future firmware update.
Wharfedale Home Cinema DX-2 5.1
Wharfedale DX-2 5.1 Speaker Package combines two pairs of compact satellite speakers for the front and rear, DX2 centre speaker and the WH-D8 active subwoofer.
Designed to combat the expense and lack of space associated with high-quality home cinema systems, the Wharfedale DX-2 5.1 is discreet, sleek and affordable delivering genuine surround sound.
Diminutive System
Comprising four satellite speakers (for front and rear channels), a centre speaker and active subwoofer, this 5.1 system is a diminutive. This time around it features finely tuned drive units, a more powerful active sub and improved cabinet design. It also sports an 'autopower' facility, switching out of standby when a signal is sensed and back again when it stops.
Driver Configuration
Ideal for mounting on a wall or an AV stand or shelf, the small DX-2 Satellite has a 19mm silk dome tweeter and 75mm mid/bass driver with a woven polypropylene cone. The enclosure is an infinite baffle closed-box design, which means the speaker can be placed in close proximity to a wall without adversely affecting their performance.
The DX-2 Centre incorporates the same silk dome tweeter flanked by two 75mm mid/bass drivers in a similarly compact cabinet. The design includes an aperiodic bass loading system consisting of a vent that is filled with resistive porous foam.
WH-D8 Subwoofer
The matching WH-D8 active subwoofer features a 20cm long-throw bass driver powered by a 70w amplifier for fast, deep and well-defined sound. The quality of the subwoofer's design ensures it integrates superbly with the other speakers in the package, without any hint of bass bloating or overhang. It also has an 'auto-power' facility, automatically switching in or out of standby when a signal is sensed.
Performance
The DX-2 5.1 speaker package delivers smart, space-saving contemporary style and exhilarating sound for both movies and music – fast, punchy and detailed, with a sense of scale that belies the diminutive size of the speakers.
It's the perfect way to enjoy authentic and engaging surround sound at a price more akin to a soundbar than a high-quality 5.1 speaker package. It is available in black or white finish. Anyone wanting to expand to a 7.1 system or beyond can pick up extra pairs of affordable satellite speakers with the satellite expansion pack.
Features
Specifications
Features

HIGHLIGHTS

Supports 5.2.2-Channel Dolby Atmos and DTS:X Playback
135 W per Channel
HDMI 4 In / 1 Out (4K/60 Hz / HDR10 / Dolby Vision™ / HDCP 2.2)
Dynamic Audio Amplification with 4 Ω Speaker-driving Capability
384 kHz/32-bit DAC and VLSC™ Filtering for Superior Clarity
Ready for Chromecast built-in* and DTS Play-Fi*
5 GHz/2.4 GHz Wi-Fi®, AirPlay, Spotify, TIDAL, Deezer, Pandora®, TuneIn*5
FireConnect™*1 Wireless Multi-room Audio

* Requires a future firmware update.


ADVANCED FEATURES

HDMI Terminals Supporting HDR10, Dolby Vision, BT.2020, 4K/60 Hz, and HDCP 2.2
Supports 5.2.2-Channel Dolby Atmos Playback and Dolby Surround Upmixing
DTS:X Object-based Audio Reproduction and DTS Neural:X™ 3D Upmixing
AccuEQ Room Acoustic Calibration with AccuReflex Phase Alignment for Dolby Atmos-enabled Speakers
Ready for Onkyo Controller App Integrated Multi-room Intuitive Operation*2
Stable Dual-band 5 GHz/2.4 GHz Wi-Fi® Connectivity
Features Chromecast built-in* Wireless Audio Streaming Technology
DTS Play-Fi* Shares Music from Apps to Receiver and Wireless Speakers
AirPlay Audio Streaming from iTunes and iPad, iPhone, and iPod touch
Supports Hi-Res Audio Including DSD 5.6 MHz/2.8 MHz*3, 192 kHz/24-bit FLAC, WAV, AIFF, and ALAC, and Dolby® TrueHD*4
Supports Spotify, TIDAL, TuneIn, Pandora, and Deezer Services*5
FireConnect™ Multi-room Distribution of Network and Analog Audio Sources*6 to Compatible Wireless Speakers
Powered Zone 2 Speaker Outputs and Zone 2 Line Output with Dedicated DAC Supporting Network and Analog Audio Playback
Bluetooth® Wireless Technology for Mobiles, Laptops, and PCs (Version 4.1 + LE, Profile: A2DP v1.2, AVRCP v1.3)
Advanced Music Optimizer Improves Compressed Digital Audio Quality, Including Bluetooth Audio
480i De-interlacing (480i to 480p) via HDMI

*1 Enabled with a firmware update. FireConnect™ is a technology based on Blackfire provided by Blackfire Research Corp., USA. Sampling rates of 44.1 kHz and 48 kHz are supported.
*2 For iOS and Android devices. Please check App Store or Google Play™ for device and OS requirements.
*3 DSD playback not supported over wireless LAN.
*4 Dolby TrueHD playback via USB input only.
*5 Availability of services may vary with region. Please confirm availability before purchase. Subscription may also be required. Pandora is available in Australia and New Zealand only.
*6 Sharing audio from external analog inputs depends on the model and is enabled with a future firmware update.


AMPLIFIER FEATURES

135 W/Ch (6 Ω, 1 kHz, 1% THD, 1 Channel Driven, IEC)
Dynamic Audio Amplification System Delivers Thrilling Stereo and Multichannel Performance
Discrete Output Stage Circuitry for Low Distortion
High Current Power to Drive Larger Speakers with 4 Ω Resistance
H.C.P.S. (High Current Power Supply) Transformer
Non-Phase-Shift Amplification Circuitry for Clarity and Detail
VLSC (Vector Linear Shaping Circuitry) High-frequency Noise Removal (Front L/R Channels)
PLL (Phase Locked Loop) Jitter-Cleaning Circuit Technology for S/PDIF Audio

PROCESSING FEATURES

Dolby Atmos and DTS:X Reproduction (5.2.2 Channels)
HDMI Support for 4K/60 Hz, HDR10, Dolby Vision, 3D, Audio Return Channel, DeepColor™, x.v.Color™, LipSync, Dolby Atmos, Dolby TrueHD, DTS:X, DTS-HD Master Audio™, DSD, DVD-Audio, Super Audio CD (SACD), Multichannel PCM, and CEC
AKM (AK4438) 384 kHz/32-bit Multichannel DAC
32-bit Digital Signal Processing
DSP Modes for Gaming: Rock, Sports, Action, and RPG
Theater-Dimensional Virtual Surround Function
Enjoy Pristine Reproduction of Audio-only Sources in Pure Audio Mode
Direct Mode for Audio Reproduction Close to Original Source Quality
Tone Controls (Bass/Treble) for Front L/R Channels

CONNECTION FEATURES

4 HDMI Inputs and 1 Output
Powered USB Port (5 V, 1 A) for Audio Playback
2 Composite Video Inputs
3 Digital Audio Inputs (2 Optical and 1 Coaxial)
4 Analog Audio Inputs, 1 Stereo Analog Input (3.5 mm, Front)
Phono Input (MM) and Equalizer for Turntable
2 Subwoofer Pre-Outs
Headphone Jack (6.35 mm, Front)
Speaker Posts with Screw Knobs
Speaker Setup Mic Input and Microphone (Front)

WHARFEDALE HOME CINEMA DX-2 PRODUCT INFORMATION

Satellite:

- TWeeter: 20mm silk dome
- Mid/Bass: 75mm woven PP cone
- Enclosure: infinite baffle
- Dimensions: 19 x 12 x 12cm

Centre:

- TWeeter: 19mm silk dome
- Mid/Bass: Dual 75mm drivers
- Bass Loading: Aperiodic
- Vent filling: Porous foam
- Dimensions: 12 x 31 x 12cm

Active Sub:

- Driver: 200mm long-throw
- Freq Response: 40Hz - 120Hz ±3dB
- Amp Power Out: 120W RMS
- Line Input Sensitivity: 200mV
- Crossover Range: 40Hz - 150Hz
- RCA Phono: 2 x Stereo, LFE
- Signal/noise ratio: 85dB
- Dimensions (HWD): 328 x 268 x 322mm
- Net weight: 7.5kg