Product Description
Details
Cable Packages Explained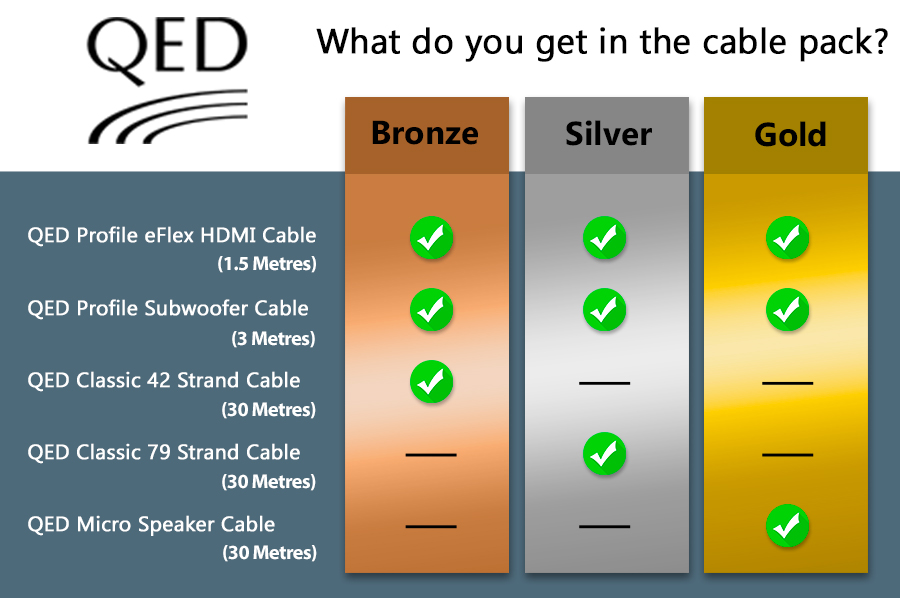 Onkyo TX-NR474 5.1 Channel Network A/V Receiver
Unlock Dolby Atmos® and DTS:X™ Playback
Object-based mixing lets sounds play through any speaker independently. Effects move above and around you as in real life. Enjoy movies and games with 3.1.2-channel Dolby Atmos* sound, and DTS:X through any speaker layout, and discover a new sonic dimension.
Surround Enhancer* Mode
Based on technology developed by Dolby Laboratories, Inc., Surround Enhancer Mode augments the object-based soundfield with virtual channels that emulate a 5.1.2-channel Dolby Atmos experience as delivered by a comparable 7.1-channel receiver. With Surround Enhancer Mode, you can enjoy a 5.1.2-channel 3D soundfield easily without need of rear speakers.
Music Made Easy with Chromecast built-in*
Stream any music from your smartphone, laptop, or PC to the TX-NR474 with ease. Control playback from Chromecast-enabled apps you know and love from your iPhone, iPad, Android™ phone or tablet, Mac® or Windows® laptop, or Chromebook.
Stream Anything with DTS Play-Fi®
DTS Play-Fi* is a wireless protocol that works with any app and smart device. Flick whatever's playing to your home cinema, even different sources to different speakers at the same time.
Dual-band Wi-Fi®, AirPlay, and Spotify® Connect
A selectable 5 GHz Wi-Fi® channel assures stable streaming connectivity in areas with traffic congestion on the 2.4 GHz band. Enjoy smooth streaming over AirPlay, the Spotify Connect app, and other network audio services.
Internet Radio and Streaming Services
TIDAL, Deezer, and TuneIn are baked into the GUI, making it easy to select from a massive range of music and radio programs using Onkyo Controller.
FireConnect™ Wireless Multi-room Audio
FireConnect™ mirrors network audio and external analog sources connected to master component—from streaming services to vinyl records—on FireConnect™-compatible speakers in other rooms. Music selection, speaker grouping, and playback management across the home are built into Onkyo Controller app for iOS and Android™.

Note: FireConnect™ is enabled with a firmware update. Sharing audio from external inputs depends on the model and is enabled with a future firmware update. Sampling rates of 44.1 kHz and 48 kHz are supported. FireConnect™ is a technology based on Blackfire provided by Blackfire Research Corp., USA.
Onkyo Controller Supports Next Generation Network Audio
Onkyo Controller collects streaming services and network-attached audio into an intuitive smartphone app. Control playback, explore services, and distribute audio all over the home via FireConnect™ from one easy interface. Alternatively, you can use familiar music apps now supported within this next-generation network ecosystem.
Powerful Amplification for Dynamic Sound
High current power is proven by the TX-NR474's ability to drive four-ohm speaker loads, which will severely test the strongest amp. Heaps of muscle means superior control for outstanding clarity and transient response, restoring energy to music and the surround-sound experience.
Supports 4K HDR and BT.2020 Standard
Connect four players to the receiver's HDMI inputs. The inputs support passthrough of 4K/60 Hz video, High Dynamic Range in HDR10 or Dolby Vision™* formats, as well as the BT.2020 Ultra HD video standard. Enjoy the latest 4K movies untouched from source to screen.
Graphical Interface with Easy Setup
With your speakers and media players connected, plug in the AccuEQ mic and let the intuitive GUI guide you through initial setup, from speaker calibration to network connection. The interface eliminates frustration and makes everyday control simple and enjoyable.

* Requires a future firmware update.
Dali Specktor 6 5.1 Home Cinema Package
The SPEKTOR 5.1 speaker package is fronted with the SPEKTOR 6 floorstanding speakers. With two 6½" woofers and a 25 mm soft dome tweeter these are the power-house of the SPEKTOR family. At the rear are the SPEKTOR 2 bookshelf speakers, still compact but with a larger inner volume they deliver extra bass performance. Taking centre stage, the SPEKTOR VOKAL delivers clarity and depth to any movie. Finally the DALI E-9F subwoofer. An impressive 170 watt class-D amplifier is the primary driver, providing the bass cone with well controlled power that fills up rooms far larger than you think it should.
The DALI SPEKTOR range, like all DALI loudspeakers, has been designed in accordance with DALI's fundamental acoustic and electro-acoustic principles, and a strong belief that clarity and an authentic, honest sound reproduction will get you even closer to the full impact of a live music experience. The amplifier friendly design makes the SPEKTOR series a perfect fit for almost any of the amplifiers in its price category. No matter if we look at compact Hi-Fi, stereo amplifiers or surround receivers, SPEKTOR will bring out the best in them.
SPEKTOR speakers bring the DALI sound design principals to a new price bracket, opening the possibility for many new music and movie lovers to experience the seduction of true Hi-Fi. Getting this much Hi-Fi performance from a speaker in this price range took hours and hours spent in the listening room, improving the driver and crossover designs to create the perfect audio performance.
Wide Dispersion
Experience a well-integrated sound, even when listening significantly off-axis. Optimising the audio signal for off-axis distribution results in the signal reaching your ear directly and the signal reflected off the room surfaces, to have a coherent balance. This means a consistent high sound quality across a wider listening area. At the same time offering greater flexibility in positioning the loudspeakers.
Tweeter
The soft dome tweeter offers best-in-class resolution with an extended frequency response, wide dispersion and low colouration. A clear heritage from the DALI high-end series. The tweeter is based on an ultra-lightweight weaved fabric, which weighs less than half of the market standard (0.056 mg/mm2).
Woofer
Low-loss drivers made of low-mass paper cones with wood fibre reinforcement. The embedded wood fibre cones gives the surface an uneven structure, which dramatically minimizes the resonance of the surface. This creates the best possible reproduction of every detail in the audio signal.
Low Signal Loss
By using only DALI designed and custom-built drivers, the need for frequency correction in the crossover is eliminated. This has enabled DALI to design an exact crossover which together with carefully selected quality components ensures that the signal loss is close to zero.
Features
Specifications
Features

TX-NR474 PRODUCT INFORMATION

HIGHLIGHTS

Supports 3.1.2-Channel Dolby Atmos®*1 and DTS:X™

135 W per Channel

HDMI® 4 In / 1 Out (4K/60 Hz / HDR10 / Dolby Vision™ / HDCP 2.2)

4 Ω Speaker Driving Capability

5 GHz/2.4 GHz Wi-Fi®, Chromecast built-in*1, DTS Play-Fi®*1, and AirPlay

FireConnect™*1 Wireless Multi-room Distribution

AMPLIFIER FEATURES

135 W/Ch (6 Ω, 1 kHz, 1% THD, 1 Channel Driven, IEC)

High Current Amplification System for Thrilling Stereo and Multichannel Performance

H.C.P.S. (High Current Power Supply) Transformer

Discrete Output Stage Circuitry for Low Distortion

Non-Phase-Shift Amplification Circuitry for Clarity and Detail

High Current Power to Drive Larger Speakers with 4 Ω Resistance

PLL (Phase Locked Loop) Jitter-Cleaning Circuit Technology for S/PDIF Audio

PROCESSING FEATURES

Decodes Dolby Atmos* (3.1.2 Channels) and DTS:X Formats

HDMI Support for 4K/60 Hz, HDR10, Dolby Vision, 3D, Audio Return Channel, DeepColor™, x.v.Color™, LipSync, Dolby Atmos®*, Dolby® TrueHD, DTS-HD Master Audio™, DSD, DVD-Audio, Super Audio CD (SACD), Multichannel PCM, and CEC

Dolby® TrueHD and DTS-HD Master Audio™ Decoding

AKM (AK4438) 384 kHz/32-bit Multichannel DAC

32-bit Digital Signal Processing

DSP Modes for Gaming: Rock, Sports, Action, and RPG

Theater-Dimensional Virtual Surround Function

Pure Audio Mode with Easy Front Panel Button

Front Panel Tone Controls (Bass/Treble) for Front L/R Channels

* Requires firmware update.

CONNECTION FEATURES

4 HDMI Inputs and 1 Output

Powered Rear USB Port (5 V, 1 A)

2 Composite Video Inputs

3 Digital Audio Inputs (2 Optical and 1 Coaxial)

3 Analog Audio Inputs, 1 Stereo Analog Input (3.5 mm, Front)

Subwoofer Pre-Out

Headphone Jack (6.35 mm, Front)

Speaker Posts with Screw Knobs

Speaker Setup Mic Input (Front)

For full product information please click here

Dali Spektor 6 5.1 Home Cinema Speaker Package

Frequency Range (+/-3 dB) [Hz]
43 - 26,000 Hz
Sensitivity (2,83 V/1 m) [dB]
88.5 dB
Nominal Impedance [ohms]
6 ohms
Maximum SPL [dB]
109 dB
Recommended Amplifier Power [W]
30 - 150 Watt
Crossover Frequency [Hz]
2,500 Hz
Crossover Principle
2-way
High frequency driver, Quantity
1 x 25 mm
High frequency driver, Diaphragm type
Soft Textile Dome
Low frequency driver, Quantity
2 x 6,5"
Low frequency driver, Diaphragm type
Wood Fibre Cone
Enclosure type
Bass Reflex
Bass Reflex Tuning Frequency [Hz]
41.0 Hz
Connection Input
Single Wire
Recommended Placement
Floor
Recommended Distance From Wall [cm]
20 - 100 cm
Dimensions (HxWxD) [mm]
972 x 195 x 313 mm
Weight [kg]
13.8 kg
Accessories Included
Spokes
Rubber Feet
Manual

SPEKTOR 2 Specifications

Frequency Range (+/-3 dB) [Hz]
54 - 26,000 Hz
Sensitivity (2,83 V/1 m) [dB]
84.5 dB
Nominal Impedance [ohms]
6 ohms
Maximum SPL [dB]
105 dB
Recommended Amplifier Power [W]
25 - 100 Watt
Crossover Frequency [Hz]
2,600 Hz
Crossover Principle
2-way
High frequency driver, Quantity
1 x 25 mm
High frequency driver, Diaphragm type
Soft Textile Dome
Low frequency driver, Quantity
1 x 5,25"
Low frequency driver, Diaphragm type
Wood Fibre Cone
Enclosure type
Bass Reflex
Bass Reflex Tuning Frequency [Hz]
51.5 Hz
Connection Input
Single Wire
Recommended Placement
Shelf or stand
On-Wall
Recommended Distance From Wall [cm]
1 - 80 cm
Dimensions (HxWxD) [mm]
292 x 170 x 238 mm
Weight [kg]
4.2 kg
Accessories Included
Rubber Feet
Manual
Wall Bracket

SPEKTOR Vokal Specifications

Frequency Range (+/-3 dB) [Hz]
66 - 26,000 Hz
Sensitivity (2,83 V/1 m) [dB]
87.0 dB
Nominal Impedance [ohms]
6 ohms
Maximum SPL [dB]
107 dB
Recommended Amplifier Power [W]
40 - 120 Watt
Crossover Frequency [Hz]
2,100 Hz
Crossover Principle
2-way
High frequency driver, Quantity
1 x 25 mm
High frequency driver, Diaphragm type
Soft Textile Dome
Low frequency driver, Quantity
2 x 4,25"
Low frequency driver, Diaphragm type
Wood Fibre Cone
Enclosure type
Bass Reflex
Bass Reflex Tuning Frequency [Hz]
51.5 Hz
Connection Input
Single Wire
Recommended Placement
Shelf or stand
Recommended Distance From Wall [cm]
1 - 50 cm
Dimensions (HxWxD) [mm]
152 x 435 x 204 mm
Weight [kg]
5.3 kg
Accessories Included
Rubber Feet
Manual

E-9 F Subwoofer Specifications

Frequency Range (+/-3 dB) [Hz]
37 - 200
Maximum SPL [dB]
111
Crossover Frequency [Hz]
40 - 120 Hz
Low Frequency Driver
1 x 9-inch long stroke Polymere Aluminimum
Enclosure Type
Bass Reflex
Bass Reflex Tuning Frequency [Hz]
39.0
Max. Amplifier Power Output [RMS watt]
220
Continous IEC Power Output [RMS watt]
170
Input Impedance [kOhm]
25
Connection input(s)
Mono line level (LFE)
Stereo line level (low pass filtered)
RCA
Recommended Placement
Floor in the corner or side
Recommended Distance From Wall
10cm - 30cm
Functions
Crossover Frequency
Phase Switch
Standby (Auto Power) On/Off
Switch
Volume (Gain)
Maximum Power Consumption
250w
Max. Dimensions (Incl. Base And Grille)
H307 x W288 x D311mm
Weight
11.0kg
Warranty
2 Years