Product Description
Details
Cable Packages Explained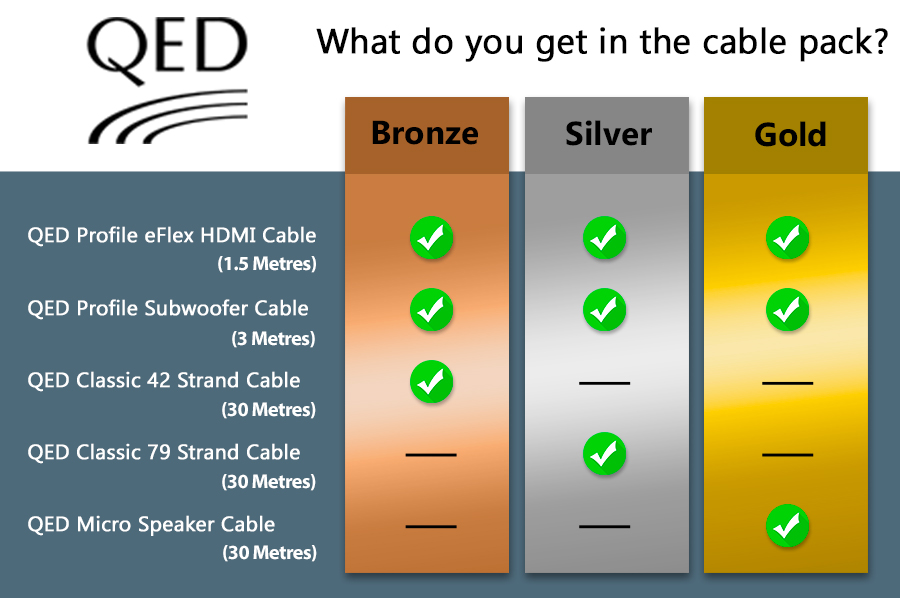 Onkyo TX-NR474 5.1 Channel Network A/V Receiver
Unlock Dolby Atmos® and DTS:X™ Playback
Object-based mixing lets sounds play through any speaker independently. Effects move above and around you as in real life. Enjoy movies and games with 3.1.2-channel Dolby Atmos* sound, and DTS:X through any speaker layout, and discover a new sonic dimension.
Surround Enhancer* Mode
Based on technology developed by Dolby Laboratories, Inc., Surround Enhancer Mode augments the object-based soundfield with virtual channels that emulate a 5.1.2-channel Dolby Atmos experience as delivered by a comparable 7.1-channel receiver. With Surround Enhancer Mode, you can enjoy a 5.1.2-channel 3D soundfield easily without need of rear speakers.
Music Made Easy with Chromecast built-in*
Stream any music from your smartphone, laptop, or PC to the TX-NR474 with ease. Control playback from Chromecast-enabled apps you know and love from your iPhone, iPad, Android™ phone or tablet, Mac® or Windows® laptop, or Chromebook.
Stream Anything with DTS Play-Fi®
DTS Play-Fi* is a wireless protocol that works with any app and smart device. Flick whatever's playing to your home cinema, even different sources to different speakers at the same time.
Dual-band Wi-Fi®, AirPlay, and Spotify® Connect
A selectable 5 GHz Wi-Fi® channel assures stable streaming connectivity in areas with traffic congestion on the 2.4 GHz band. Enjoy smooth streaming over AirPlay, the Spotify Connect app, and other network audio services.
Internet Radio and Streaming Services
TIDAL, Deezer, and TuneIn are baked into the GUI, making it easy to select from a massive range of music and radio programs using Onkyo Controller.
FireConnect™ Wireless Multi-room Audio
FireConnect™ mirrors network audio and external analog sources connected to master component—from streaming services to vinyl records—on FireConnect™-compatible speakers in other rooms. Music selection, speaker grouping, and playback management across the home are built into Onkyo Controller app for iOS and Android™.

Note: FireConnect™ is enabled with a firmware update. Sharing audio from external inputs depends on the model and is enabled with a future firmware update. Sampling rates of 44.1 kHz and 48 kHz are supported. FireConnect™ is a technology based on Blackfire provided by Blackfire Research Corp., USA.
Onkyo Controller Supports Next Generation Network Audio
Onkyo Controller collects streaming services and network-attached audio into an intuitive smartphone app. Control playback, explore services, and distribute audio all over the home via FireConnect™ from one easy interface. Alternatively, you can use familiar music apps now supported within this next-generation network ecosystem.
Powerful Amplification for Dynamic Sound
High current power is proven by the TX-NR474's ability to drive four-ohm speaker loads, which will severely test the strongest amp. Heaps of muscle means superior control for outstanding clarity and transient response, restoring energy to music and the surround-sound experience.
Supports 4K HDR and BT.2020 Standard
Connect four players to the receiver's HDMI inputs. The inputs support passthrough of 4K/60 Hz video, High Dynamic Range in HDR10 or Dolby Vision™* formats, as well as the BT.2020 Ultra HD video standard. Enjoy the latest 4K movies untouched from source to screen.
Graphical Interface with Easy Setup
With your speakers and media players connected, plug in the AccuEQ mic and let the intuitive GUI guide you through initial setup, from speaker calibration to network connection. The interface eliminates frustration and makes everyday control simple and enjoyable.

* Requires a future firmware update.
KEF T205 Speaker System
T205 System
If you prefer more frontal 'slam' for movie special effects and a system that generally plays louder, the T205 system substitutes a pair of the larger T301 speakers for the front satellite and centre channel speakers. For drama as well as music, even in larger loft-like spaces, it has the power to keep everyone in the room on the edge of their seat.

The best of home theatre


With a flat screen TV, you want speakers to match. Really flat.
More importantly, you also want to fill the room with high definition 3D sound that's every bit as involving as what's on screen.
With KEF's new T Series, you get exceptionally slim profile speakers that generate all the intricacy, spaciousness and dynamic range of a high end conventional design.
You'd expect no less from KEF. With some of the finest speakers in the world to our credit, ours is a 50-year success story of innovation that includes unrivalled experience of home theatre: our multi-award winning systems have for years been the standard by which others are judged.
No wonder even the most demanding listeners love the new T Series the first time they hear it – and when you discover the unique technologies crammed into each slender enclosure, you understand why…



Features
Specifications
Features

TX-NR474 PRODUCT INFORMATION

HIGHLIGHTS

Supports 3.1.2-Channel Dolby Atmos®*1 and DTS:X™

135 W per Channel

HDMI® 4 In / 1 Out (4K/60 Hz / HDR10 / Dolby Vision™ / HDCP 2.2)

4 Ω Speaker Driving Capability

5 GHz/2.4 GHz Wi-Fi®, Chromecast built-in*1, DTS Play-Fi®*1, and AirPlay

FireConnect™*1 Wireless Multi-room Distribution

AMPLIFIER FEATURES

135 W/Ch (6 Ω, 1 kHz, 1% THD, 1 Channel Driven, IEC)

High Current Amplification System for Thrilling Stereo and Multichannel Performance

H.C.P.S. (High Current Power Supply) Transformer

Discrete Output Stage Circuitry for Low Distortion

Non-Phase-Shift Amplification Circuitry for Clarity and Detail

High Current Power to Drive Larger Speakers with 4 Ω Resistance

PLL (Phase Locked Loop) Jitter-Cleaning Circuit Technology for S/PDIF Audio

PROCESSING FEATURES

Decodes Dolby Atmos* (3.1.2 Channels) and DTS:X Formats

HDMI Support for 4K/60 Hz, HDR10, Dolby Vision, 3D, Audio Return Channel, DeepColor™, x.v.Color™, LipSync, Dolby Atmos®*, Dolby® TrueHD, DTS-HD Master Audio™, DSD, DVD-Audio, Super Audio CD (SACD), Multichannel PCM, and CEC

Dolby® TrueHD and DTS-HD Master Audio™ Decoding

AKM (AK4438) 384 kHz/32-bit Multichannel DAC

32-bit Digital Signal Processing

DSP Modes for Gaming: Rock, Sports, Action, and RPG

Theater-Dimensional Virtual Surround Function

Pure Audio Mode with Easy Front Panel Button

Front Panel Tone Controls (Bass/Treble) for Front L/R Channels

* Requires firmware update.

CONNECTION FEATURES

4 HDMI Inputs and 1 Output

Powered Rear USB Port (5 V, 1 A)

2 Composite Video Inputs

3 Digital Audio Inputs (2 Optical and 1 Coaxial)

3 Analog Audio Inputs, 1 Stereo Analog Input (3.5 mm, Front)

Subwoofer Pre-Out

Headphone Jack (6.35 mm, Front)

Speaker Posts with Screw Knobs

Speaker Setup Mic Input (Front)

For full product information please click here

KEF T205 SPEAKER SYSTEM PRODUCT INFORMATION

T101 / T101c

-Two-way closed box
-Drive units: 115mm (4.5in.) dual layer MF
-25mm (1in.) aluminium HF
-Frequency response: 80Hz - 30kHz
-Crossover frequency: 1.7kHz
-Amplifier requirements: 10 - 100 W
-Sensitivity (2.83V/1m): 90dB (wall mount)
-87dB (floor stand mount)
-Maximum output (SPL): 107dB
-Impedance: 8ohms
-Internal volume: 0.7 Litres

T301 / T301c - Two and a half-way closed box

-Drive units: 2 x 115mm (4.5in.) dual layer MF
-25mm (1in.) aluminium HF
-Frequency response: 80Hz - 30kHz
-Crossover frequency: 1.7kHz
-Amplifier requirements: 10 - 150 W
-Sensitivity (2.83V/1m): 91dB (wall mount)
-88dB (floor stand mount)
-Maximum output (SPL): 110dB
-Impedance: 8 Ohms
-Internal volume: 1.4 Litres

T-2 - Closed box powered subwoofer

-Drive units:m 1 x 250mm (10in.)
-Frequency response: 30Hz - 250Hz
-Amplifier: 250 Watts built-in Class-D
-Maximum output (SPL): 110dB
-Low pass filter variable: Fixed 250Hz, 2nd-order
-Low level signal inputs: RCA phono socket
-Internal volume: 12.7 Litres
-Power requirements: 100 - 240 V ac ~ 50/60Hz
-Power consumption: 250V