Product Description
Details
The Smarter Kit includes everything you need to get started and the Rhythm Upgrade module! Add up to 30 panels to this WiFi smart lighting product and bathe any room in gorgeous, colorful light. Operate with the free Nanoleaf Smarter Series App or the Home App in iOS10+. And if you don't want to use your phone as a lightswitch, you can access basic functions from the controller buttons and with Siri, Google Home / Assistant or Amazon Alexa
A Brand New Lighting Experience.
Nanoleaf Aurora is a smart lighting product unlike anything you've seen before. Wake up to the sunrise, improve your mood with stunning colors, and automate your lighting throughout the day.
It's Even Music for Your Eyes
The Rhythm add-on module transforms music into light for your Aurora. Plug it in, turn it on, and embark on a sensory adventure personalized just for you.
How Aurora Works
Illuminate your life, your way.
Piece the triangular panels together into whatever shape your heart desires. Easily mounted onto any flat surfaceusing mounting tape.
Fully customize your lighting inside the App, create scenes, set schedules, or download/share your scenes with the user community.
Activate scenes using your voice via Siri, Amazon Alexa, or Google Assistant. Or use the toggle button on the physical controller.
Guided Content Discovery
Create, share, preview, and download at the tap of a finger.
There's an entire community of creators and music enthusiasts dreaming up new Scenes. Be one of them and share your Aurora and Rhythm Scenes, or preview anddownload Scenes shared by others.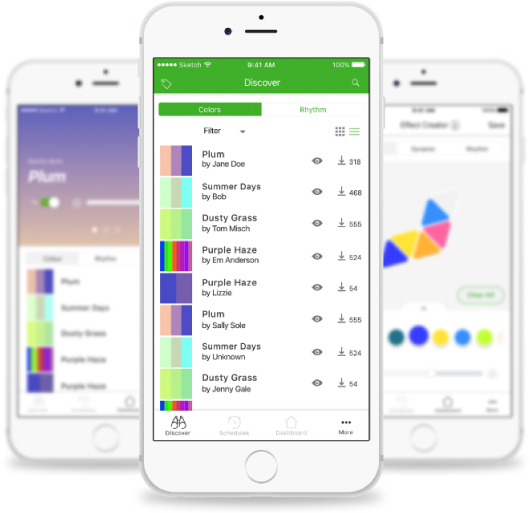 Voice Control
Voice Control avalible with Siri & Amazon Alexa compatibltiy. Changing the scenes is as simple as telling your smart device what to do and watching the scene change before your very eyes within seconds.

Nanoleaf Smarter Series App
Available to download for free from the App Store (iOS) and Google Play Store (Android), the Smarter Series App opens up a world of customisation, enabling you to choose from a extremely wide range of colour options to paint your panels with, in addition to changing the speed and brightness of the panels. Through the app, you'll even be able to create and save time triggers, to turn lighting scenes on and off automatically.
As a hub is not required, connection via WiFi will have you customising your Aurora within seconds.
Easy to use controller
As Aurora features it's own controller unit, you're not limited to only having to use a smartphone to control it. With a power button, pre-loaded scenes and the option to select saved scenes, controlling Aurora is made simple.
Drill-free installation
Installation is made simple with the included mounting strips, stencils and panel connectors. As all mounting has been designed to be drill-free, attaching the Aurora Smarter Kit with the included mounting strips ensures damage to your wall is minimised and means creating new designs or re-locating Aurora is problem free.
NANOLEAF AURORA RHYTHM (UPGRADE MODULE)
The Aurora Rhythm is an add-on module for your Nanoleaf Aurora that upgrades your Aurora light panels into a real-time music visualizer. The Rhythm makes it possible to see sound, visually remastering your music into animated displays of colour and light. With gorgeous colour displays produced by your own soundtrack, the Aurora Rhythm creates an immersive symphony of light and music that's personalised just for you.
Works with iOS8 or later (HomeKit), Android 5.01 or later, Apple Home App, Amazon Alexa, and IFTTT. The upgrade module requires a Nanoleaf Aurora Smarter Kit to function. Note that the Rhythm Smarter Kit on this page includes the upgrade module, no need to buy separately unless you want a second Rhythm unit.
Features
Specifications
Features

NANOLEAF AURORA SMARTER KIT FEATURES

RGBW LED panels—16.7M colors + tunable white (warm sunrise to brilliant daylight)

Drill-free mounting kit included—no holes, no hassle!

WiFi product (no hub or bridge required)

3 Ways to Play! Operate with your voice (iOS and Amazon Alexa), the included controller, or the Nanoleaf Smarter Series App

Power up to 30 panels with each Nanoleaf Aurora Smarter Kit

NANOLEAF SMARTER SERIES APP FEATURES

Pair and control multiple Auroras connected to the same wireless network

Operate the Aurora + any Zigbee HA1.2 compliant smart light

Add Auroras and smart lights to room groups to control multiple lights and personalize your home even more!

Siri voice control (iOS only) and voice control via Amazon Alexa

Build and save your own lighting scenes and animations to recreate the perfect ambience with the tap of a finger

Design and save your own color palettes and white light settings for the Aurora and any compatible Zigbee smart light

Create and save time triggers to turn lighting scenes on and off automatically. Works even better with a Nanoleaf Smarter Cloud account!

Requires iOS8+ or Android 5.01+

EACH NANOLEAF AURORA SMARTER KIT INCLUDES

1 Power Supply Unit (universal: 120vac - 240vac)