Product Description
Details
Simple Software Control

Start creating and performing music with your mac or PC with the world's best-selling keyboard controllers: The Keystation Series from M-Audio. Whether you're a seasoned pro looking for just the right controls or are looking to get started with the right USB MIDI controller, the Keystation 49 MK3 is a simple, powerful MIDI controller designed for sequencing music and playing virtual instruments on your Mac or PC. Keystation 49 MK3 features 49 natural feeling full-size velocity-sensitive keys and comprehensive controls that expand the range of playable notes, expressive capabilities, and enhance your recording workflow.
Musical Control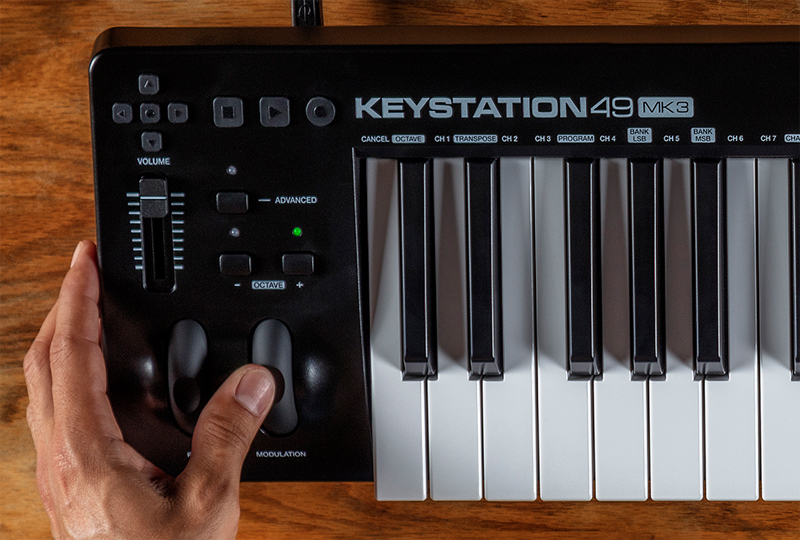 With Keystation 49 MK3, maximizing your creativity while minimizing the complication is easy: Use the fully assignable octave range buttons; pitch-bend and modulation wheels; volume slider, and transport and directional controls to play, perform, and record with your music software without using a mouse or trackpad. Keystation 49 MK3 also features a 1/4" (6.3mm) sustain pedal input that lets you use an external control pedal, such as the M-Audio SP2 (sold separately), for genuine piano sustain.
Pure Player Experience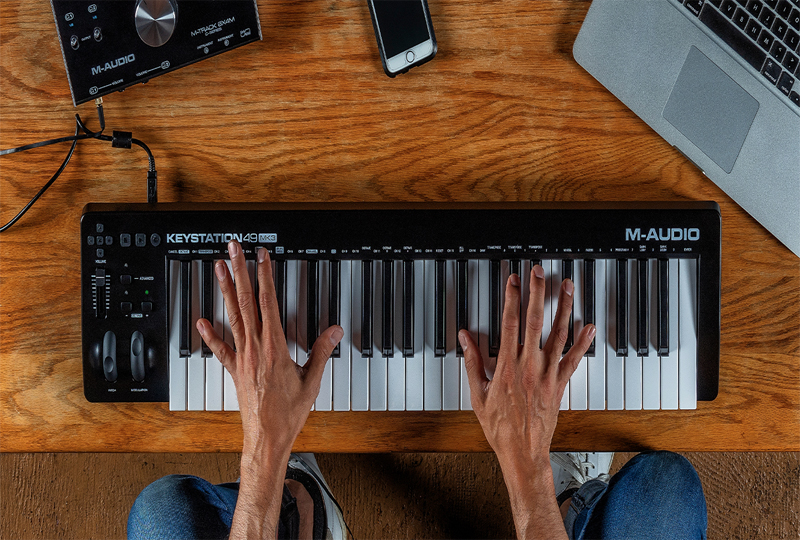 Compact, lightweight and durable, Keystation 49 MK3 is perfect for traveling musicians who want to take command of music software during live performances or for producers who wish to add an intuitive MIDI controller with a natural feeling keybed to their studio—it easily satisfies both roles. For an easy-to-use and portable setup, Keystation 49 MK3 is USB-powered, class-compliant, and supports USB-MIDI connectivity. Plus, Keystation 49 MK3 supports iOS connectivity with the Apple Lightning to USB Camera Adapter (sold separately), enabling you to perform and compose with audio apps on your iPad and other iOS devices.
Ableton Live Lite
Ableton Live Lite is one of the most popular performance and production programs available in the world. A powerful music creation tool, Ableton Live Lite enables musicians and producers to spontaneously compose, record, remix, improvise, and edit musical ideas in a fluid audio/MIDI environment. Explore sonic possibilities in real time whether on stage or in the studio. When you are satisfied with your work, Ableton Live Lite lets you save it or mix it down.
AIR Music Tech Xpand!2
AIR Music's Mini Grand is a simple-to-use yet powerful virtual piano instrument with seven different acoustic piano sounds to suit a broad range of musical styles and production needs. Combining premium quality piano samples, innovative re-pedaling technology, built-in room simulation and equal and stretched tuning, Mini Grand is the go-to plugin for authentic, emotive piano sounds.
Pro Tools First Download
Pro Tools | First, the industry standard for recording software, is now included with M-Track C-Series Audio/MIDI interfaces, as well as our renowned CTRL, Code, Oxygen, Hammer and Keystation USB/MIDI keyboard controllers. This amazing audio recording software helps inspire any artist, traveling musician or singer-songwriter to create, record and share all of their ideas across the world at any time.
Pro Tools | First features Unlimited Busses, Elastic Time and Elastic Pitch, Offline Bounce and 1 GB of free cloud storage space for collaboration or accessing your projects from any computer anywhere that is connected to the internet.
This truly amazing software recording package is primed to get your ideas out of your imagination and amplified out into the world, enjoy!
Touch Loops
Chop up and mix 2 gigs of samples ranging from deep ambient synth pad loops to vintage drum one shots. These are all designed to inspire your music production and provide professional sounding samples that will shine in your mix. Touch Loops perfectly captures the tone and intensity of each sample, so they enhance and complement any song, wherever you use them. This incredible value can be found in your M-Audio account, ready to be downloaded and chopped to your liking!
Key Features
49 full-size velocity-sensitive synth-action keys with natural feel
USB-MIDI connection for playing virtual instruments, controlling recording software, and more
Transport and directional buttons for controlling any recording software/DAW
Volume fader for deeper control of plugins
Ergonomically designed pitch and modulation wheels for expressive performances
Advanced functionality customizes fader, buttons, pitch and mod wheels to control any DAW or plugin parameter
Compact design fits any desk, studio or stage setup perfectly
USB-powered, supports plug-and-play connectivity to your Mac or PC—no drivers required
iOS compatibility using the Apple iPad Camera Connection Kit (sold separately)
Includes Pro Tools | First M-Audio Edition, Ableton Live Lite performance/recording software/DAWs
Includes AIR Music Tech Mini Grand, with seven acoustic piano sounds
Includes AIR Music Tech Velvet virtual electronic piano with five legendary electric pianos from the '60s and '70s
Includes AIR Music Tech Xpand!2 multitimbral all-in-one workstation
M-Audio is a trademark of inMusic Brands, Inc., registered in the U.S. and other countries. inMusic is the exclusive distributor of SONiVOX. Ableton is a trademark of Ableton AG. iPad is a trademark of Apple Inc., registered in the U.S. and other countries. IOS is a registered trademark of Cisco in the U.S. and other countries and is used under license. All other product or company names are trademarks or registered trademarks of their respective owners.
Features
Specifications
Features

What's In The Box

Software Download Cards

USB Cable

User Guide

Safety and Warranty Manual

Tech Specs

49 Key USB MIDI Controller

Directional Pad (Up, Down, Left, Right and Enter)

Minimum System Requirements

Windows 7

macOS 10.11

Available USB port

contact
No
is
No
brand
N/A