Product Description
Details
Key Features
- 1" Titanium LTS Vented Tweeters with Hybrid Tractrix® Horns
- 5.25" Spun Copper Cerametallic™ Woofers
- Switchable Crossover Setting for Dolby Atmos or Surround Sound
- Keyhole Mounting for On-Wall Elevation/Surround Sound
- Premium Scratch Resistant Finish
- Strong, Flexible Removable Magnetic Grille
- Dimensions: 7.39" x 6.81" x 11.16"
DOLBY ATMOS
To put it simply, Dolby Atmos® is the greatest advancement in home and cinema audio since surround sound. The addition of elevation speakers reflects sound from the ceiling to put sound anywhere in your room - making you feel like you're truly in the middle of the action.
ELEVATE AND SURROUND
In additional to delivering overhead sound effects as a Dolby Atmos speaker topper, The RP-500SA is designed to be wall-mounted as a front, rear or side elevation speaker - or as a versatile side or rear surround sound speaker. A pre-configured switchable crossover setting makes the transition easy from Dolby Atmos to surround sound.
The keyhole mounting system makes it easy to add these incredible sound effects to your home theater system for a true cinema-grade listening experience.
HYBRID TRACTRIX® HORN TECHNOLOGY
Klipsch proprietary Tractrix® horn-loaded technology ensures high-frequency energy of the RP-500SA is aimed directly at the listener and reduces unwanted, artificial reverb caused by indirect sound bouncing off walls - meaning you experience the most clear, detailed, lifelike sound possible.
HORN ANATOMY
Klipsch Reference Premiere series speakers feature a compressed molded silicon face thats matted to the 90x90 Tractrix horn to reduces horn resonance for a smoother frequency response. Klipsch computer modeled phase plugs acts as a mechanical filter to further ensure a smooth, flat frequency response while protecting the tweeter from damage.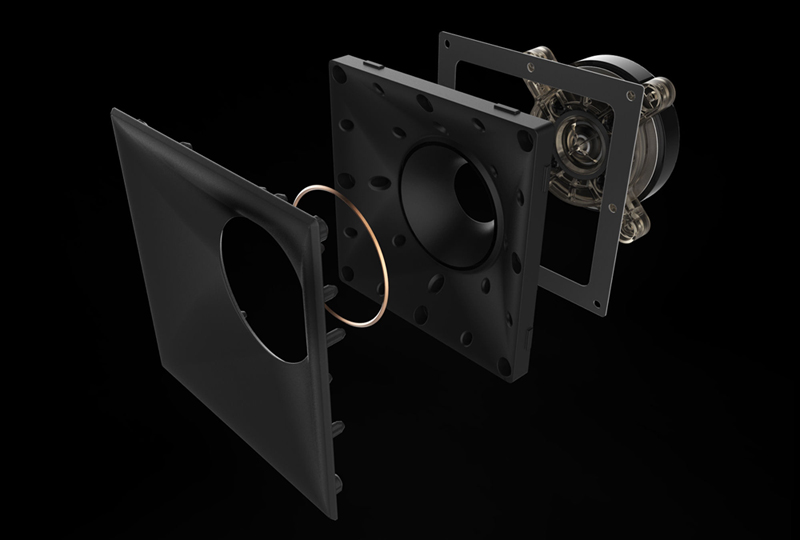 ALL-NEW VENTED TWEETER
A vented tweeter design reduces standing waves behind the tweeter diaphragm for a smoother high frequency reproduction.
The titanium tweeter diaphragm's light weight yet rigid composition exceeds the performance of aluminum, polymer or silk tweeters.
Klipsch award-winning Linear Travel Suspension technology leverages a piston motion of the titanium diaphragm that lowers distortion and delivers real-to-life sound.
A ceramic magnet housing provides premium performance, Klipsch Reference Premiere tweeters set the standard in acoustic reproduction.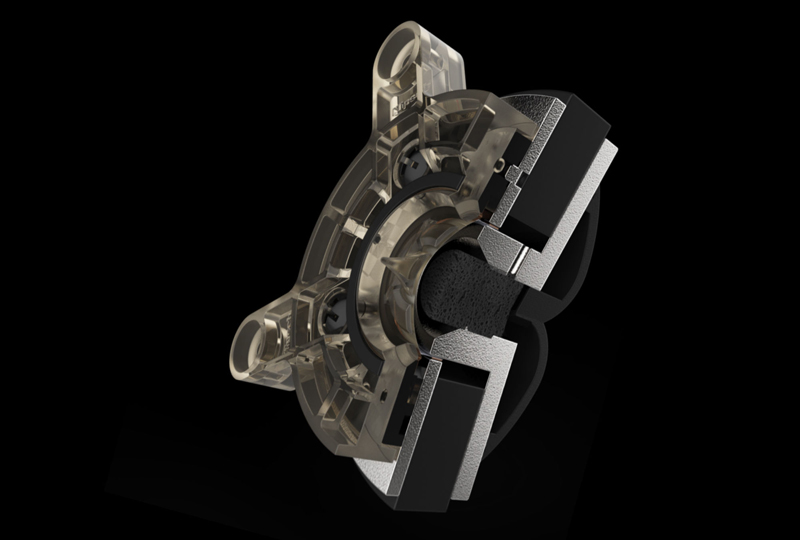 CERAMETALLIC™ WOOFERS
Klipsch Proprietary Cerametallic™ woofers are the RP-500SA speaker's signature statement for both sound and aesthetics. This extremely light, rigid materials holds its shape while being able to deliver lower frequencies with maximum efficiency.
WOOFER ANATOMY
Klipsch Cerametallic™ cones are matted to a dual-layer, copper-wound voice coil for exceptional conductivity.
Reference Premiere woofers are housed in a non-resonating, stamped-steel basket that's secured to a large magnet motor for exceptional efficiency and low distortion, and matched to our horn-loaded tweeters for optimal acoustic execution.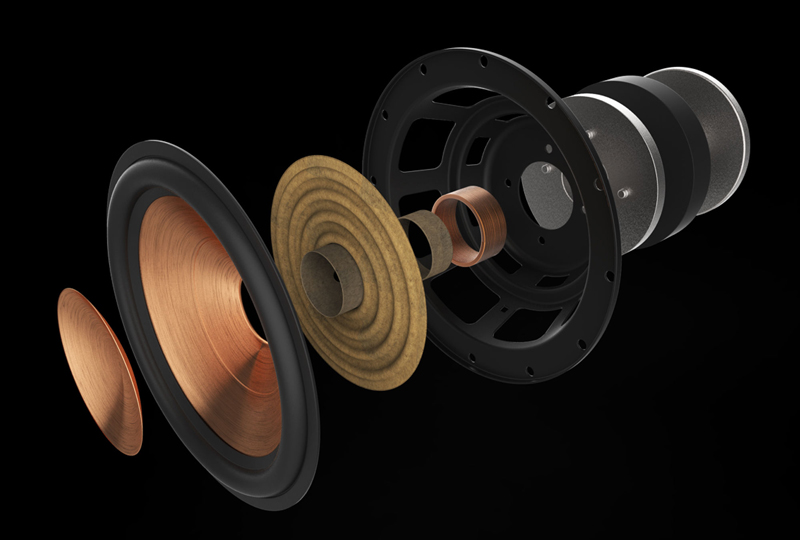 FINISHED TO PERFECTION
The RP-500SA Dolby Atmos speaker's ebony finish boasts a satin painted baffle with a scratch resistant design for an elegant audio solution to your home theater system.
Strong, flexible, magnetic grilles provide protection and a sleek aesthetic to compliment your home's decor.
THE MOST VERSATILE SURROUND SPEAKER AVAILABLE
The RP-500SA can be used as an up-firing immersive speaker for Dolby Atmos Technology, a height speaker or a rear surround model all with the flip of a switch. Immersive sound comes alive from all directions, including overhead, with these Dolby Atmos® enabled speakers. Add to any monitor or tower speaker or use as surround speakers for a hemisphere of rich, detailed sound.
DOLBY ATMOS CERTIFIED ELEVATION SPEAKER
Tested and approved by Dolby labs to faithfully reproduce Dolby Atmos Elevation effects with power, accuracy, and detail – for a cinematic listening experience unlike any other.
SWITCHABLE CROSSOVER
The RP-500SA features a switchable crossover that changes between Atmos and Surround speaker modes, for optimized performance as a Dolby Atmos Elevation speaker or a wall mounted side or rear surround.
90° x 90° SILICON COMPOSITE HYBRID TRACTRIX® HORN
Horn loading maximizes efficiently and increases detail while focusing high frequencies towards the listening area. Proprietary Tractrix® geometry provides the most efficient transfer of high frequency waves into the listening area. The phase plug and compressed molded silicon face ensure smooth frequency response. When combined, the cleanest, most natural sound possible is created.
LINEAR TRAVEL SUSPENSION (LTS) TITANIUM DIAPHRAGM TWEETER
The exclusive Linear Travel Suspension minimizes distortion for enhanced, detailed performance. LTS tweeters are a hallmark of previous Reference lines, making it a core component of some of the best speakers in the world.
VENTED TWEETER DESIGN
The new vented tweeter housing reduces standing waves that create unwanted harmonics, resulting in enhanced detail and clarity in high frequency reproduction.
SPUN COPPER CERAMETALLIC WOOFERS
A signature feature on the Reference Premiere series, Cerametallic™ woofers are exceptionally rigid and lightweight for minimal distortion and maximum efficiency. When paired with the Tractrix horn-loaded LTS tweeter, it provides the highest speaker efficiency in its class.
FURNITURE GRADE MATERIALS AND FINISHES
Finishes include ebony vinyl, walnut vinyl and piano gloss. Ebony and walnut models boast satin painted baffles with a scratch resistant finish, while the premium piano gloss cabinet is hand-sanded for a clear, mirror-like finish. The mirror-life piano gloss finish is seamless due to the meticulous hand sanded and hand polished process.
STRONG, FLEXIBLE, REMOVABLE GRILLE
Attaches magnetically for an elegant transition from powerful showstopper to discrete performance piece.
Features
Specifications
Features

Specifications

Frequency Response: Conforms to Dolby Atmos Specifications

Sensitivity: Conforms to Dolby Atmos Specifications

Power Handling (CONT/PEAK): 75W / 300W

Nominal Impedance: 8 Ohms Compatible

Crossover Frequency: Conforms to Dolby Atmos Specifications

High Frequency Driver: 1" Titanium LTS Vented Tweeter with Hybrid Cross-Section Tractrix® Horn

Low Frequency Driver: 5.25" Cerametallic Cone Woofer

Enclosure Material MDF Enclosure Type: Sealed

Inputs: Single Binding Posts

Height: 7.39" (18.8 cm)

Width: 6.81" (17.3 cm)

Depth: 11.16" (28.4 cm)

Weight: 8 lb (3.6 kg)

Finish: Ebony, Walnut, Piano Black

Built From: 2018
Delivery
Due to the current Covid-19 restrictions - there may be delays of up to 48 hours to our estimated delivery times.

How will you send my item?
We ship to addresses within the UK using Royal Mail and DPD couriers.


How much does delivery cost?
Standard 2-3 working day delivery is FREE on all orders to mainland UK. Next working day courier service is available on all orders for a small fee of £4.99. On some items this is provided for FREE.
For orders to UK Non-mainland and International destinations, there will be an additional charge at checkout. Please see below for more information.


How long does delivery take?
Depending on the delivery service you choose, delivery usually takes between 1-3 working days to mainland UK from the moment we despatch your order. Orders to UK non-mainland and international destinations can take longer.


When will you despatch my order?
Orders placed before 4pm are processed and despatched the same day (excluding bank holidays and weekends). Orders placed on weekends will be processed and despatched the following working day.
*Please note that international orders may require extra checks before we are able to despatch your order so timescales may vary.
Can I track my delivery?
Yes - Order tracking is offered as standard on all items, whether they are shipped via DPD or Royal Mail. You will receive your tracking information via email once we have despatched your order.


UK Non-mainland and International destinations.
Due to the UK leaving the EU, some of our delivery partners have changed the way we ship to international and offshore destinations. This means that for the time being we are unable to ship items to these locations.
We are still accepting orders to these destinations however delivery times and prices are not final. We will confirm via email once we know more from our delivery partner.
Shipping for all items to UK Non-Mainland and International destinations will incur a charge at checkout. This charge is not final and we may need to charge for additional postage if required.
Shipping to international destinations may require further security checks and I.D. may need to be provided by the cardholder. We reserve the right to cancel any orders where you are do not pass our security checks or do not pay for appropriate postage.
Please note that we are unable to ship some items outside the UK. To avoid any disapointment please contact us before making your order.


What do you class as UK Non-mainland?
Rep. Ireland, N. Ireland, Channel Islands, Jersey, Guernsey, Isle of Wight, Isle of Man and Scottish Highlands. If you are unsure whether your address is classed as UK Non-mainland please feel free to contact us and an advisor will be happy to help.


For any further enquiries with regards to your delivery please contact us on 020 8813 7666 and one of our adviser's will be happy to help.
Returns

If you're not happy with your item or you've changed your mind.
Even though we're sure you'll be happy with your purchase, it's important that you are aware of how we deal with returns in the event that you need to send something back.
We understand how inconvenient it can be when you buy a product and aren't 100% satisfied with it. For this reason we have designed our returns policy to prevent any further inconvenience to you in these instances.


Under 14 days
You can return your goods for a full refund or exchange as long as you inform us of your intention to return the goods within 14 days of receipt, starting from the day after you receive your goods (Exclusions apply, see below.)

All return costs are down to the buyer and it is recommended that you return your items using a trackable method with appropriate insurance (if required).

Once we have confirmed your return, please ensure that you return the item within 14 days.

If a returns number is provided then please ensure that the parcel has this clearly marked.

Items need to be returned in "as new" condition in their original packaging. We don't mind if you open the product to check it, however any used or damaged products will be subject to a 25% handling fee so please take care when opening your items.


After 14 days
We will not offer a refund after 14 days of you receiving your delivery unless your product is faulty.


Exclusions from our returns policy
As we're sure you'll understand, there are some products that we can't offer returns on due to their nature. These include:
Special order items and cables cut from a reel (priced per metre). These items will be clearly identifiable.

In-Ear headphones due to health and hygiene reasons.

Products that include software which require activation.
Please note that these exclusions do not apply to items that become faulty.


If your product becomes faulty
We endeavour to get your items to you in fully working order, however in the event that your items do become faulty, please read below on what you should do next.
In a lot of cases with some products, faults can be fixed by performing some basic troubleshooting, so to prevent any further inconvenience to you we advise that you contact our Customer Service team who can guide you through some basic troubleshooting before sending items back.


Under 28 days
If your items become faulty within 28 days of delivery you are entitled to a full refund or exchange. Please contact our customer service centre who will provide necessary returns details.

Please send the items back with a cover note including a description of the fault and your original order number.

Once we have fully tested the item and confirmed the fault, we will process the refund or exchange including cost of carriage back to us (within reason).

If during our testing we cannot find a fault, no refund will be given and you will be charged for delivery of the item back to you.


After 28 days
After 28 days you will still be able to get your faulty items repaired or replaced within the manufacturers warranty and we will be happy to assist you with this. Please contact our customer service team to find out the best way to get your items repaired or replaced. Please be aware that after 28 days we will not cover you for any carriage costs.
You may also be interested in the following product(s)