Product Description
Details

KEY POINTS
- High-fidelity 4-way loudspeaker providing precise, dynamic sound
-Equipped with a specific speaker driver that reproduces Dolby Atmos® effects
- New speaker drivers with Slatefiber cone developed and manufactured in France by Focal
- Time Alignment thanks to the tilted stand: better soundstage
- Sleek, modern design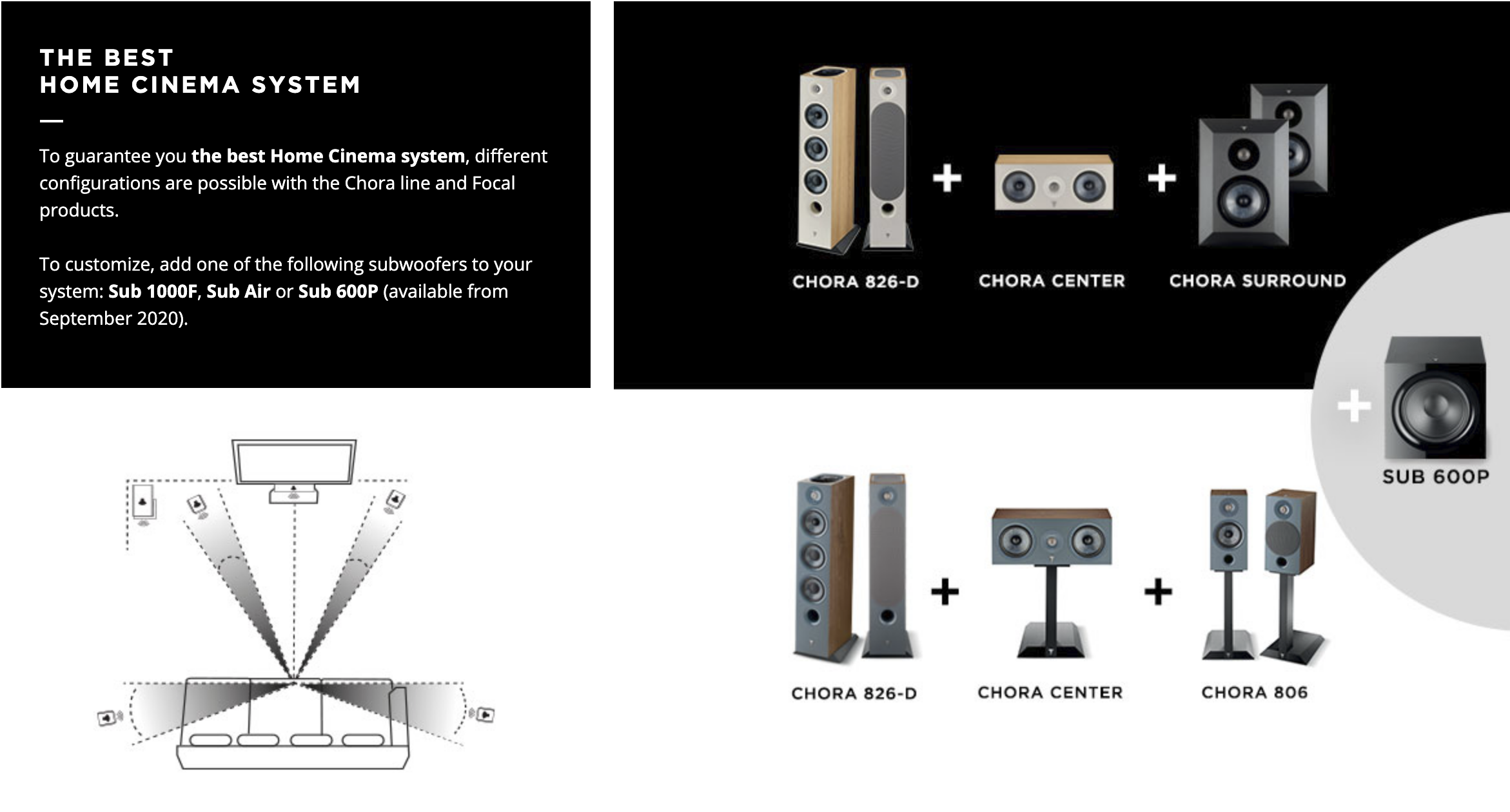 THE FLAGSHIP MODEL
Chora 826-D is the reference Home Cinema loudspeaker from the Chora line. Combining front channels and vertical dimension, it immerses you in a 3D Home Cinema experience! The full-range speaker driver located on the top of the loudspeaker uses sound wave reflection on the ceiling to reproduce the Dolby Atmos® effect.
Its highly directional baffle also allows the spectator to accurately locate Dolby Atmos® effects, as though you had loudspeakers built into the ceiling!
The TNF Aluminium/Magnesium tweeter
SOFT AND PRECISE TREBLE
The surround linking the dome to its stand uses a memory foam material called Poron. This surround is directly derived from the Utopia's famous Beryllium tweeter and reduces distortion by a third between 2,000Hz and 3,000Hz, the ear's high-sensitivity range. The spatialisation and very low directionality of the inverted dome allow silky trebles to be heard from any point in your listening room.

The Slatefiber cone
PERFECTLY BALANCED SOUND
Slatefiber technology, exclusive to Focal, involves the use of recycled, non-woven carbon fibres applied as a sandwich between two layers of thermoplastic polymer. In their quest for perfection, Focal engineers have opted to use non-woven carbon fibres, all pointing in the same direction to achieve even greater rigidity and better damping.
Manufactured in the Focal workshops using an ultra-modern industrial tool, the "slate" effect of the cone provides better damping and rigidity, but also lightness – the three "essentials" of a good speaker driver.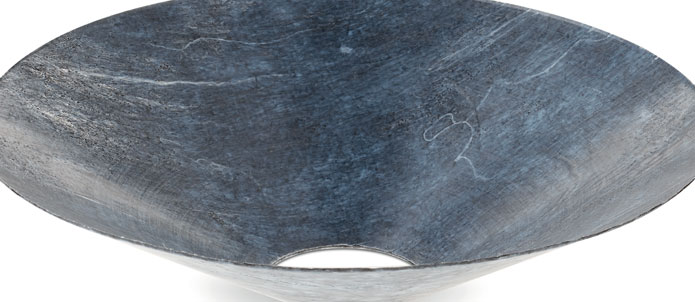 A SLEEK, MODERN DESIGN
The Chora range boasts a modern design, all lifted onto a tilted stand for Time Alignment, which provides an optimal soundstage, more focused on the listener. The slate colour of the Slatefiber cone adds a final refined, authentic touch.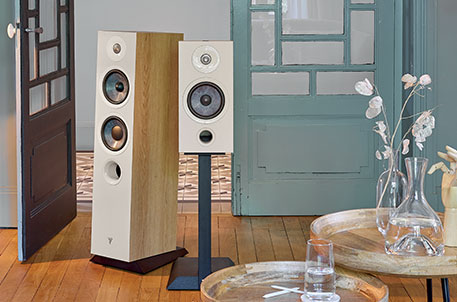 ON-TREND FINISHES
Chora is available in three finishes: Black, Light Wood and Dark Wood. On-trend colours that blend into different interiors and lend them a unique aesthetic signature.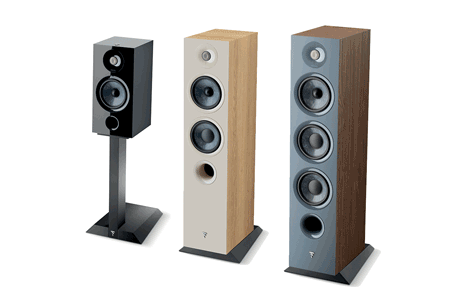 "If you love the sound of Q Acoustics' speaker packages but covet more power, the QB12 is as good a solution as we could hope for."
The QB 12 is the first Q Acoustics subwoofer to feature a 12in driver. The big long-throw driver is powered by an ultra low-distortion 220-watt Class D amplifier for tight, powerful bass response, and features a 50mm voice coil for minimal thermal compression. Equally at home with Q Acoustics' Concept and 3000i range of stereo and centre speakers, Q B12 is designed to be equally adept at reproducing big Hollywood action moments as it is the deep, subtle textures of bass instruments.
DESIGNED TO INTEGRATE SEAMLESSLY
From the subtlest nuance to volcano all-action
220 watts of Class D power driving a long-throw 12in drive unit sounds like a recipe for action. And that's exactly what it is - no Hollywood blockbuster soundtrack features explosions too loud, too deep or too powerful for Q B12 to handle. But power is nothing without control, and Q B12 is just as comfortable describing the nuances of a double bass or an electronic kick-drum.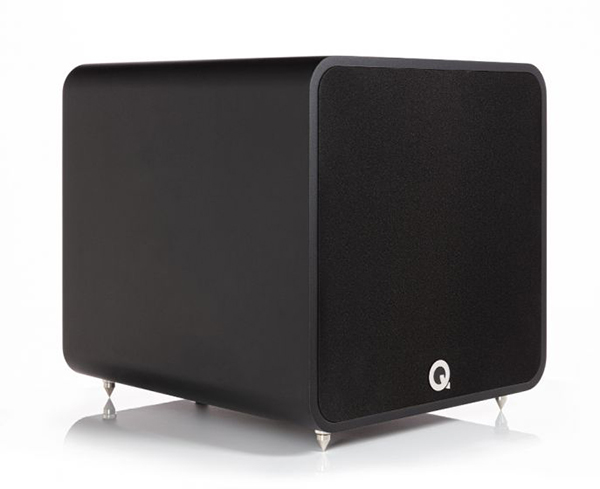 Strength and Control
Q B12's sealed, 'infinite baffle' cabinet is cleverly braced to deliver maximum stiffness to its motor system and, as a consequence, minimum influence on those deep bass sounds. Mechanical stability = aural satisfaction.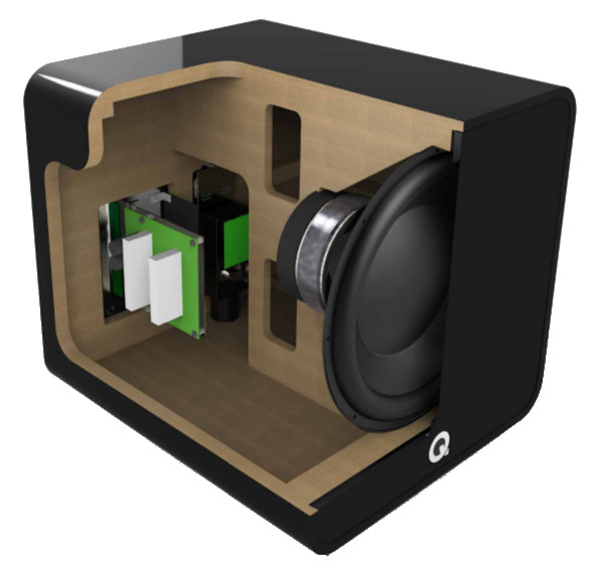 SEAMLESS SETUP
Ease, simplicity and performance
A reinforced MDF cabinet with a 36mm-thick baffle, a recessed and hidden terminal panel. Adjustable spiked feet with rubber caps. A choice of elegant, understated finishes. Q B12 is a simple and easy to position and set up as it is invigorating to listen to.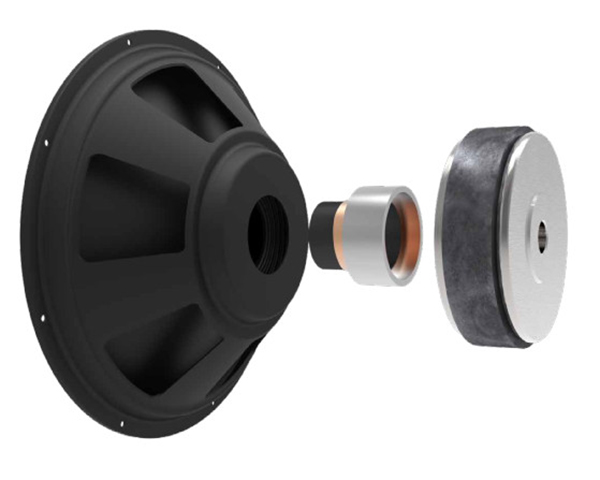 Features
Specifications
Features

SPECIFICATIONS - 826-D Floorstand Speaker

Type: 3-way bass-reflex floorstanding loudspeaker

Drivers:

- 2 x 61/2" (16.5cm) Slatefiber Woofer

- 61/2" (16.5cm) Slatefiber Midrange

- 1" (25mm) TNF Al/Mg inverted dome tweeter

1-way sealed

-5" (13cm) full-range speaker driver

Sensitivity (2,83V/1m): 91dB

Frequency response (±3 dB): 48Hz-28kHz

Low frequency point (-6 dB): 39Hz

Nominal impedance: 8Ω

Minimum impedance: 2.9Ω

Recommanded amplifier power: 40/250W

Crossover frequency: 270Hz - 2.700Hz

Dimensions (WxDxH): 117/8x151/4x411/2" (30.3 x 38.8 x 105.3cm)

Net weight (unit with grille): 48.5lbs (22.2kg)

Packaging dimensions (WxDxH): 441/2x133/8x187/8" (113x34x48cm)

Net weight (with packaging): 59.5lbs (27kg)

SPECIFICATIONS - 806 Bookshelf Speaker

Type: 2-way bass-reflex bookshelf loudspeaker

Drivers:

- 61/2" (16.5cm) Slatefiber Midbass

- 1" (25mm) TNF Al/Mg inverted dome tweeter

Sensitivity (2,83V/1m): 89dB

Frequency response (±3 dB): 58Hz-28kHz

Low frequency point (-6 dB): 49Hz

Nominal impedance: 8Ω

Minimum impedance: 4.6Ω

Recommanded amplifier power: 25/120W

Crossover frequency: 3.000Hz

Dimensions (WxDxH): 81/4x105/8x1631/32" (21x27x43.1cm)

Net weight (unit with grille): 16.2lbs (7.35kg)

Packaging dimensions (WxDxH): 231/4x153/8x207/8" (59x39x53cm)

Net weight (with packaging): 39.6lbs (18kg

SPECIFICATIONS - 806 Bookshelf Speaker

Type: 2-way sealed centre loudspeaker

Drivers

-2x 61/2" (16.5cm) Slatefiber Mid-bass

-1" (25mm) TNF Al/Mg inverted dome tweeter

Sensitivity (2,83V/1m): 91dB

Frequency response (±3 dB): 59Hz-28kHz

Low frequency point (-6 dB) 51Hz

Nominal impedance: 8Ω

Minimum impedance 3.8Ω

Recommended amplifier power 40/200W

Crossover frequency: 2,100Hz

Dimensions (WxDxH) 21 x 53 x 25cm

Net weight (unit with grille) 19.6lbs (8.9kg)

Packaging dimensions (WxDxH) 32 x 62 x 39cm

Net weight (with packaging) 23.6lbs (10.7kg)

SPECIFICATIONS - QB12 Subwoofer

Drive unit: 305mm (12in) high-excursion and stiffness paper, straight-sided cone.

Peak Amplifier Power: 440 W=

Continuous Amplifier Power: 220 W

Power type: Class D

Frequency range: 28 Hz - 300 Hz

Crossover frequency range: 70 Hz - 225 Hz

Input impedance: 13 kΩ

Input sensitivity: 150 mV

Enclosure type: Infinite baffle

Enclosure material: MDF

Dimensions: 40 x 40 x 44.6 cm (hwd)

Weight: 18.5 kg

What's in the box?

- QB12 subwoofer

- User manual

- Power cable

- 4 x adjustable floor spikes

- 4 x floor spike locking rings

- 4 x floor spike covers
Delivery
Due to the current Covid-19 restrictions - there may be delays of up to 48 hours to our estimated delivery times.

How will you send my item?
We ship to addresses within the UK using Royal Mail and DPD couriers.


How much does delivery cost?
Standard 2-3 working day delivery is FREE on all orders to mainland UK. Next working day courier service is available on all orders for a small fee of £4.99. On some items this is provided for FREE.
For orders to UK Non-mainland and International destinations, there will be an additional charge at checkout. Please see below for more information.


How long does delivery take?
Depending on the delivery service you choose, delivery usually takes between 1-3 working days to mainland UK from the moment we despatch your order. Orders to UK non-mainland and international destinations can take longer.


When will you despatch my order?
Orders placed before 4pm are processed and despatched the same day (excluding bank holidays and weekends). Orders placed on weekends will be processed and despatched the following working day.
*Please note that international orders may require extra checks before we are able to despatch your order so timescales may vary.
Can I track my delivery?
Yes - Order tracking is offered as standard on all items, whether they are shipped via DPD or Royal Mail. You will receive your tracking information via email once we have despatched your order.


UK Non-mainland and International destinations.
Shipping for all items to UK Non-Mainland and International destinations will incur a charge at checkout. If a delivery charge is not applied automatically at checkout, we will contact you to arrange payment and reserve the right to cancel your order if you refuse to pay for appropriate delivery. Please feel free to contact us if you would like to query the prices to your destination.
Shipping to international destinations may require further security checks and I.D. may need to be provided by the cardholder.
Please note that we are unable to ship some items outside the UK. To avoid any disapointment please contact us before making you order.


What do you class as UK Non-mainland?
Rep. Ireland, N. Ireland, Channel Islands, Jersey, Guernsey, Isle of Wight, Isle of Man and Scottish Highlands. If you are unsure whether your address is classed as UK Non-mainland please feel free to contact us and an advisor will be happy to help.


For any further enquiries with regards to your delivery please contact us on 020 8813 7666 and one of our adviser's will be happy to help.
Returns

If you're not happy with your item or you've changed your mind.
Even though we're sure you'll be happy with your purchase, it's important that you are aware of how we deal with returns in the event that you need to send something back.
We understand how inconvenient it can be when you buy a product and aren't 100% satisfied with it. For this reason we have designed our returns policy to prevent any further inconvenience to you in these instances.


Under 14 days
You can return your goods for a full refund or exchange as long as you inform us of your intention to return the goods within 14 days of receipt, starting from the day after you receive your goods (Exclusions apply, see below.)

All return costs are down to the buyer and it is recommended that you return your items using a trackable method with appropriate insurance (if required).

Once we have confirmed your return, please ensure that you return the item within 14 days.

If a returns number is provided then please ensure that the parcel has this clearly marked.

Items need to be returned in "as new" condition in their original packaging. We don't mind if you open the product to check it, however any used or damaged products will be subject to a 25% handling fee so please take care when opening your items.


After 14 days
We will not offer a refund after 14 days of you receiving your delivery unless your product is faulty.



Christmas Returns Policy
Any product purchased between 27/11/20 and 24/12/20 will qualify for our extended returns policy.

If your purchase is made within this time you have until 01/01/2021 to inform us of your intention to return your items.

All orders placed within this time which are outside of the standard 14 day policy can only be returned for a credit. All credits need to be used within 90 days of issue.

Please ensure you inform our Customer Service team in writing or via email (returns@homeavdirect.com).

Any items being returned need be in brand new, unopened and unused condition.

All products must be returned to us within 14 calendar days after our Customer Service team have authorised a return.

Any promotional items received FREE at the time of purchase must also be returned, unused and unopened, otherwise the value of the promotional item will be deducted from the credit.
Please note: Our normal returns policy still applies on all orders if you are within the 14 day returns period.

Exclusions from our returns policy
As we're sure you'll understand, there are some products that we can't offer returns on due to their nature. These include:
Special order items and cables cut from a reel (priced per metre). These items will be clearly identifiable.

In-Ear headphones due to health and hygiene reasons.

Products that include software which require activation.
Please note that these exclusions do not apply to items that become faulty.


If your product becomes faulty
We endeavour to get your items to you in fully working order, however in the event that your items do become faulty, please read below on what you should do next.
In a lot of cases with some products, faults can be fixed by performing some basic troubleshooting, so to prevent any further inconvenience to you we advise that you contact our Customer Service team who can guide you through some basic troubleshooting before sending items back.


Under 28 days
If your items become faulty within 28 days of delivery you are entitled to a full refund or exchange. Please contact our customer service centre who will provide necessary returns details.

Please send the items back with a cover note including a description of the fault and your original order number.

Once we have fully tested the item and confirmed the fault, we will process the refund or exchange including cost of carriage back to us (within reason).

If during our testing we cannot find a fault, no refund will be given and you will be charged for delivery of the item back to you.


After 28 days
After 28 days you will still be able to get your faulty items repaired or replaced within the manufacturers warranty and we will be happy to assist you with this. Please contact our customer service team to find out the best way to get your items repaired or replaced. Please be aware that after 28 days we will not cover you for any carriage costs.
You may also be interested in the following product(s)