Product Description
Details
Denon AVR-X2600H - 7.2 Channel 4K AV Receiver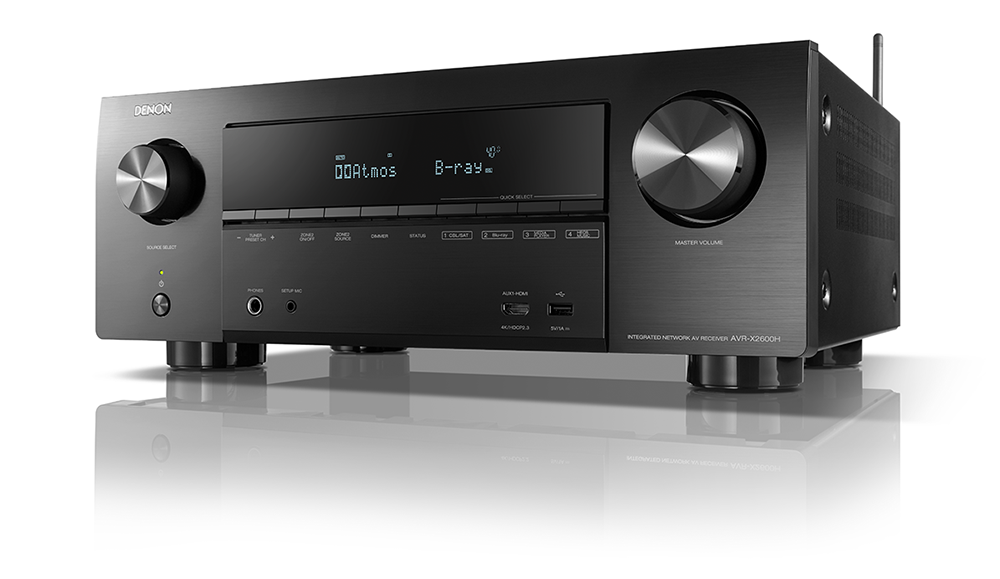 Overview
Upgrade your home theatre with the Denon AVR-X2600H. With 150W per channel (6 ohms, 1 kHz, 1% 1ch Drive), this performance-tuned Denon AV receiver provides a truly immersive 3D audio experience. Supports Dolby Atmos®, Dolby Atmos Height Virtualization Technology, DTS:X™, DTS Virtual:X. Watch your TV or projector video content with the best possible picture thanks to the latest 4K video technologies like Dolby Vision™, HDR10, and HLG.
With eARC support pass-through, 8 HDMI inputs and 2 outputs with full HDCP 2.3 support on all ports, enjoy seamless compatibility with the latest HD and Ultra HD TVs, Blu-ray players and game consoles. The front-panel USB offers convenient audio playback of MP3 and Hi-Res audio formats (WAV, FLAC, ALAC and DSD 2.8/5.6 MHz files). Stream popular music services like Spotify®, Deezer, Tidal and more wirelessly via Bluetooth, Apple AirPlay 2 and Wi-Fi with HEOS Built in. The Denon AVR-X2600H also works with Amazon Alexa, Google Assistant and Apple Siri for effortless voice control.
By visually guiding you through each step in the setup process, the award-winning Denon Setup Assistant ensures you get setup right the first time. Every home theatre is different — that's why Denon uses premium room calibration technology from Audyssey that automatically measures and optimizes your AV receiver to provide a truly immersive 3D audio experience custom-tailored to your unique listening environment.
POWERFUL 7-CHANNEL AMPLIFIER WITH THE LATEST HOME CINEMA INNOVATION
Featuring discrete high-current amplifiers on all channels, the AVR-X2600H delivers high-power performance at 150W per channel () (6 ohms, 1 kHz, 1% 1ch Drive). Low impedance drivers provide operational stability for a wide range of speakers for balanced, tonal sound. The AVR-X2600H supports three-dimensional sound formats Dolby Atmos, Dolby Atmos Height Virtualization Technology, DTS:X and DTS Virtual:X, plus an HDMI section with HDCP 2.3 support and advanced video processing with 4K upscaling for HDMI sources.

AMAZING 3D-SOUND
Immerse yourself in multi-dimensional audio with Dolby Atmos, DTS:X, Dolby Atmos Height Virtualization and DTS Virtual:X.
DRIVE IMMERSIVE SURROUND SOUND
Immerse yourself in multi-dimensional audio with Dolby Atmos. Set up Dolby Atmos with a 5.2.2 surround sound speaker system using Dolby Atmos elevation speakers, or dedicated overhead speakers, for the ultimate home theatre experience. Dolby Atmos Height Virtualization Technology provides immersive audio without height channels, creating virtual height effects in a 7.2, 5.2 or 2.2 speaker arrangement.
GET CLOSER TO THE ACTION
DTS:X™ immersive audio places sound where it would occur naturally in space, creating a lifelike, multi-dimensional audio experience in the home. The improved immersion and heightened realism draw you into the world of your favourite movies. The included DTS Neural:X™ gives your movies, games and music a realism unmatched by traditional 5.1 surround sound. DTS Virtual:X provides immersive audio without height channels, creating virtual height effects in a 7.2, 5.2 or 2.2 speaker arrangement.

GEARED UP FOR 4K ULTRA HD
Enjoy your favourite movies, shows and games with the best picture quality available.
ADVANCED HDMI VIDEO SECTION WITH EARC
The AVR-X2600H features 8 HDMI inputs and 2 outputs that support 4K Ultra HD 60Hz video, 4:4:4 Pure Color sub sampling, Dolby Vision, High Dynamic Range (HDR10), Hybrid Log-Gamma (HLG), eARC, 3D, and BT.2020 passthrough support for exceptional colour, clarity and contrast. The eARC – enhanced Audio Return Channel – supports 3D audio transmission directly from the TV to your AV receiver.
ADVANCED VIDEO CONTROLS
HDCP 2.3 processing is available on all HDMI ports, letting you enjoy copy-protected content uninhibited. Enjoy seamless compatibility with the latest HD and Ultra HD TVs, Blu-ray players and game consoles.
NEXT GENERATION VIDEO FORMATS
Watch your TV or projector video content with the best possible picture thanks to the latest 4K video technologies like Dolby Vision™, HDR10, and HLG. 4K/60 Hz, Dolby Vision, HDR10, HLG, 4:4:4 color resolution and BT.2020 provides the greatest video quality with exceptional brightness, contrast and color.

EASY SETUP EXPERIENCE
The included AVR-X2600H Quick Start Guide provides simple, clear instructions for how to get started. Once you connect your TV to the AVR-X2600H via HDMI, the exclusive Denon Setup Assistant appears on your TV screen to walk you through setup, step by step. A row of color-coded speaker connections is laid out horizontally, making organizing and connecting speaker wires simple.
SMART TV CONNECTIVITY
Control the Denon AVR-X2600H with your TV remote via the HDMI CEC functionality associated with your TV. The Smart Menu home screen provides you quick access to source and surround mode selections, the AV receiver setup menu and four Quick Selects.
AUDYSSEY ROOM CORRECTION
The AVR-X2600H features the Audyssey MultEQ XT room acoustic measurement system. With the supplied microphone, it precisely analyses the output of each speaker to optimize every channel. Plus, the additional Audyssey MultEQ Editor app (available for purchase) allows advanced users to go "under the hood" for further adjustment and customization of your audio environment.
BUILT-IN BLUETOOTH AND WI-FI CONNECTIVITY
The heart of your wireless network. For Bluetooth, Wi-Fi and AirPlay 2 wireless streaming connectivity, the Denon AVR-X2600H is equipped with an advanced dual antenna transceiver system for robust streaming even in congested urban environments. Enjoy listening to your favourite audio content wirelessly from your smart devices.
With HEOS Built-in technology play the same song in every room or select a different song for each connected room — the choice is yours. HEOS works with Amazon Alexa and Google Assistant, providing effortless voice control.
HEOS supports free and premium Spotify, Deezer, Amazon Music, TuneIn, Sound Cloud, Tidal and more.

YOU'RE IN CONTROL
Better control in your back pocket. The free Denon AVR Remote app for iOS and Android makes using the AVR-X2600H even easier — adjust volume, turn it on or off, mute the music, select a source or switch to the HEOS app for wireless music streaming. Download the Denon AVR Remote app and the HEOS app to your smartphone today. Available for both iOS and Android.
Use Amazon Alexa, Siri, or Google Assistant to control your music.
ALL ZONE TV AUDIO
Play the audio from your TV to all zones. Supports both analog and digital audio connections.
QUICK SELECTS FOR USER-FRIENDLY AUDIO TUNING
The Denon AVR-X2600H front panel features four Quick Select buttons that store your preferred audio settings for each source. Switch between TV audio, Blu-ray, media players and more, and the AVR-X2600H adjusts the EQ settings to your preferences for that media source. Use the buttons on the front panel or opt for the same Quick Selects on the AV receiver remote for faster control. Now allows for one-push all zone stereo mode via Quick Select.

ADVANCED SOUND PROCESSING
Experience extraordinary sound quality from both music and movies.
DSP POWER PROCESSING
Incredible power for your music and movie needs. The AXR-X2600H includes an advanced DSP (Digital Sound Processor) chip for tremendous power processing. With four 300MHz DSP cores that are capable of processing over one billion computations per second, the AVR-X2600H supports the latest video, sound and processing needs.
MULTI-SOURCE, MULTI-ROOM
With the Denon AVR-X2600H, it's possible to enjoy 7.2 channel surround sound in one room and a separate source or music stream in another. Watch a movie in one room while another family member listens to music in a different zone without interruption. Make use of the internal amps to power the speaker or use the zone pre-outs.

PHONO INPUT FOR TURNTABLE/VINYL SUPPORT
For nearly 50 years, Denon has been developing turntables and phono pre-amps. With the included phono input, the AVR-X2600H lets you connect your turntable and play vinyl records. Enjoy your collection with exceptional quality and sound.
DUAL SUBWOOFER OUTPUTS
Immerse yourself in evenly distributed, accurate bass. The AVR-X2600H features two subwoofer outputs to smooth out low frequencies and provide better dispersion. No audible peaks or dips — just powerful, room-filling bass.

WORKS WITH LATEST VOICE ASSISTANTS
Enjoy effortless voice control and total flexibility from the leading voice services. Using a smart speaker or your phone, speak commands with Amazon Alexa, Google Assistant, Apple Siri and high-end smart home automation, Josh.ai. Ask to play your favourite music, turn the volume up, skip to the next track, switch inputs and more. Switch between voice services or pick a favourite to use — the choice is yours. Functionality varies by voice agent.

HEOS BUILT-IN FOR WIRELESS MUSIC STREAMING
Stream your favourite music from anywhere and everywhere around your home with HEOS Built-in technology. Enjoy high quality music from a wide range of streaming services including Spotify®, TuneIn, Deezer, Amazon Prime Music, iHeartRadio, SiriusXM, Soundcloud®, Tidal, Napster, Deezer or local music sources. Control it all seamlessly with the free HEOS app.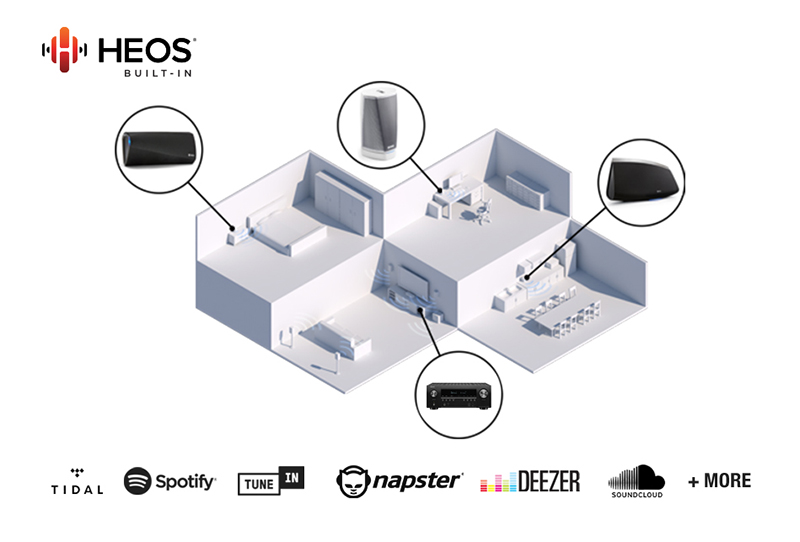 PLAY YOUR MUSIC ANYWHERE WITH HEOS SPEAKERS
With the HEOS multi-room function, the Denon AVR-X2600H can connect with any other product with HEOS Built-in, like HEOS speakers, to play music throughout your entire home. Play the same song in every room or select a different song for each connected room — the choice is yours.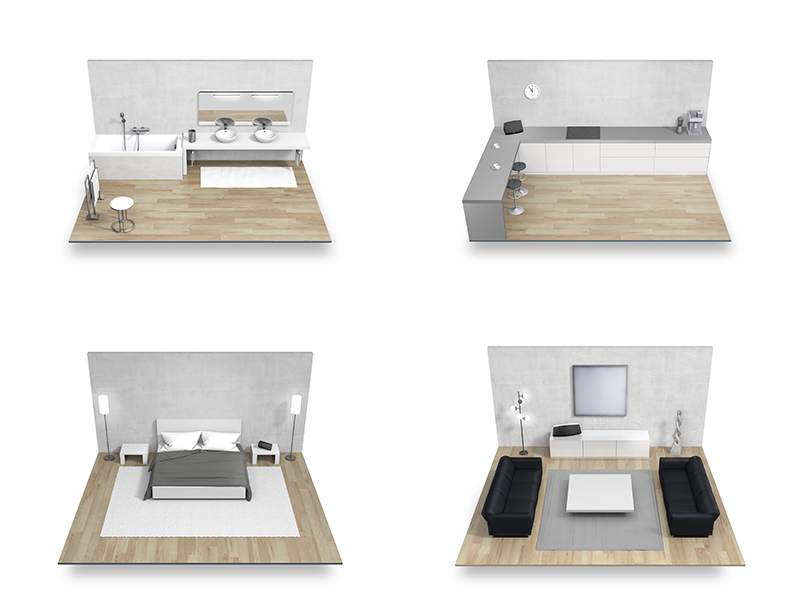 Custom Install Ready
The Denon AVR-X2600H features external control and IP control capabilities for easy customization and compatibility with third-party integration solutions. It offers IP control capability for major third-party control devices, as well as Control4 SDPP (Simple Device Detection Protocol) certification for seamless integration with Control4 home automation equipment.
Remote Monitoring Capability
In today's custom install environment, it's critical for integrators to provide quick, reliable assistance and service to their clients, even after the install is complete. To support this effort, the Denon AVR-X2600H AV receiver features "ihiji Invision", "Domotz Pro" and "OvrC" remote monitoring and management interface and service compatibility. These programs allow custom integrators to monitor the status of connected products and troubleshoot remotely from the office or on the go, radically reducing the time it takes to address the issue.
100+ Years of Firsts in Audio Technology
Founded in 1910, Denon has a deep heritage of "firsts" in audio technology — from Japan's first audio electronics manufacturer, to producing the world's first commercial CD player and Dolby Atmos-enabled AV receiver. This focused investment in audio R&D ensures you get the latest technology and highest quality with every listening experience.
KEF T305 - T Series 5.1 Speaker System
For the full cinema-like experience, the ultimate T Series system has the best of everything: T301s all round, supported by the same discreet high performance subwoofer. However big your living area, it envelopes you in an expansive, richly textured sound picture that brings a movie to life as you've never experienced before.
The best of home theatre
With a flat screen TV, you want speakers to match. Really flat.

More importantly, you also want to fill the room with high definition 3D sound that's every bit as involving as what's on screen.

With KEF's new T Series, you get exceptionally slim profile speakers that generate all the intricacy, spaciousness and dynamic range of a high end conventional design.

You'd expect no less from KEF. With some of the finest speakers in the world to our credit, ours is a 50-year success story of innovation that includes unrivalled experience of home theatre: our multi-award winning systems have for years been the standard by which others are judged.

No wonder even the most demanding listeners love the new T Series the first time they hear it – and when you discover the unique technologies crammed into each slender enclosure, you understand why…
Slim speakers, serious sound
KEF's revolutionary T Series is in a different league from any low profile speaker you've ever heard.

As one of the world's thinnest high performance home theatre systems, the new T Series combines several landmark innovations: a radical new ultra-low profile bass and midrange driver, and a large, fully vented new tweeter. By incorporating both in cabinets only 35mm (just over 1.25in.) deep, the T Series brings you all the pleasures of true audiophile quality sound in a speaker that perfectly complements the aesthetics of the latest flat screen TVs.
Ultra-slim bass driver
Clean, forceful response that brings the action vividly to life.

Instead of a cone, the radical new twin-layer bass and midrange unit has a flat diaphragm whose rigidity throughout the frequency range is maintained by very fine stiffening ribs, with the driver as a whole acting as a stressed member to help eliminate any unwanted resonance from the slim cabinet. The resulting response is as clean, accurate and distortion-free as a quality conventional speaker, with none of the bulk.

In addition to minimising the height of the magnets, we placed the entire suspension outside the magnet system so that it adds nothing to its height. Whether you opt for the standard satellite and centre speakers or the larger models with additional bass/midrange drivers, the result is an exceptionally shallow unit that allows the enclosure to have the same installed depth as current flat screen TVs without compromising acoustic integrity in the slightest. Lush yet well controlled, it's the kind of performance that brings soundtrack effects to life with a real sense of drama
Large new vented tweeter
A warm, natural sound that's so real you feel you're there.

The generous size of the sophisticated new 25mm (1in.) vented tweeter specially developed for the T Series allows exceptionally accurate reproduction, especially of the human voice. And silken, effortlessly pure high notes. The clarity is outstanding, even played loud.

KEF's unique 'tangerine' waveguide helps to disperse the sound image evenly throughout the room. The combined effect is remarkable: you find yourself immersed in a dense three-dimensional sound picture that completely engages you with what's happening on screen.
Total excellence
The perfect balance: engineering integrity with design flair.

Everything about the new T Series has been designed from first principles to achieve a sleek, unobtrusive look that matches the styling of modern TVs while still maintaining the high standard of audio fidelity KEF is famous for.

The precision etched logo and chamfered black anodised aluminium side trims hint at the meticulous attention to detail and superb build quality of what's inside. Ease of use is built in from the start, with KEF's ingenious Selecta-mount™ system concealed in the optional stand automatically adjusting each speaker's sound balance according to whether it's mounted on your wall, desktop or floor.
QED QE5300 - Profile Cinema Pack
Enhance your movie and music experience by including everything you need to get started with your home cinema set up in a single, convenient pack.

This Special QED Profile Cinema Pack includes the following items:

30m reel of QED Micro Speaker Cable, QED Profile eFlex HDMI Cable (Black) 1m & 2m and the QED Profile Subwoofer Cable 3m.

Supplied on a 30m reel and featuring advanced materials to enable top quality sound, the "What Hi-Fi?" 5 Star Award winning QED Micro speaker cable can be hidden behind skirting boards or under carpets when connecting your speakers to your AV receiver or amplifier.

The class leading Profile HDMI cable won the Product of the Year Award 2010 in "What Hi-Fi?" and has been constantly developing since then. Now with QED's extremely thin and flexible eFlex™ jacket and a new miniature plug design, the minimum clearance required has been reduced to a tiny 40mm. Two lengths are included, one to connect your Blu-ray player to your AV Receiver and another to connect your AV Receiver to your TV or projector.

The 3m Profile Subwoofer cable included in this pack uses design techniques trickled down from our Performance range but in an ultra-compact and flexible format. This cable has a miniature outside diameter of 4mm and is shielded for enhanced signal protection to ensure you get the best from.
Features
Specifications
Features

Denon AVR-X2600H - 7.2 Channel 4K AV Receiver

Multichannel Surround

DTS HD Master / DTS:X: /

DTS Neo:X / DTS Neural:X: /

DTS Virtual:X:

Dolby TrueHD / Dolby Atmos: /

Dolby ProLogic Il / Dolby Surround: /

Dolby Height Virtualization:

Multichannel Stereo:

Max Number of Processing (Preamp) Channels: 7.1

Sound Enhancements

Discrete Power Amplifier: 7

Pure Direct:

High Grade Audio Components:

Audyssey: MultEQ XT

Audyssey Dynamic EQ / Dynamic Volume: /

Audyssey APP support:

Compressed Audio Restorer:

Network

HEOS Multiroom and Streaming:

Lossy Formats: MP3 / WMA / AAC: / /

Lossless Formats: FLAC / ALAC / WAV: / /

DSD Audio Streaming: up to DSD5.6

Lossless Formats: FLAC HD 192/24 / WAV 192/24 / ALAC 96/24:

FLAC HD 192/24:

WAV 192/24:

ALAC 192/24:

Gapless Playback: (FLAC, WAV, ALAC, DSD)

AirPlay 2:

Internet Radio: TuneIn

Spotify Connect / Tidal / Deezer / others: / / /

Amazon Prime Music* / Pandora*: /

Compatible with Remote APP for Smart Phones: Android / iOS

Compatible with Remote APP for Tablets: Android / iOS/Amazon Kindle

Ethernet Ports:

Wi-Fi:

Bluetooth:

Bluetooth Headphone transmission: (update)

HDMI

HDMI Inputs: Back / Front: 7 / 1

HDCP 2.2 support: (2.3)

HDMI Outputs: Main / Zone: 2 /

HDMI to HDMI Scaling: up to 4K 30/25/24

GUI Overlay on HDMI:

HDMI: 3D / 4K / CEC / ARC: / / /

Enhanced ARC:

Dolby Vision / HLG: /

4K Signal Pass-through / Scaling / GUI Overlay: / /

HDMI pass-though in standby mode:

Picture Adjust / Noise Reduction: /

Multiroom / CI

HEOS Multiroom integrated:

TV Sound grouping:

Multi-Room Zones: 2

Main room multichanel audio - Zone stereo downmix:

Zone Audio Source: HDMI / Opt, Coax / Network, USB / Analog: (2ch) / (2ch) / /

Zone Audio Output: Speaker / Preout: /

Remote In / Out:

Webbrowser User Interface:

Smart Remote Management:

IP Control / RS232 Control / Web Control / App Control: / / /

Others

Voice Control - Works with Amazon Alexa:

Voice Control - Google Assist / Apple Siri: /

Auto Speaker Setup by Microphone: Audyssey MultEQ XT

FL Display: 1 line

Graphic User Interface - GUI: Advanced

ISF Certification:

GUI Languages: 9

Setup Assistant:

Quick Select Plus / Quick Select: /

Firmware Update by Network / USB: /

Variable Cross Over:

Optimized Bass Redirection:

ECO Mode:

Auto Power Off:

Sleep Timer:

Inputs / Outputs

Composite In / Out: 2 / 1

Component In / Out: 2 / 1

HDMI In / Out: 7+1 / 2

Multi-room Video Out: Video / HDMI:

Analogue In / Out: 4 /

Phono (MM) In:

Digital In: Optical / Coaxial: 2 / 0

Multi-room Out: Analog / Digital: 1 /

Multichannel Preout: (0.2)

Subwoofer Out: 2

Speaker Terminal: Gold Plated Screw / Regular Screw: /

Number of Speaker Terminals: 7

Speaker A/B / Bi-amp Drive / Multi-Room Speaker: assignable

Speaker A / B: assignable

Bi-amp Drive: assignable

Multi-Room Speaker Terminal: assignable

Front Inputs: Audio / Composite / Digital (Opt) / HDMI / USB: / / / /

USB Audio / Made for iPod / Made for iPhone: / AirPlay / AirPlay

FM Tuner with RDS:

Specifications

Number of Poweramps: 7

Power Output (8 ohm, 20 Hz - 20 kHz, 0.08% 2ch Drive): 95 W

Power Output (6 ohm, 1 kHz, 0.7% 2ch Drive): 125 W

Power Output (6 ohm, 1 kHz, 1% 1ch Drive): 150 W

General

Available Colours: Black / Premium Silver: /

System Remote Control: RC-1228

Power Consumption in W: 500

Power Consumption No-Sound (ECO On / Off) in W: 35 W / 75 W

Pre-programmed / Learnable / LCD Display:

Standby Consumption in W: 0.1

CEC Standby Consumption in W: 0.5

Network Control On Consumption in W: 3.7

Maximum Dimensions:

- Antenna:Horizontal: (W x D x H) in mm: 434 x 341 x 167

- Antenna:Vertical: (W x D x H) in mm: 434 x 341 x 237

- No Antenna: (W x D x H) in mm: 434 x 329 x 167

Weight in kg: 9.5

Carton Maximum Dimensions (W x D x H) in mm: 519 x 428 x 242

Carton Weight (inc. product) in kg: 11.5

KEF T305 - T Series 5.1 Speaker System

T301 / T301c - Two and a half-way closed box

- Drive units: 2 x 115mm (4.5in.) dual layer MF

- 25mm (1in.) aluminium HF

- Frequency response: 80Hz - 30kHz

- Crossover frequency: 1.7kHz

- Amplifier requirements: 10 - 150 W

- Sensitivity (2.83V/1m): 91dB (wall mount)

- 88dB (floor stand mount)

- Maximum output (SPL): 110dB

- Impedance: 8 Ohms

- Internal volume: 1.4 Litres

T-2 - Closed box powered subwoofer

- Drive units:m 1 x 250mm (10in.)

- Frequency response: 30Hz - 250Hz

- Amplifier: 250 Watts built-in Class-D

- Maximum output (SPL): 110dB

- Low pass filter variable: Fixed 250Hz, 2nd-order

- Low level signal inputs: RCA phono socket

- Internal volume: 12.7 Litres

- Power requirements: 100 - 240 V ac ~ 50/60Hz

- Power consumption: 250V

QED QE5300 - Profile Cinema Pack

QED Micro Speaker Cable 30m

- Miniature figure '8' configuration

- High performance low-density polyethylene insulation

- 99.999% Oxygen Free Copper conductors

- Small enough to fit along skirting boards or under carpets

- Ideal for Hi-Fi, Home Theatre and room to room wiring

- Size: 2.4 x 5.0mm

QED Profile eFlex HDMI Cable 1m & 2m

- 99.999% Oxygen Free Copper conductors

- Minimum clearance 40mm

- 3D Compatible

- Supports 4k x 2k Resolution

- Full HD 1080p60

- Deep Colour

- HDMI Ethernet & Audio Return Channel

QED Profile Subwoofer Cable

- Unrivalled ultra-compact performance

- Micro-moulded easy grip connectors

- Ultra-flexible 99.999% oxygen-free copper conductors

- Shielded for enhanced signal protection

- QED lifetime guarantee