Bose QuietComfort Earbuds - True Wireless Noise Cancelling Earphone - Triple Black
✓ 2 Year Warranty included
✓ Authorised UK Dealer
✓ FREE 2 - 3 Working Day Delivery
NOW IN STOCK
The world's most effective noise cancelling earbuds Using a combination of patented active and passive noise cancellation innovations, Bose QuietComfort® Earbuds feature all the noise cancelling performance of our best over-ear headphones—from a compact, truly wireless earbud.
Regular Price
£249.00
On Sale Price
£219.00
YOU SAVE 12.05%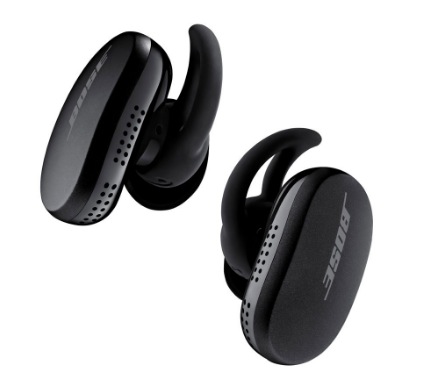 THE WORLD FADES.YOUR MUSIC SHINES.
Better sound begins with better silence. That's why these sleek, new wireless earbuds are designed with breakthrough acoustic innovations and the world's most effective noise cancelling.
Together, they produce crisp, clear audio and rich, deep bass over a bed of virtual silence—so you can hear all kinds of details that typically get lost, like the singer breathing between words or the clicking of fingers from deep in the audience.
In fact, we believe you won't get a more compelling listening experience from any other wireless earbud, whether it's for music, podcasts, videos or calls.
The world's most effective noise cancelling earbuds
Using a combination of patented active and passive noise cancellation innovations, Bose QuietComfort® Earbuds feature all the noise cancelling performance of our best over-ear headphones—from a compact, truly wireless earbud.
ACTIVE NOISE CANCELLING Internal and external microphones monitor sounds in your environment and in your ear canal and—in a fraction of a millisecond—produce an opposite signal to cancel out unwanted noise. All that's left is what you want to hear.
PASSIVE NOISE CANCELLING A soft ear nozzle is designed to conform completely to the contours of your ear, creating a gentle seal. The more airtight the seal, the less outside noise gets in, and the more you can enjoy your content. A good seal is also critically important for deep low notes, because they add more impact and emotion to your music and videos. Soapstone Bose QuietComfort Earbuds Man using Transparency Mode on Bose QuietComfort Earbuds to chat with a friend
Personalise your listening experience with adjustable noise cancelling
Virtual silence is great for listening to music, but there are times when you need to hear the outside world as well. Such as if you're walking down a busy street. Or listening for a boarding announcement. Knowing that different situations call for different levels of awareness, Bose QuietComfort® Earbuds are uniquely able to let you choose your listening experience. This allows you to eliminate distractions altogether, minimise the noise cancelling or anything in between. For quick conversations, choose the full transparency option. This handy feature makes it seem as though you're not wearing earphones at all—perfect for ordering a coffee or making small talk with co-workers. Woman wearing Triple Black Bose QuietComfort Earbuds Triple Black Bose QuietComfort Earbuds Back to top link icon
ACCLAIMED, LIFELIKE SOUND We believe you won't find better sounding wireless earbuds
The acoustic package inside these earbuds is capable of producing deep low notes and exciting, lifelike sound no matter how loud (or soft) you like to listen. And that's no small feat. Because as you lower the volume on most earphones, the bass tends to disappear, leaving your music sounding tinny and small. We solved the problem with our Volume-optimised Active EQ technology. This innovation automatically boosts the lows and highs so the music, videos and voices you're listening to remain consistently balanced—even as you change the volume. Back to top link icon
SECURE & COMFORTABLE EARBUDS Move all you want. They won't go anywhere.
Our engineers pioneered the patented eartip technology behind these earbuds close to a decade ago—and they've been perfecting the innovations ever since. With our new StayHear® Max tip design, every surface that touches your ear is made from soft silicone—not hard plastic—so the earbuds are comfortable enough to wear all day long. Back to top link icon
CLEAR CALLS People will hear your voice—not the noise around you
On the right earbud, a specially designed microphone array picks up the sound of your voice while rejecting most of the noise around you. As a result, whether you're on a call or using your virtual assistant, your voice is the focus. Back to top link icon
SIMPLE TOUCH CONTROLS Your favourite features. At your fingertips.
Instead of buttons, these true wireless earbuds feature an intuitive touch interface. It lets you control your content with a series of simple gestures. Back to top link icon
SWEAT & WEATHER RESISTANT In their element. In any element.
Feel free to use them while you're exercising. It's OK to wear them out in the rain, snow, sleet or hail. These IPX4-rated earbuds will just continue to pump out great-sounding music. Water droplets on Soapstone Bose QuietComfort Earbuds Man wearing Soapstone Bose QuietComfort Earbuds Back to top link icon
BATTERY LIFE Up to 6 hours of non-stop joy
Bose QuietComfort® Earbuds give you up to six hours of battery life on a single charge.
Up to 12 hours more playback time with charging case Get two additional full charges by storing your earbuds in the wireless charging case.
15 minutes = 2 hours Completely out of power? A quick, 15-minute charge will give you up to 2 hours of battery life.
Charge wirelessly The wireless charging case is compatible with any Qi-certified wireless charging mat.
TRUE WIRELESS Bluetooth® connectivity that just works. So your audio just plays.
Captivating sound is worthless without a reliable wireless connection. Optimised for Bluetooth 5.1, Bose QuietComfort® Earbuds are designed to quickly pair to your device—and stay that way. You'll enjoy a strong and consistently reliable connection as long as you're within 30 feet of your paired device.
How it all comes together
World-leading noise cancelling and acclaimed, lifelike sound—from a compact, true wireless earbud that sits close to your ear.
Your go-to earbuds. No matter where you go.
The office. The underground. The gym. The café. No matter what's on your agenda, Bose QuietComfort® Earbuds are suited for every moment of your day. Triple Black Bose QuietComfort Earbuds inside the charging case with the cover open
A powerful charging case
When our designers set out to create Bose QuietComfort® Earbuds, they considered the case to be an integral part of the experience—every bit as important as the buds themselves. This rugged case is designed to travel with you all day long. Its magnetised interior keeps the wireless earbuds securely in place while they charge, and its battery provides two additional full charges—or up to 12 hours of playback time. Plus, a quick 15-minute charge will give you up to 2 hours of battery life. And when it's your case's turn to be recharged, you can choose between the included USB-C cable or any Qi-certified wireless charging mat (not included). The exterior LED lights clearly show the battery status of your charging case. And the instant you take them out of the case, the earbuds begin pairing with your device.
Customised control
Just by touching the earbud, you can toggle between three customisable noise cancelling levels, play or pause content, take calls and more.
But for full control of your QuietComfort® Earbuds, download the Bose Music app. It lets you customise your noise cancellation favourites, manage your Bluetooth connections, set a shortcut and much more. It also keeps your earbuds' software up to date—and will even unlock new features in the future.
The second you take out an earbud, your content pauses
Microsensors tell the earbuds when they're in your ears and when they're not. The instant you take one out, your music, podcast or video automatically pauses so you don't miss a second.
Instant access to your voice assistant
Bose QuietComfort® Earbuds are fully compatible with your device's built-in voice assistant. This gives you the ability to play music, send messages, get directions, search for information, check your apps and more, without reaching for your phone. Simply press and hold the right earbud to get started.
More Information
Features

2 Bose QuietComfort® Earbuds (fitted with medium eartips)
Charging case
Small and Large eartips
USB-C (A to C) charging cable (30.5 cm)
Quick-start guide
Safety sheet

Dimension & Weight

Earbuds:

3.9 cm H x 2.6 cm W x 2.7 cm D (8.6 g)

Charging case:

8.9 cm L x 5.1 cm W x 3.2 cm D

USB cable:

30.5 cm

Materials

Earbuds: Plastic/gold plating/polymer coating
Eartips: Silicone
Case: Hard plastic

Battery

Battery life: Up to 6 hours
Earbud battery charge time: 2 hours
Charging case battery charge time: 3 hours
Quick-charge time: 15 minutes for 2 hours
Battery charge method: USB-C or Qi-certified wireless charging pad
Battery type (earbud): Lithium-ion (metal-enclosed coin cell)
Battery type (case): Lithium-ion (pouch cell)
Automatic on/off feature to preserve battery life

Microphones

Bluetooth

Bluetooth range: Up to 9.144 m (30 ft)
Bluetooth version: 5.1
Codec: SBC and AAC
Due to the current Covid-19 restrictions - there may be delays of up to 48 hours to our estimated delivery times.

How will you send my item?
We ship to addresses within the UK using Royal Mail and DPD couriers.


How much does delivery cost?
Standard 2-3 working day delivery is FREE on all orders to mainland UK. Next working day courier service is available on all orders for a small fee of £4.99. On some items this is provided for FREE.
For orders to UK Non-mainland and International destinations, there will be an additional charge at checkout. Please see below for more information.


How long does delivery take?
Depending on the delivery service you choose, delivery usually takes between 1-3 working days to mainland UK from the moment we despatch your order. Orders to UK non-mainland and international destinations can take longer.


When will you despatch my order?
Orders placed before 3pm are processed and despatched the same day (excluding bank holidays and weekends). Orders placed on weekends will be processed and despatched the following working day.
*Please note that international orders may require extra checks before we are able to despatch your order so timescales may vary.
Can I track my delivery?
Yes - Order tracking is offered as standard on all items, whether they are shipped via DPD or Royal Mail. You will receive your tracking information via email once we have despatched your order.


UK Non-mainland and International destinations.
Due to the UK leaving the EU, some of our delivery partners have changed the way we ship to international and offshore destinations. This means that for the time being we are unable to ship items to these locations.
We are still accepting orders to these destinations however delivery times and prices are not final. We will confirm via email once we know more from our delivery partner.
Shipping for all items to UK Non-Mainland and International destinations will incur a charge at checkout. This charge is not final and we may need to charge for additional postage if required.
Shipping to international destinations may require further security checks and I.D. may need to be provided by the cardholder. We reserve the right to cancel any orders where you are do not pass our security checks or do not pay for appropriate postage.
Please note that we are unable to ship some items outside the UK. To avoid any disapointment please contact us before making your order.


What do you class as UK Non-mainland?
Rep. Ireland, N. Ireland, Channel Islands, Jersey, Guernsey, Isle of Wight, Isle of Man and Scottish Highlands. If you are unsure whether your address is classed as UK Non-mainland please feel free to contact us and an advisor will be happy to help.


For any further enquiries with regards to your delivery please contact us on 020 8813 7666 and one of our adviser's will be happy to help.

If you're not happy with your item or you've changed your mind.
Even though we're sure you'll be happy with your purchase, it's important that you are aware of how we deal with returns in the event that you need to send something back.
We understand how inconvenient it can be when you buy a product and aren't 100% satisfied with it. For this reason we have designed our returns policy to prevent any further inconvenience to you in these instances.


Under 14 days
You can return your goods for a full refund or exchange as long as you inform us of your intention to return the goods within 14 days of receipt, starting from the day after you receive your goods (Exclusions apply, see below.)

All return costs are down to the buyer and it is recommended that you return your items using a trackable method with appropriate insurance (if required).

Once we have confirmed your return, please ensure that you return the item within 14 days.

If a returns number is provided then please ensure that the parcel has this clearly marked.

Items need to be returned in "as new" condition in their original packaging. We don't mind if you open the product to check it, however any used or damaged products will be subject to a 25% handling fee so please take care when opening your items.


After 14 days
We will not offer a refund after 14 days of you receiving your delivery unless your product is faulty.


Exclusions from our returns policy
As we're sure you'll understand, there are some products that we can't offer returns on due to their nature. These include:
Special order items and cables cut from a reel (priced per metre). These items will be clearly identifiable.

In-Ear headphones due to health and hygiene reasons.

Products that include software which require activation.
Please note that these exclusions do not apply to items that become faulty.


If your product becomes faulty
We endeavour to get your items to you in fully working order, however in the event that your items do become faulty, please read below on what you should do next.
In a lot of cases with some products, faults can be fixed by performing some basic troubleshooting, so to prevent any further inconvenience to you we advise that you contact our Customer Service team who can guide you through some basic troubleshooting before sending items back.


Under 28 days
If your items become faulty within 28 days of delivery you are entitled to a full refund or exchange. Please contact our customer service centre who will provide necessary returns details.

Please send the items back with a cover note including a description of the fault and your original order number.

Once we have fully tested the item and confirmed the fault, we will process the refund or exchange including cost of carriage back to us (within reason).

If during our testing we cannot find a fault, no refund will be given and you will be charged for delivery of the item back to you.


After 28 days
After 28 days you will still be able to get your faulty items repaired or replaced within the manufacturers warranty and we will be happy to assist you with this. Please contact our customer service team to find out the best way to get your items repaired or replaced. Please be aware that after 28 days we will not cover you for any carriage costs.