Product Description
Details
The best from Bose® just got wireless
We spent 40+ years of research in pursuit of the best noise cancellation in the world. Then we obsessed about making it wireless. The result: QuietComfort® 35 wireless headphones. Free yourself from wires and connect easily to your devices with Bluetooth® and NFC pairing. Volume-optimised EQ gives you balanced audio at any level, while a noise-rejecting dual-microphone system provides clear calls, even in windy and noisy environments.
These are our best headphones. In making them wireless, we had one goal: seamlessly merge Bluetooth® and our Acoustic Noise Cancelling technology together with no compromise to the technologies or the audio performance that we're known for. Try them for yourself — then try to live without them.
Industry-leading noise cancellation makes quiet sound quieter and music sound better

Wireless connectivity to your devices throughBluetooth ® and NFC pairing

Up to 20 hours of wireless listening per charge, and 40 hours when wired

Premium materials make them lightweight and comfortable for all-day listening

Bose® Connect app helps manage paired devices and gives you a personalised experience
Music sounds better
You turn them on, and noise instantly fades away. Your favourite songs soar to new heights, sounding so rich and clear you might feel like you're hearing them for the very first time. It's magical to the ear — but it's not magic. It's the precise arrangement of microphones inside and outside the earcups. It's proprietary electronics that continuously measure, compare and react to outside noises. And it's the electronics sending an equal and opposite signal to the earcups' speakers to cancel those noises. All so you can enjoy the music you love — or the silence you need.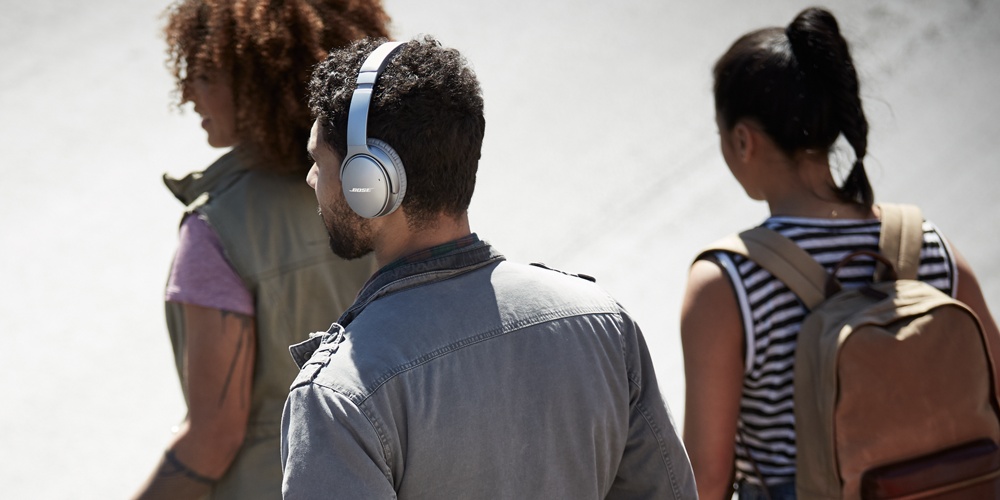 Exceptionally strong battery life
It's thought that battery life suffers with wireless headphones. We changed that way of thinking. How? By customising the size and shape of our lithium ion battery to optimise the space available in the earcup—all without compromising fit or comfort. You now enjoy up to 20 hours while using the headphones wirelessly, a significant duration for wireless headphones. You also get up to 40 hours for wired use.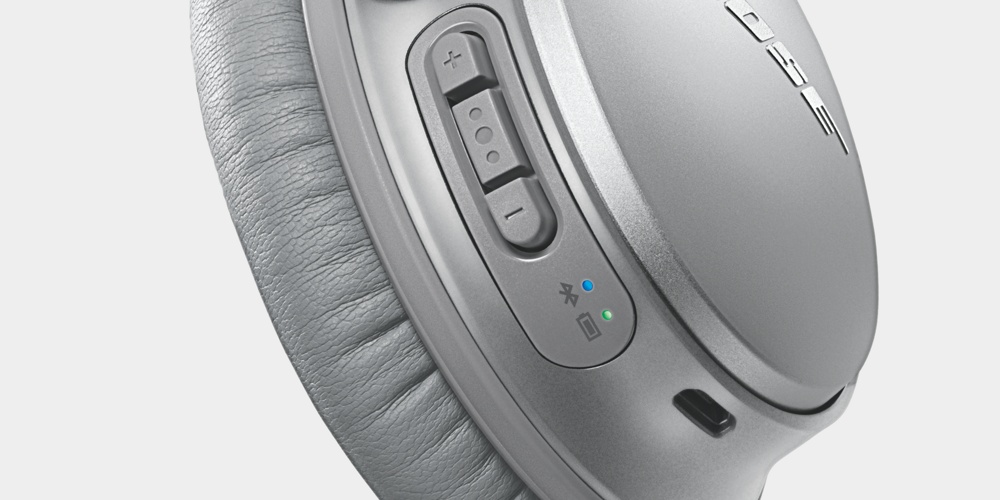 Quiet sounds quieter
The electronic noise floor is another obsession for us. A headphones' noise floor is that soft hiss you might hear when listening in quiet environments. Because that noise is measurable, we continuously tweaked the electronics in QC®35 headphones until that soft hiss became virtually undetectable.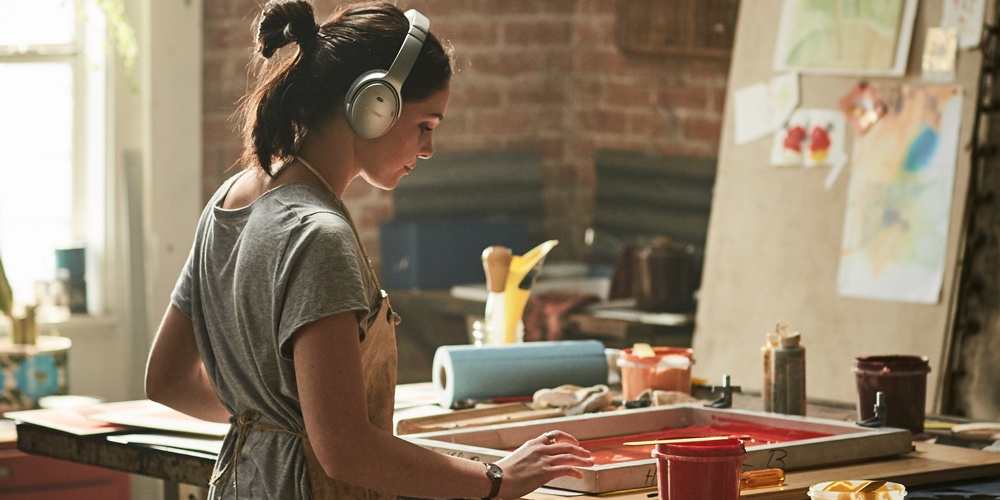 Premium materials for all-day comfort
Materials matter. That's why the QC®35 headband isn't just soft, it's luxurious. Wrapped in Alcantara®—the soft covering material used by prestigious international companies in various applications, like yachts and high-end automobiles—it provides a welcome comfort designed for all-day listening. The ear cushions are manufactured from a synthetic protein leather and contain a silicone bead for passive noise reduction.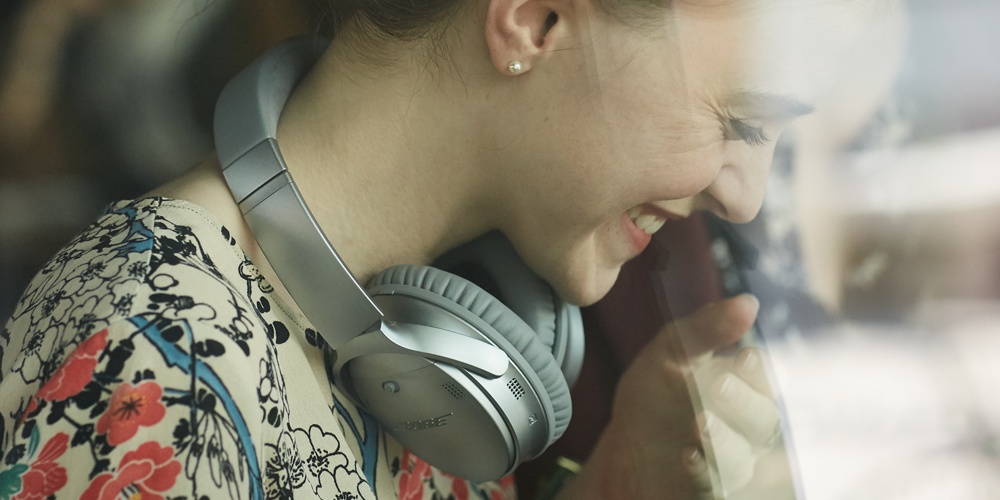 Lightweight and durable? How?
The perception is lightweight headphones are made of plastic and easily broken. So we don't use plastic. We use glass-filled nylon that provides for a lightweight feel but a high level of durability. These headphones also have strong finishing touches. Stainless steel is used for the headband spring and pivots to ensure the headphones are durable enough for everyday use.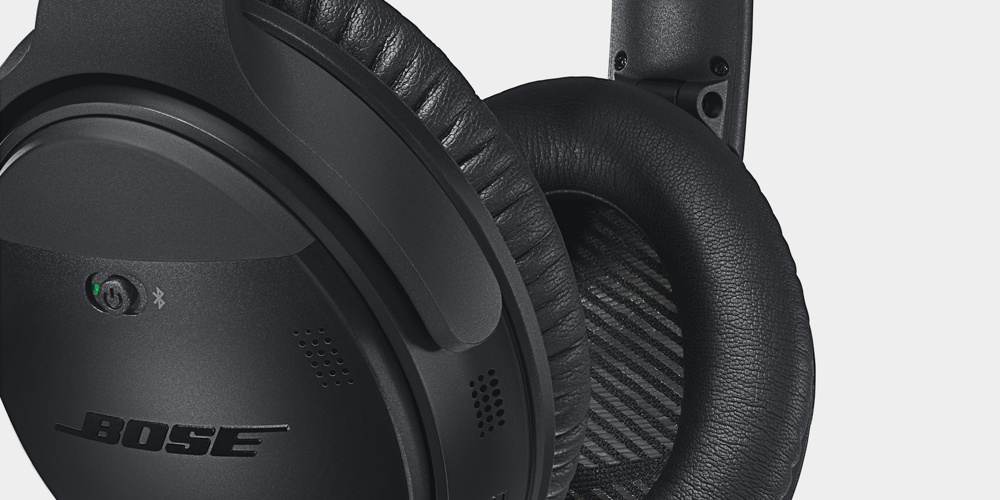 Easy control
Connecting to Bluetooth® devices and switching between them—say, from your iPad to iPhone when a call comes in—is now delightfully easy. The free Bose® Connect app manages all connections with an intuitive graphic interface. Once paired with multiple devices, the headphones will switch between them automatically whenever you want. The app also provides software updates, product tips and even lets you personalise your settings.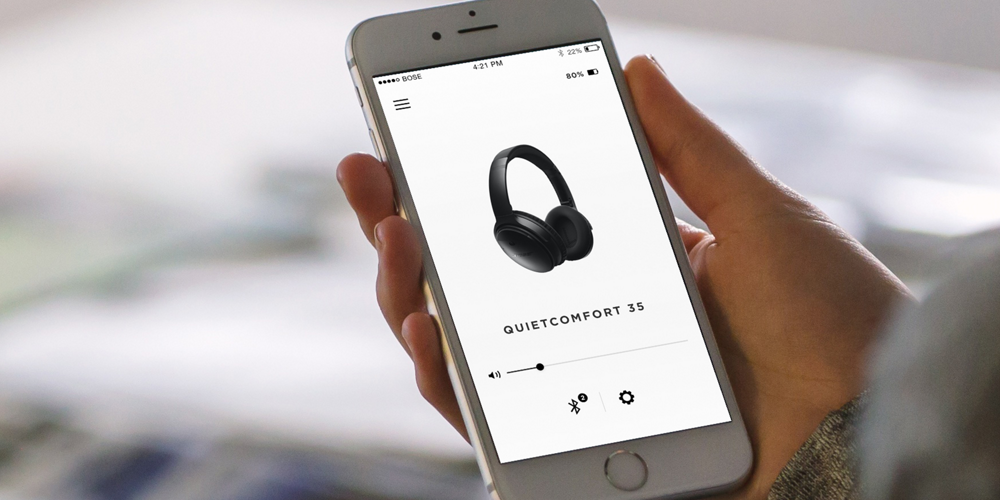 FAQ
What is the difference between QuietComfort® 35 wireless headphones and QuietComfort® 25 Acoustic Noise Cancelling headphones?
Our QuietComfort® 35 headphones offer the same unmatched combination of acclaimed noise-reduction technology, audio performance and comfortable fit as QuietComfort® 25 headphones. However, QuietComfort® 35 headphones offer the convenience of wireless Bluetooth® performance, as well as features like a dual-microphone system, voice prompts, intuitive controls and a 20-hour battery life. They also have the added benefit of volume-optimised EQ, which ensures Bose® quality audio at all volume settings.

What is NFC?
Near Field Communication (NFC) is a short-range wireless technology that enables two NFC-enabled devices to communicate when they are placed in close proximity, typically less than 10 cm (4 in.). For QuietComfort® 35 headphones, NFC is used to facilitate Bluetooth® pairing. When an NFC-enabled device, such as a smartphone, is placed near the right earcup of the headphones, it pairs them to the device via Bluetooth®. Placing the device near the earcup a second time will unpair the headphones.

Can QuietComfort® 35 wireless headphones take calls?
Yes. QuietComfort 35 headphones have a dual-microphone system to allow you to use them during calls when connected to a smartphone that supports the Bluetooth HFP profile. In addition to traditional calls, the headphones will work with many apps that use Voice over Internet Protocol (VoIP), such as Skype or FaceTime. The dual-mic system helps reject wind and background noise to ensure an exceptional far-end experience, while sidetone lets you hear your own voice so you sound natural when speaking on a call.

How do I pair QuietComfort® 35 wireless headphones with my mobile device?
For NFC-enabled phones, simply turn on the headphones by sliding the three-position power switch to the middle position. Then tap the back side of your phone on the front of the right earcup where you see the embossed NFC logo, and follow the prompt to accept a connection. If you don't have an NFC-enabled phone, first, make sure that the headphones are turned on by sliding the power switch to the middle position. Next, press the power switch to the Bluetooth® icon until the Bluetooth® LED flashes blue or the voice-enhanced user interface gives you additional directions. Now, follow the directions within the smartphone's Bluetooth® menu to connect the headphones. The NFC function in iPhone 6/6 Plus or 7/7 Plus only enables Apple pay functionality. It doesn't facilitate pairing. Please use pairing instructions for phones that are not NFC enabled.

Can QuietComfort® 35 wireless headphones simultaneously be connected to two mobile devices?
Yes. Multi-point technology allows QC®35 headphones to maintain a connection to two devices at the same time—for example, an iPad and a smartphone. So, while you're watching video on the connected iPad, the headphones will automatically pause the video to answer a call from the connected smartphone. When the call is finished, the headphones switch back to the video on the iPad. Please note that audio can be streamed from only one device at a time.

What is the range of QuietComfort® 35 wireless headphones?
QuietComfort® 35 headphones have a range of 10 metres (33 feet) from the source device, typically being the room you're in and the adjacent room. This range may be reduced by physical obstructions, such as walls and doors, or by interference from other electronic devices. If that happens, move away from wireless routers or microwaves and bring your headphones closer to the Bluetooth® device.
How do I charge QuietComfort® 35 wireless headphones?
QuietComfort® 35 headphones can be charged using the USB cable supplied in the box and plugging it into a USB port on a computer or a wall charger (sold separately). Allow up to 2.25 hours for the headphones to fully charge. Once it is fully charged, the battery indicator light will turn green.

How long will the battery stay charged?
QuietComfort® 35 headphones use a lithium-ion rechargeable battery that stays powered for up to 20 hours while using the headphones wirelessly and up to 40 hours for wired use.

Can you listen to music when the battery runs down?
Yes. These headphones allow users to continue to listen to their source even if the battery power is depleted. However, without power, neither active noise cancellation nor Active EQ is able to function.

Can I charge QuietComfort® 35 wireless headphones from my PC/laptop?
Yes. QuietComfort® 35 headphones come with a USB cable that allows the headphones to be charged from your PC or laptop. Please note that the PC or laptop must be on and awake in order to charge over USB.

What are the buttons for on the back of the right earcup?
The larger middle button is the multi-function button. It initiates play/pause and other track controls for videos and music, answers and ends calls and can also initiate voice commands such as Siri or voice dial. The buttons on either side of the multi-function button are volume +/- buttons. They allow you to easily adjust volume in an intuitive up/down vertical orientation.
Features
Specifications
Features

Dimensions/weight without the cable

-Headphones: 18 cm H x 17 cm W x 8.1 cm D (0.31 kg)
-Audio only cable: 1.2 m
-USB cable: 30.5 cm

In the box

-QC®35 headphones
-Audio cable for wired connection
-USB cable
-Carrying case