Product Description
Details
Perfection means everything. So we compromised on nothing.
Beauty's in the eye—and ear—of the beholder. So we designed our Lifestyle home entertainment system to be beautiful in every way. Acoustics. Aesthetics. Craftsmanship. Simplicity. Bring your entertainment to life with a powerful, wireless bass module, four compact satellite speakers—including rear wireless surrounds—a wider centre channel speaker and a premium, glass-top control console. Love music? Then you'll love SoundTouch built in for Internet radio, music services like Spotify® and Amazon Music, and your stored music collection. See—and hear—for yourself why this is the most uncompromising 5-speaker home cinema system we've ever made.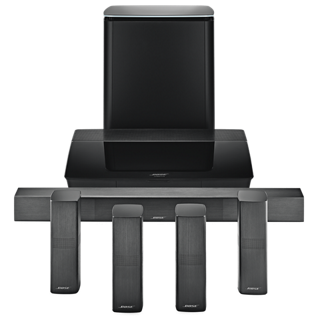 Spotlight on speakers
We have a long history of creating big sound from small packages. With OmniJewel satellite speakers, we're rewriting that history with a new chapter on elegance. Each of these tiny speakers features a carefully milled aluminium housing with two acoustic enclosures for dual-opposing drivers. This is the key to creating our first omnidirectional speaker for true 360-degree sound and a more spacious home cinema experience. It took a team of 30 people to perfect every last detail, ensuring the acoustics would work with the aesthetics. And the rear speakers? Wireless.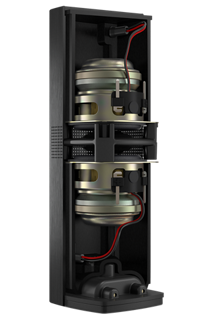 The centre channel of the Lifestyle 650 system is wider than previous versions to match the sleekness of your TV. It's also packed with five precision speakers and coated in an anodized aluminium finish.

Thunderous bass. Wireless connectivity.
Of course you want that resounding bass performance for movies and music. But you don't want a monstrous piece of equipment to enable it. With its premium glass-top finish, our wireless Acoustimass module delivers on sound and style. A powerful driver and QuietPort technology combine for best-in-class performance for its size.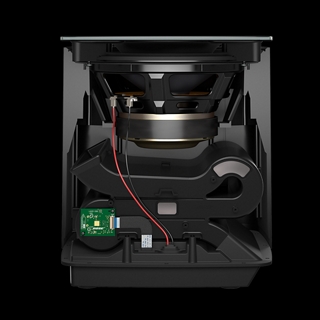 Statements in elegance, continued…
The polished glass curvature of the console has a singular style you can't ignore. But it's more than just good looks. The console houses all of your technological needs: Bluetooth® and Wi-Fi® connectivity for wireless music streaming, 4K video compatibility, 6 HDMI™ inputs and more. And it's all controlled with a universal remote.
One system, with a choice of speakers
So, which system catches your eye? Our premium Lifestyle 650 system with OmniJewel speakers, or the Lifestyle 600 system with Jewel Cube speakers, which inspired our latest innovations?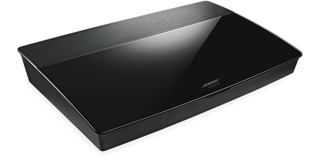 Less effort, more music
With the Lifestyle home entertainment system, we put a lot of thought into taking the thinking out. Of course, there's the premium home cinema performance that you'll love for movies, TV and sports. But when it comes to enjoying your music, you can listen whichever way you want, without worrying about which technology is best. This system lets you play music directly from a phone or tablet using Bluetooth®, or connect the system to your Wi-Fi® network for instant in-home listening, without the need for your phone.


SoundTouch app
SoundTouch, a key benefit to this Lifestyle system, is made to grow with you. Once you have one SoundTouch system, you can add more at any time. They all work together. So as you go from room to room, your music goes along with you. The free SoundTouch app gives you greater control of your Lifestyle system—any SoundTouch product, actually—from a smartphone or tablet. Use it to browse music and control that music throughout your home. Start streaming instantly, or use the app to personalise the presets to your favourite music and stations. You can also use the universal remote's SoundTouch LED to see what songs you're listening to, a nice feature when you switch directly from a film to some music.
Engineered to keep it simple
Unify® technology walks you through system setup with guided onscreen messages for foolproof connectivity to your sources. Worried how it will all sound in your room? Don't be. ADAPTiQ audio calibration fine-tunes the sound specifically to your room and the things in it. So when you hear it, you hear it at its absolute best. The rear speakers and bass module even connect wirelessly for easier placement.
FAQ
What is the ADAPTiQ® audio calibration system?
The ADAPTiQ® audio calibration system is a proprietary Bose® technology that customises your Lifestyle® system's sound to the unique size, shape and furnishings of the room it's in to ensure it delivers a high-quality performance.

How does the Unify® intelligent integration system work?
Once a video connection is made between the Lifestyle® control console and your TV, the Unify® system walks you through initial system setup, step by step. As you're connecting components to the control console, the system recommends the best connectors via on-screen messages. It even confirms that the connection was made properly. The Unify® system is available at any time to help you connect and/or disconnect your entertainment sources and programme your remote.

Can Lifestyle® systems upscale video?
No, Lifestyle® systems do not upscale video.

Are Lifestyle® systems compatible with 4K video?
Yes, your Lifestyle® system supports 4K resolution.

Which audio formats do Lifestyle® systems support?
Lifestyle® systems support Dolby® Digital, Dolby® Digital Plus, Dolby® TrueHD, DTS and Multichannel PCM.

Is it possible to adjust bass and treble?
Yes. The bass can be controlled with the bass button on the universal remote control or via the settings menu in the SoundTouch® app. The bass, treble, centre and surround levels can be adjusted through the universal remote control.

What is the range of the wireless link between the console and the Acoustimass® module?
The wireless range between the console and the Acoustimass module is about 9 metres (30 feet).

Can the Acoustimass® module be wired?
Yes. The Acoustimass® module can be wired to the console with a 3.5 mm shielded audio cable.

What placement guidelines should be considered to ensure optimal audio performance of the Acoustimass® module?
For best sound quality, the Acoustimass® module should be placed on the floor against the same wall as the television and centre channel, with an electrical outlet nearby for the power cable. The module should not be placed on a shelf or table.

Do Lifestyle® systems have Bluetooth® and NFC built in?
Yes. The NFC chip is built into the control console near the Bose® logo on top of the console.

Do the speakers need to be hard-wired to the Lifestyle® control console?
The front left and right satellite speakers and the centre speaker need to be hard-wired to the console. The rear speakers connect wirelessly using the wireless connectors. The connectors have a range of about 10 m (about 32 ft) and connect via a proprietary 2.4 GHz radio.

What kind of batteries does the remote control use?
The remote uses 4 alkaline AAA batteries.

How do I access SoundTouch® music with the universal remote?
You access SoundTouch® music by pressing the "SoundTouch" button or selecting it from the source menu—similar to how you access other entertainment sources. From there, you can select one of your presets or browse the Recents list. The 1 to 6 buttons on the remote will also play a preset once the system is turned on and the SoundTouch source is selected.

Can I stream video from the Internet, like Netflix®, to the Lifestyle® system using SoundTouch®?
No. SoundTouch® is designed to stream audio/music formats only. It does not stream Internet-video sources or videos stored on a computer. For this, you would need to use a streaming device such as Apple TV® or Roku®.
Bespoke installation services available within a 10 mile radius from our showroom, normally within 5 working days of delivery.
Please call our customer help line for a quote today. Tel: 020 8813 7666, Mon-Sat, 9.30am - 6pm.
Full after sales service on Bose Premium products including FREE collection and testing (diagnosis and repair at home unavailable).
This item is available to demo in our store. Click here to find us
Features
Specifications
Features

Dimensions/weight

Console: 40.59 cm W x 25.8 cm H x 6.5 cm D
OmniJewel speakers (each): 4.67 cm W x 14.66 cm H x 4.67 cm D (with foot installed) (0.35 kg)
OmniJewel centre speaker: 54.2 cm W x 4.82 cm H x 4.68 cm D (without feet) (1.2 kg)
Acoustimass wireless bass module: 30.5 cm W x 38.1 cm H x 30.5 cm D (13.6 kg)
Power cable with adapter: 16.6 cm W x 4.1 cm H x 7.8 cm D (0.28 kg)

Additional details

Supported audio formats: Dolby® Digital, Dolby® Digital Plus, Dolby® TrueHD, DTS, Multichannel PCM. [Systems sold in Japan will also decode AAC signals.]
Video source compatibility: Support for six 4K/60 video sources (HDMI 2.0/HDCP 2.2)

Inputs and outputs

Rear panel of the console

1 HDMI™ output with Audio Return Channel (ARC)
5 HDMI inputs
2 optical digital audio connections
2 coaxial digital audio connections
2 analogue L/R audio inputs
1 3.5 mm connection for the Acoustimass module
1 data port
1 IR repeater port
1 Ethernet port for SoundTouch and software updates via a network
1 USB connection for software updates only

Front of the console

1 HDMI input
1 3.5 mm jack for ADAPTiQ system and headphones
1 power button
1 source button
1 system setup button

What's in the box?

Console
4 OmniJewel speakers
4 OmniJewel bases
OmniJewel centre speaker
Acoustimass wireless bass module
Universal remote control
Front speaker cable
2 rear speaker cables
Centre speaker cable
2 wireless receivers
ADAPTiQ headset
IR emitter
HDMI cable
4 AA batteries
Console power supply
4 power cables
4 adhesive feet
Screwdriver
Owner's guide
Delivery
Due to the current Covid-19 restrictions - there may be delays of up to 48 hours to our estimated delivery times.

How will you send my item?
We ship to addresses within the UK using Royal Mail and DPD couriers.


How much does delivery cost?
Standard 2-3 working day delivery is FREE on all orders to mainland UK. Next working day courier service is available on all orders for a small fee of £4.99. On some items this is provided for FREE.
For orders to UK Non-mainland and International destinations, there will be an additional charge at checkout. Please see below for more information.


How long does delivery take?
Depending on the delivery service you choose, delivery usually takes between 1-3 working days to mainland UK from the moment we despatch your order. Orders to UK non-mainland and international destinations can take longer.


When will you despatch my order?
Orders placed before 12pm are processed and despatched the same day (excluding bank holidays and weekends). Orders placed on weekends will be processed and despatched the following working day.
*Please note that international orders may require extra checks before we are able to despatch your order so timescales may vary.
Can I track my delivery?
Yes - Order tracking is offered as standard on all items, whether they are shipped via DPD or Royal Mail. You will receive your tracking information via email once we have despatched your order.


UK Non-mainland and International destinations.
Shipping for all items to UK Non-Mainland and International destinations will incur a charge at checkout. If a delivery charge is not applied automatically at checkout, we will contact you to arrange payment and reserve the right to cancel your order if you refuse to pay for appropriate delivery. Please feel free to contact us if you would like to query the prices to your destination.
Shipping to international destinations may require further security checks and I.D. may need to be provided by the cardholder.
Please note that we are unable to ship some items outside the UK. To avoid any disapointment please contact us before making you order.


What do you class as UK Non-mainland?
Rep. Ireland, N. Ireland, Channel Islands, Jersey, Guernsey, Isle of Wight, Isle of Man and Scottish Highlands. If you are unsure whether your address is classed as UK Non-mainland please feel free to contact us and an advisor will be happy to help.


For any further enquiries with regards to your delivery please contact us on 020 8813 7666 and one of our adviser's will be happy to help.
Returns

If you're not happy with your item or you've changed your mind.
Even though we're sure you'll be happy with your purchase, it's important that you are aware of how we deal with returns in the event that you need to send something back.
We understand how inconvenient it can be when you buy a product and aren't 100% satisfied with it. For this reason we have designed our returns policy to prevent any further inconvenience to you in these instances.


Under 14 days
You can return your goods for a full refund or exchange as long as you inform us of your intention to return the goods within 14 days of receipt, starting from the day after you receive your goods (Exclusions apply, see below.)

All return costs are down to the buyer and it is recommended that you return your items using a trackable method with appropriate insurance (if required).

Once we have confirmed your return, please ensure that you return the item within 14 days.

If a returns number is provided then please ensure that the parcel has this clearly marked.

Items need to be returned in "as new" condition in their original packaging. We don't mind if you open the product to check it, however any used or damaged products will be subject to a 25% handling fee so please take care when opening your items.


After 14 days
We will not offer a refund after 14 days of you receiving your delivery unless your product is faulty.


Exclusions from our returns policy
As we're sure you'll understand, there are some products that we can't offer returns on due to their nature. These include:
Special order items and cables cut from a reel (priced per metre). These items will be clearly identifiable.

In-Ear headphones due to health and hygiene reasons.

Products that include software which require activation.
Please note that these exclusions do not apply to items that become faulty.


If your product becomes faulty
We endeavour to get your items to you in fully working order, however in the event that your items do become faulty, please read below on what you should do next.
In a lot of cases with some products, faults can be fixed by performing some basic troubleshooting, so to prevent any further inconvenience to you we advise that you contact our Customer Service team who can guide you through some basic troubleshooting before sending items back.


Under 28 days
If your items become faulty within 28 days of delivery you are entitled to a full refund or exchange. Please contact our customer service centre who will provide necessary returns details.

Please send the items back with a cover note including a description of the fault and your original order number.

Once we have fully tested the item and confirmed the fault, we will process the refund or exchange including cost of carriage back to us (within reason).

If during our testing we cannot find a fault, no refund will be given and you will be charged for delivery of the item back to you.


After 28 days
After 28 days you will still be able to get your faulty items repaired or replaced within the manufacturers warranty and we will be happy to assist you with this. Please contact our customer service team to find out the best way to get your items repaired or replaced. Please be aware that after 28 days we will not cover you for any carriage costs.