Product Description
Details
Astell & Kern AK70 MKII 64GB MQ Player
Your Next Premium
Back in black and ready to impress! The AK70 MKII has a whole lot to offer with its advanced features.
Dual DAC separates the left and right audio channels from input to output higher audio output with the same refined sound signature of Astell&KernCompact size for easy carrying and one-handed operation.
The AK70 has been reborn as the AK70 MKII through Astell&Kern's accumulated know-how.
Dual DAC separates the left and right audio channels from input to output
The advantage of a dual DAC player has now become available to everyone. The AK70 MKII is the first model from Astell&Kern to be equipped with a dual DAC for under a thousand dollars. Its separated channel circuit design offers less noise and interference, yet adds more fidelity and audio output power, to create a bigger soundstage with clearer imaging when paired with your favorite cans or speakers.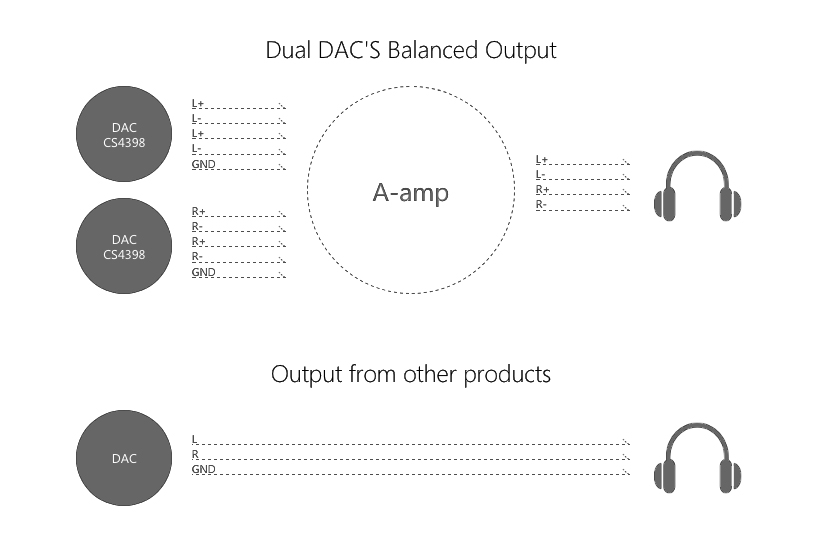 Higher audio output with the same refinedAstell&Kern sound signature
With a substantial power output of 4.0Vrms from the balanced output, the AK70 MKII can drive a wide range of heavy, hard-to-drive headphones without a problem thanks to Astell&Kern's latest audio design technology.
Whilemaintaining the natural and neutral tone and sound signature Astell&Kern is famous for, the newly designed audio circuit creates authentic sounds by exceeding previous Hi-Fi Audio specifications, including SNR, Crosstalk, and THD+N, over previous models.
The powerful AK70 MKII's sound quality is sure to please even the most discerning music aficionado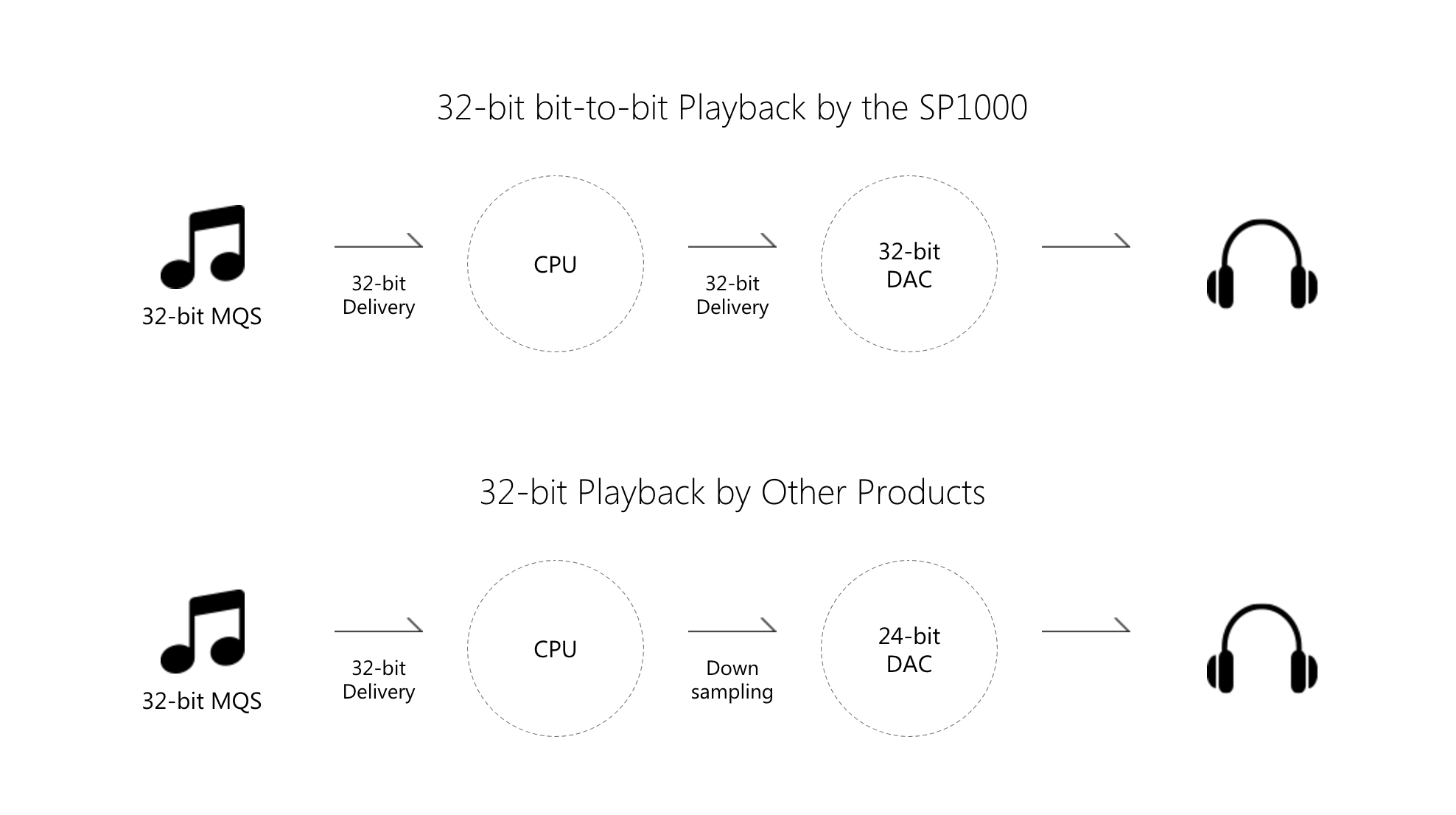 Compact size for easy carrying and one-handed operation
AK70 MKII delivers superb Hi-Fi audio quality in a pocket-sized portable, a must-have feature for listeners who want high quality sound any place and anytime. No need to compromise with lossy, compressed music anymore.The ergonomic body design fits nicely in the palm of the hand, making operation a smooth, one-handed experience.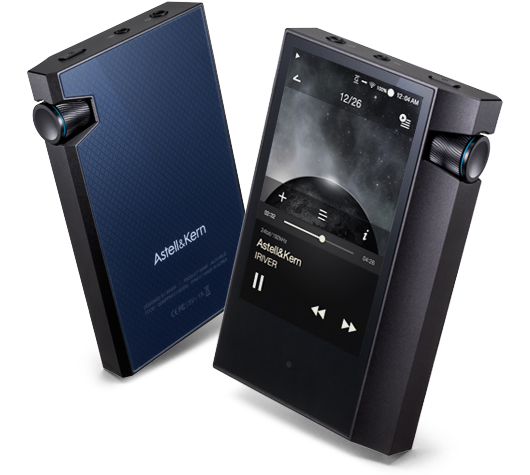 Design Concept
With its minimalist design, the AK70 MKⅡ offers a secure one-handed grip thanks to
its new subtle and precise angles. At only 15.2 mm (0.59 in) thick and a feather-light 150 grams (5.3 oz),
the AK70 MKⅡ fits just right in your hand or pocket when you are on the go.
The black anodized body shimmers like the sea at night and the aqua colored volume knob accent produces a calming
wave pattern. In perfect contrast, the rear glass case is an extension of the volume knob's aesthetic aqua color.

24-bit, 192 kHz Bit-to-Bit Playback
The AK70 MKII plays any resolution of digital files up to 24-bit/192 kHz, bit-for-bit.
32-bit audio and single or double rate DSD can also be played, but it will be converted to PCM or downsampled.* 32-bit, 384 kHz is downsampled to 24-bit, 192 kHz, and 32-bit, 352 kHz is downsampled to 24-bit, 176 kHz for playback.* DSD 64/128 is converted via DSD-to-PCM to PCM 24-bit, 176 kHz for playback.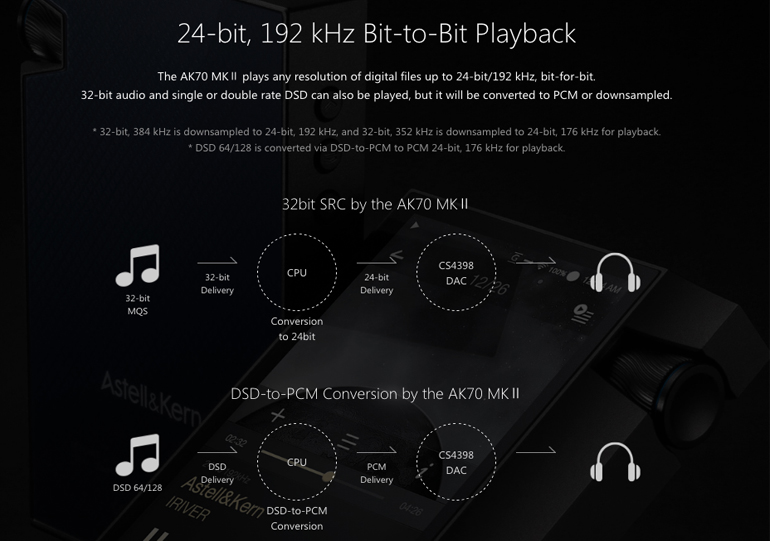 USB DAC
Connect to your PC/Mac computer, or other system, via a USB cable and use the AK70 MKⅡ's hardware to provide better sound quality.
The AK70 MKⅡ, when used as a USB DAC, will bring out more detail and provide a better listening experience than your computer is capable of delivering, even when listening to your favorite streaming service!
When using the AK70 MKⅡ as a USB DAC, playback up to 24-bit, 96kHz is supported to deliver a much richer sound through a larger soundstage and resolution that goes far beyond the limits of an embedded sound card.
Want to easily play back DSD on your computer? No problem. Using the PC's embedded sound card usually requires a complicated process to playback DSD data, but with the AK70 MKⅡ, simply install our DAC driver on your PC/MAC and play DSD with ease.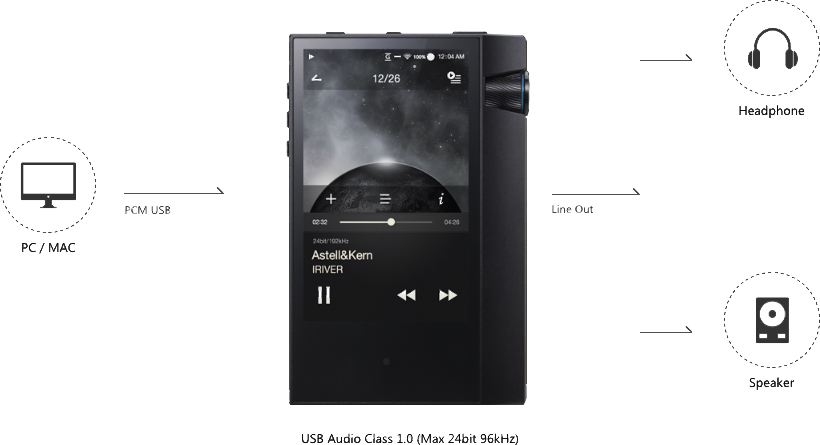 AK Connect
AK Connect, a DLNA-based music control app, is available on the AK70 MKⅡ and smart devices including your phone or tablet. You can easily control playback, volume, streaming over Wi-Fi and more with this free app from Astell&Kern. AK Connect allows for convenient access to all of your connected music libraries including your smart devices, computers, NAS drive, other Astell&Kern Wi-Fi enabled products or any other DLNA compatible music system on your local network. AK Connect app is available for both iOS and Android devices.
AK CD-RIPPER
The AK70 MKⅡ allows users to rip CDs with ease by connecting our AK CD-RIPPER accessory.
Our exclusive CD-RIPPER can rip your CDs directly to the AK70 MKⅡ with 100% error-correction. When connected to Wi-Fi, all metadata for the CD being ripped will be downloaded from the Gracenote™ database, and all of the tagging information will be stored for each album. The combination of the AK70 MKⅡ and AK CD-RIPPER make it simple and easy to digitize your entire CD collection.
* The AK CD-RIPPER may not be properly recognized when using a power supply adapter rated at less than 5V 2A.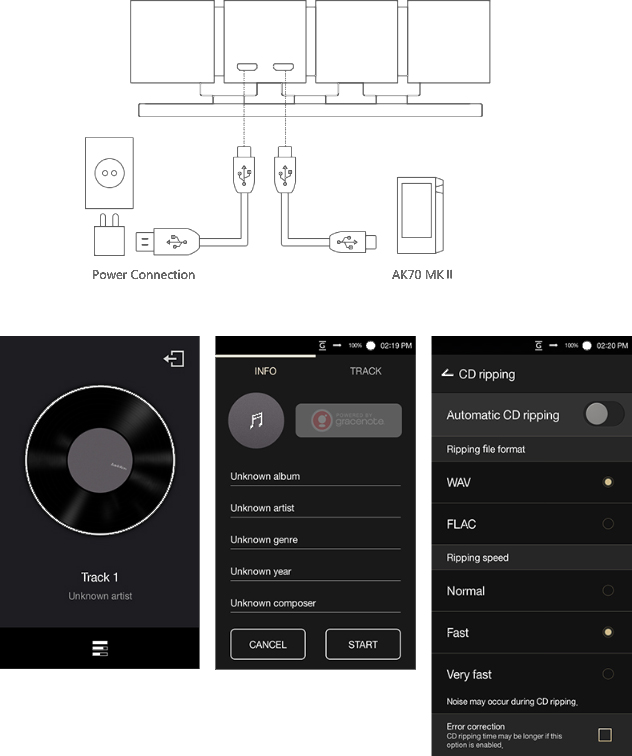 Astell & Kern Billie Jean In-Ear Headphones

Billie Jean is the latest collaboration of In-Ear-Monitors (IEMs) between Astell&Kern and Jerry Harvey Audio which feature a new Dual Balanced Armature (BA) driver system. It is another winning product created by combining the experience and know-how of Jerry Harvey's IEM design and the quality production of Astell&Kern.
Billie Jean brings to life a real audio experience that will take your music to the next level.
Utilizing our experience of producing the award-winning SIREN Series IEMs, which is loved by music enthusiasts around the world, we were able to achieve a new level of accomplishment for those who enjoy a genuine music experience.
Billie Jean features the patented freqphase® technology from Jerry Harvey Audio with a new internal sound bore design to bring clear and impeccably balanced sound from sub-bass to brilliance range. The new IEM shell has been optimized to fit nicely in the ear, utilizes a 2-way 2-BA design, Silver Tinsel cable and L-type plug in a small, compact package. The result is a brilliant pair of IEMs designed and built by Jerry Harvey, the inventor of custom-IEMs, and Astell&Kern, the global leader in Hi-Fi audio.
Jerry Harvey Audio has developed a whole new Balanced Armature Driver to offer reference quality IEMs for mastering and mixing works. The high-range drivers are designed to deliver everything with minimum distortion, while the ultimate mid driver offers perfect, flat sound from 10Hz to 5kHz.
The bass driver was designed for an even steeper low-pass effect with no distortion.
Most Multiple Driver IEM's suffer from phase and timing issues. Low, Mid, and High drivers all have different impulse times. The higher it is, the faster the impulse time of the BA Driver. The lower it is, the slower the response speed. This causes improper arrival times and Phase shifts.
The "Billie Jean" applies Jerry Harvey Audio's patented "Freqphase" technology, which uses precisely cut tube lengths for each driver to minimize the phase shift of each frequency. This allows for the High, Mid, and Low drivers to be aligned to 1/100ms for the most ideal phase curve. It ensures the correct time alignment and phase of all drivers resulting the most accurate music reproduction in the industry.
Billie Jean is over 30% smaller compared to Michelle Limited. Its design has been optimized after a series of studies of different shapes of ear canals from both men and women of different ages. It fits and sits perfectly in your ears without bulkiness.
The Universal Fit Billie Jean is the perfect companion for Pro Audio applications such as sound monitoring. With the noise isolation design and the IEM know-how from Jerry Harvey Audio, you will get the best fit and comfort while you enjoy your tunes in a new way.
The cable used in the Billie Jean is not common copper. Instead, it is a copper cable plated with silver.
The cable is manufactured by first compressing the silver plated copper wire, which is then flattened and rolled into a steady interval that is then used to wrap around the Kevlar. This newly developed cable has astounding tensile strength and delivers the full dynamic range of music.  There is a 3.5mm Unbalanced cable provided.
Conventional straight cables do not handle the frequent bending of cables and often short out. The intertwined cable disperses the stress to the cable and offers better resilience. It's also easier to wear around the outer ears as the cable shape can be easily adjusted for the best fit.
The brand name of Aramid fiber that DuPont USA manufactured. It is very lightweight and more durable than nylon, and has the advantage of being very tough. Because it is made of light weight organic polymers such as carbon, nitrogen and hydrogen, allowing it to be 5 times more stronger than steel. Kevlar is particularly strong against friction and is commonly used for body armor and aircraft tires due to its excellent shock absorption.
Astell&Kern AK70 Case
The AK70's casing, with its simple design and compact size, is made with the thinnest and lightest material available in the market so that it can fit the product's concept well and can be portable anytime anywhere.

The material selected for this important role was created by Synt3, a world-class manufacturer of polyurethane located in Milan, Italy.
The diverse patterns and colors seen in the new brands developed by Synt3 are consistently regarded as new standards in the industry. Synt3's superb sense of design is always at the forefront of the industry.

The colors of the casing have been selected that accentuate the AK70 of which the color is faint mint green with silver tone that changes its shade depending on the light, by employing a pastel-colored anodizing process.
Meet the AK70 casing with edgy appearance and soft colour.
Features
Specifications
Features

Astell & Kern AK70 MKII 64GB MQ Player

Display: 3.3inch WVGA (480 x 800) TFT LCD

Supported Audio Formats: WAV, FLAC, WMA, MP3, OGG, APE, AAC, ALAC, AIFF, DFF, DSF

Sample rate: PCM : 8kHz ~ 192kHz (8/16/24bits per Sample) DSD : DSD64(1bit 2.8MHz), Stereo / DSD128(1bit 5.6MHz)

Output Level: Unbalance 2.0Vrms / Balance 4.0Vrms (Condition No Load)

DAC: Cirrus Logic CS4398 x2 (Dual DAC)

Decoding: Support up to 24bit / 192kHz Bit to Bit Decoding

Input: USB Micro-B input (for charging & data transfer (PC & MAC)) / Connection Mode : MTP (Media Device)

Outputs: PHONES (3.5mm) / Balanced Out (2.5mm, only 4-pole supported)

Wi-Fi: 802.11 b/g/n (2.4GHz)

Bluetooth: V4.0 (A2DP, AVRCP, aptXtm HD)

Dimensions: 2.47 "(62.8 mm) [W] x 3.81 "(96.8 mm) [H] x 0.59 "(15.2 mm) [D]

Feature Enhancements: Firmware upgrades supported (OTA)

Audio Performance

Frequency Response: ±0.11dB (Condition: 20Hz~20kHz) Unbalance / ±0.09dB (Condition: 20Hz~20kHz) Balance ±0.5dB (Condition: 10Hz~70kHz) Unbalance / ±0.5dB (Condition: 10Hz~70kHz) Balance

Signal to Noise Ratio: 118dB @ 1kHz, Unbalance / 119dB @ 1kHz, Balance

Crosstalk: 136dB @ 1kHz, Unbalance / 138dB @ 1kHz, Balance

THD+N: 0.0005% @ 1kHz, Unbalance / 0.0005% @ 1kHz, Balance

IMD SMPTE: 0.0003% 800Hz 10kHz(4:1) Unbalance / 0.0003% 800Hz 10kHz(4:1) Balance

Output Impedance: Balanced out 2.5mm (3ohm) / PHONES 3.5mm (1.5ohm)

Clock source

Clock Jitter: 45ps (Typ)

Battery

Capacity: 2,500mAh 3.7V Li-Polymer Battery

Memory

Built-in Memory: 64GB [NAND]

External Memory: microSD (Max 256GB) x1

OS

Supported OS: Windows 7,8,10 (32/64bit), MAC OS X 10.7 and up

Astell & Kern Billie Jean In-Ear Headphones

Model: Billie Jean

Type: Universal fit IEM

Driver Unit: 2way 2Drivers (High, Full Range(Mid & Low)) / 2BA per side

Impedance: 18 ohm

Noise Isolation: -26dB

Sound Technology: Freqphase™ Time | Phase Waveguide / New Sound Bore

Components: 3.5mm Unbalanced Cable, 3Sizes of Silicon Ear tips (S,M,L), Carrying Case

Astell&Kern AK70 Case

Material: LASKINA® polyurethane fabric by Synt3. (Made in Italy)
Delivery
Due to the current Covid-19 restrictions - there may be delays of up to 48 hours to our estimated delivery times.

How will you send my item?
We ship to addresses within the UK using Royal Mail and DPD couriers.


How much does delivery cost?
Standard 2-3 working day delivery is FREE on all orders to mainland UK. Next working day courier service is available on all orders for a small fee of £4.99. On some items this is provided for FREE.
For orders to UK Non-mainland and International destinations, there will be an additional charge at checkout. Please see below for more information.


How long does delivery take?
Depending on the delivery service you choose, delivery usually takes between 1-3 working days to mainland UK from the moment we despatch your order. Orders to UK non-mainland and international destinations can take longer.


When will you despatch my order?
Orders placed before 2pm are processed and despatched the same day (excluding bank holidays and weekends). Orders placed on weekends will be processed and despatched the following working day.
*Please note that international orders may require extra checks before we are able to despatch your order so timescales may vary.
Can I track my delivery?
Yes - Order tracking is offered as standard on all items, whether they are shipped via DPD or Royal Mail. You will receive your tracking information via email once we have despatched your order.


UK Non-mainland and International destinations.
Shipping for all items to UK Non-Mainland and International destinations will incur a charge at checkout. If a delivery charge is not applied automatically at checkout, we will contact you to arrange payment and reserve the right to cancel your order if you refuse to pay for appropriate delivery. Please feel free to contact us if you would like to query the prices to your destination.
Shipping to international destinations may require further security checks and I.D. may need to be provided by the cardholder.
Please note that we are unable to ship some items outside the UK. To avoid any disapointment please contact us before making you order.


What do you class as UK Non-mainland?
Rep. Ireland, N. Ireland, Channel Islands, Jersey, Guernsey, Isle of Wight, Isle of Man and Scottish Highlands. If you are unsure whether your address is classed as UK Non-mainland please feel free to contact us and an advisor will be happy to help.


For any further enquiries with regards to your delivery please contact us on 020 8813 7666 and one of our adviser's will be happy to help.
Returns

If you're not happy with your item or you've changed your mind.
Even though we're sure you'll be happy with your purchase, it's important that you are aware of how we deal with returns in the event that you need to send something back.
We understand how inconvenient it can be when you buy a product and aren't 100% satisfied with it. For this reason we have designed our returns policy to prevent any further inconvenience to you in these instances.


Under 14 days
You can return your goods for a full refund or exchange as long as you inform us of your intention to return the goods within 14 days of receipt, starting from the day after you receive your goods (Exclusions apply, see below.)

All return costs are down to the buyer and it is recommended that you return your items using a trackable method with appropriate insurance (if required).

Once we have confirmed your return, please ensure that you return the item within 14 days.

If a returns number is provided then please ensure that the parcel has this clearly marked.

Items need to be returned in "as new" condition in their original packaging. We don't mind if you open the product to check it, however any used or damaged products will be subject to a 25% handling fee so please take care when opening your items.


After 14 days
We will not offer a refund after 14 days of you receiving your delivery unless your product is faulty.


Exclusions from our returns policy
As we're sure you'll understand, there are some products that we can't offer returns on due to their nature. These include:
Special order items and cables cut from a reel (priced per metre). These items will be clearly identifiable.

In-Ear headphones due to health and hygiene reasons.

Products that include software which require activation.
Please note that these exclusions do not apply to items that become faulty.


If your product becomes faulty
We endeavour to get your items to you in fully working order, however in the event that your items do become faulty, please read below on what you should do next.
In a lot of cases with some products, faults can be fixed by performing some basic troubleshooting, so to prevent any further inconvenience to you we advise that you contact our Customer Service team who can guide you through some basic troubleshooting before sending items back.


Under 28 days
If your items become faulty within 28 days of delivery you are entitled to a full refund or exchange. Please contact our customer service centre who will provide necessary returns details.

Please send the items back with a cover note including a description of the fault and your original order number.

Once we have fully tested the item and confirmed the fault, we will process the refund or exchange including cost of carriage back to us (within reason).

If during our testing we cannot find a fault, no refund will be given and you will be charged for delivery of the item back to you.


After 28 days
After 28 days you will still be able to get your faulty items repaired or replaced within the manufacturers warranty and we will be happy to assist you with this. Please contact our customer service team to find out the best way to get your items repaired or replaced. Please be aware that after 28 days we will not cover you for any carriage costs.
You may also be interested in the following product(s)
Regular Price: £149.00
On Sale Price £79.99
Regular Price: £299.00
On Sale Price £199.00