Product Description
Details
Astell & Kern AK300 64GB Portable Audio Player
Enjoying music
While succeeding the state-of-the-art DAC and scalability as applied to the AK380 and AK320, the latest model has improved accessibility by being priced at a reasonable level. AK4490's Single DAC-DAC, DSD-to-PCM Playback, Parametric EQ with 20bands 0.01dB, 200 Femto Second VCXO Reference Clock, Exceptional Expandability, DLNA-based AK Connect App and Metal Touch Sensor Home Button.
AK300 vs. AK320 vs. AK380
AK300
AK320
AK380
PCM
24bit 192kHz Bit to Bit
24bit 192kHz Bit to Bit
32bit 384kHz Bit to Bit
DSD
DSD to PCM
DSD to PCM
Native DSD Playback
DSD64/128 to PCM 24bit 176kHz

DSD64/128 -

PCM 24bit 176kHz

DSD 2.8MHz (DSD 64) / DSD 5.6MHz (DSD 128) / DSD 11.2MHz (DSD 256)
DAC

AK4490 x1 (Single DAC)

AK4490 x2 (Dual DAC)
AK4490 x2 (Dual DAC)
PEQ

Support

Support
Support
Femto Clock

Support

Support
Support
USB DAC

Max 24bit 96kHz (UAC 1.0)

Max 24bit 96kHz (UAC 1.0)
Max 32bit 384kHz / DSD 11.2MHz (UAC 2.0)
Built-in Memory

64GB

128GB
256GB
24bit 192kHz bit to bit Playback
AK300 is capable of bit-to-bit playback up to 24bit, 192kHz.
32bit audio is downsampled using a sample-rate converter (SRC). In addition, DSD 64/128 can be played back via conversion to PCM.
* 32bit, 384kHz is downsampled to 24bit, 192kHz, and 32bit, 352kHz is downsampled to 24bit, 176kHz for playback.
* DSD 64/128 is converted via DSD-to-PCM to PCM 24bit, 176kHz for playback.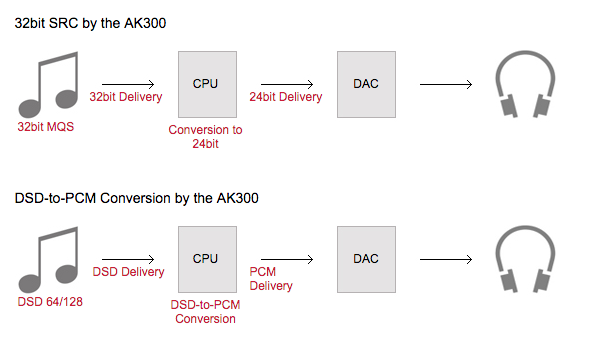 PEQ (Parametric EQ)
A parametric equalizer (PEQ*1) was implemented in the AK380 to deliver detailed adjustment of the original sound, and an audio digital signal processor (DSP) was added to aid in this process.
This frees up CPU cycles previously needed for calculating graphic equalizers (GEQ), allowing more detailed and accurate calculations via the dedicated DSP.
The audio DSP expands the existing 10-band, ±0.5 dB graphic equalizer (GEQ*2) to 20-band, ±0.01 dB to more precisely adjust the frequency and gain (dB) as well as more accurately specifying the frequency range via Q value adjustments.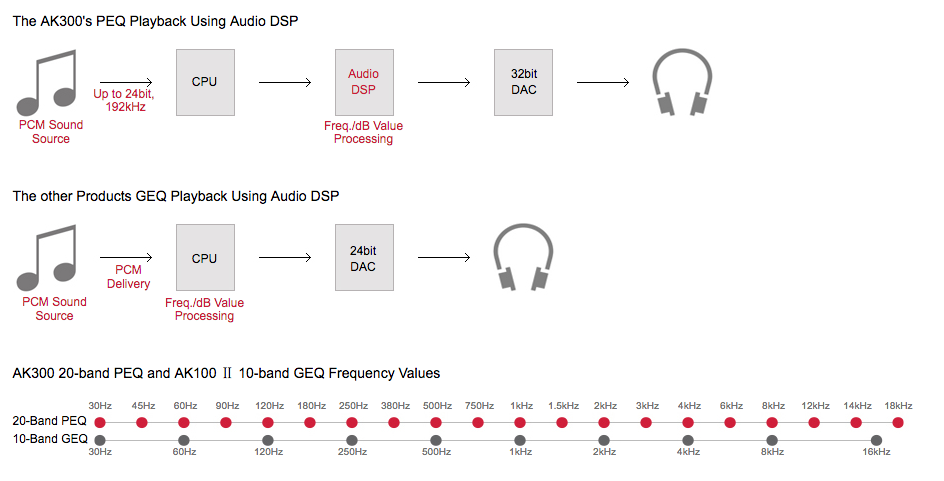 What is Parametric Equalization (PEQ
*1

)?

Parametric equalization refers to the ability to increase or decrease the volume within the Q value range. A Q value is a frequency range relative to a selected frequency. The frequency range decreases when the Q value increases and vice versa.

What is Graphic Equalization (GEQ*2)?
Graphic equalization divides the audible frequency register into several registers and increases or decreases the level of each register with a volume slider to adjust the respective frequency's characteristics. The switches of the volume slider are connected like a graph to visually determine the frequency characteristics, hence the name "graphic equalizer."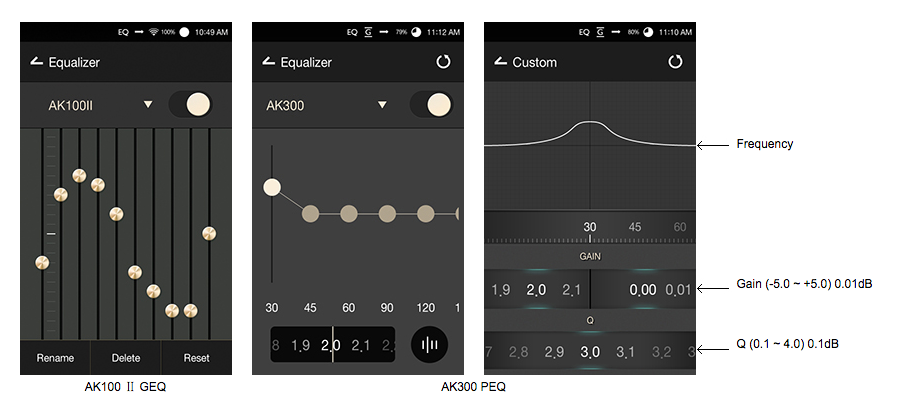 Equipped With a Femto Clock to Deliver True Original Sound
Astell&Kern implemented a voltage-controlled crystal oscillator (VCXO) high-precision clock with a reference jitter value of 200 femto seconds*3. Femto clocks are commonly used in high-end audio systems, and the clock is measured in high-precision femtosecond units (one quadrillionth of a second).
What is VCXO?
A VCXO, or a voltage-controlled crystal oscillator, is a type of crystal oscillation device that creates oscillation frequencies. External environmental stimuli, which in this case mean voltage inputs, influence the frequency value. Adjustments to the voltage input tunes a precise frequency value.
What is Jitter?
Jitter refers to the undesired deviation in time that occurs in a periodic signal. In this case, jitter is the error that occurs in the reference clock required to perform the sampling in digital audio equipment.
By utilizing a femto clock, the AK300 is able to create a more accurate frequency value and make fine jitter corrections.
As a result, the AK320 faithfully reproduces analog sound closer than ever to the original source when transmitting a digital signal as an analog signal.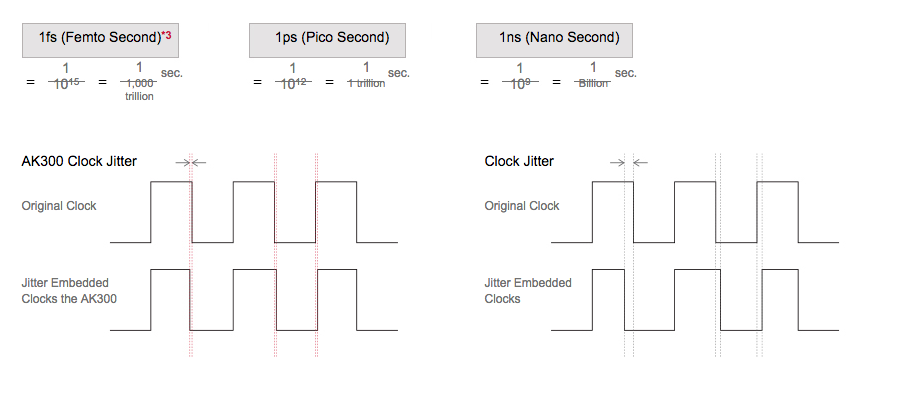 USB DAC
The AK300 supports USB DAC functionality.
The AK300 can be connected to a PC or Mac via USB for use as a USB DAC that supports PCM/DSD.
When playing back music stored on a PC or Mac, the Single-DAC is able to deliver richer audio of outstanding soundstage and resolution well beyond the limits of a built-in sound card.
* When using the AK300 as a USB DAC, its PEQ settings are not applied, and output up to 24bit, 96kHz is supported.
* DSD 64/128 is converted via DSD-to-PCM for playback.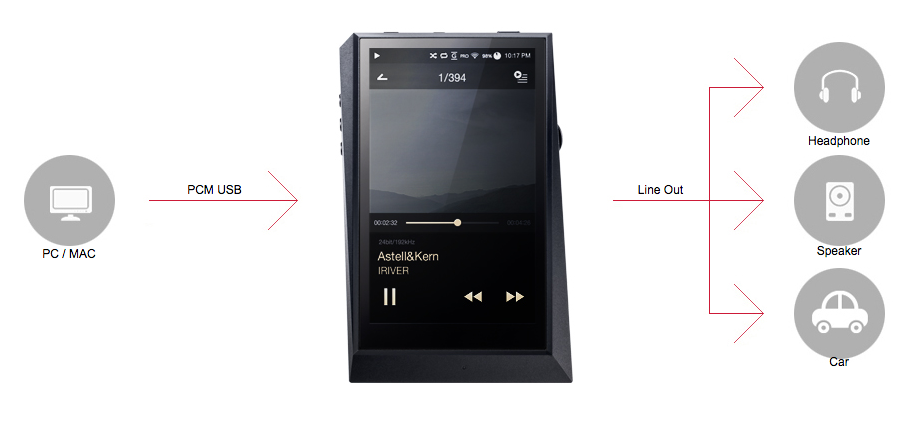 AK Connect App
Astell&Kern has further enhanced DLNA functionality via the AK Connect app. Wireless networking DLNA (version 1.0) connects to a NAS or PC, and is easily controlled with a smartphone or tablet through AK Connect. Source files on a PC or NAS can be freely transferred and streamed without the hassle of turning on the computer and physically connecting with a cable.
If on the same access point (AP) network, music files on a PC or NAS can be played back via DLNA.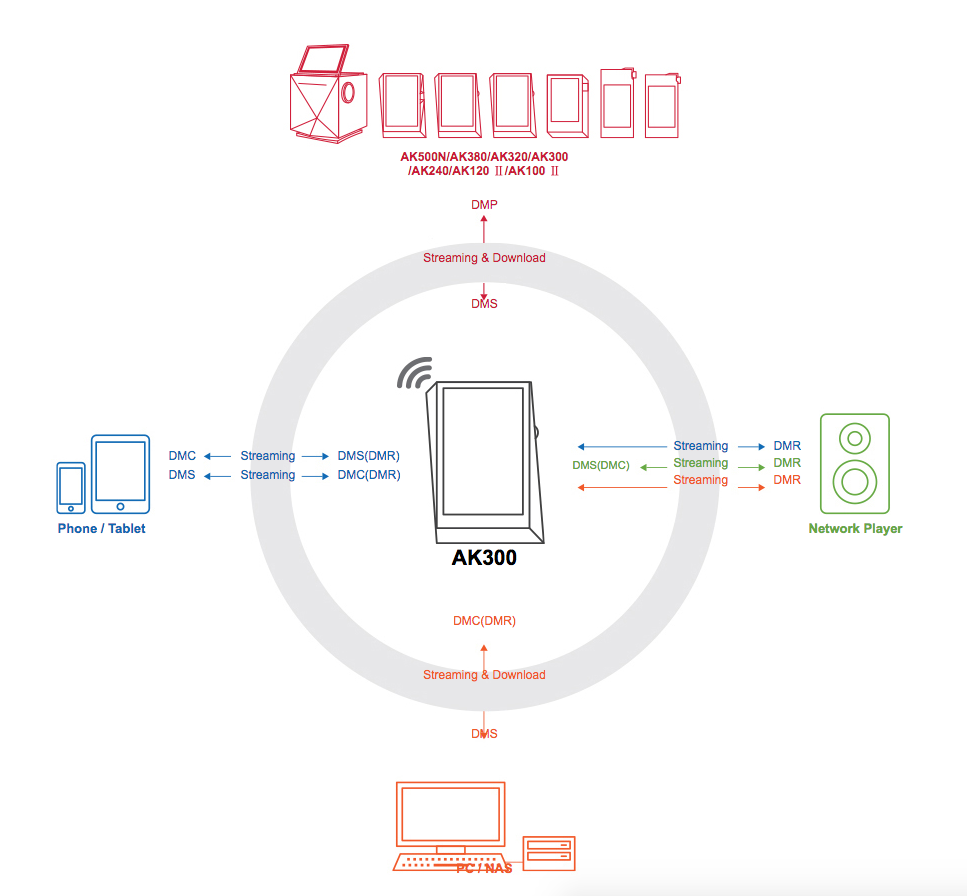 DMP (Digital Media Player)
Finds a list of content on a media server for selection and playback.
DMC (Digital Media Controller)
Finds a list of content on a media server and establishes a connection to a playback-capable device (renderer). By default, a DMC establishes a connection between a media server and media renderer and controls content playback-related operations.
DMS (Digital Media Server = Network Server)
Actually stores the media content to be shared. When connected to a network, the DMS transmits/distributes the media content for other devices to stream or download.
DMR (Digital Media Renderer = Network Player)
Connects to a media server via media controller for content playback.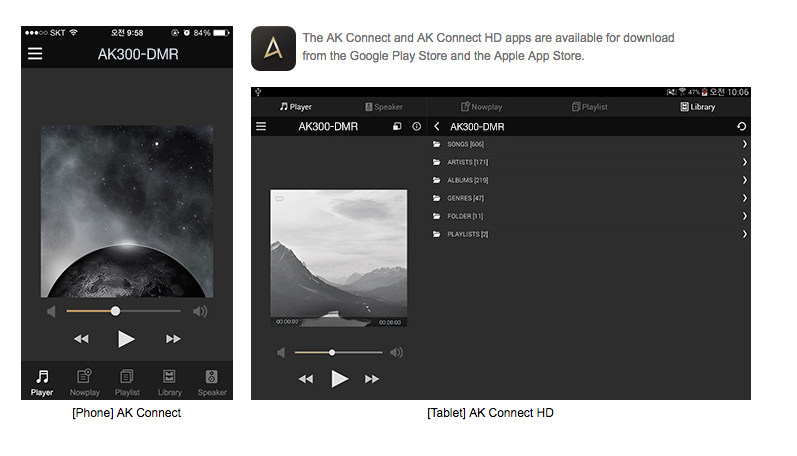 Pressure-sensitive Metal Capacitive Touch
The AK320 features the same metal touch interface as the AK380.
The Metal Touch functions as a home key and interfaces with the device via pressure-sensitive touches.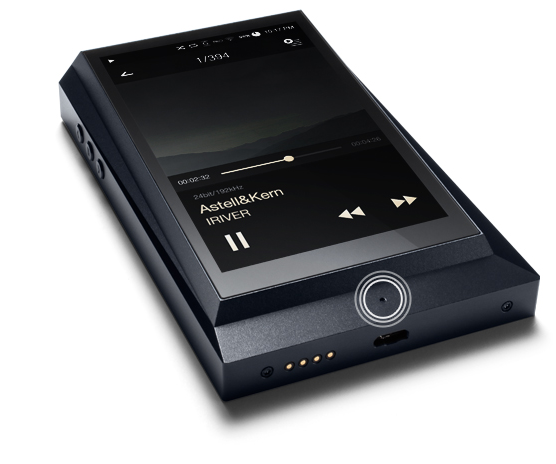 More Expandable Options
The AK300 can be expanded to a variety of devices through the micro-USB and balanced audio out ports located at the bottom of the product.

It can be connected with the AMP as well as professional high-impedance headphones for high output and USB for data transfer and charging.
It can also be connected to the Cradle for balanced audio functionality as well as the CD-RIPPER to conveniently rip audio CDs.
Astell & Kern AK380 (PRF11) - High Resolution Music Recorder - Titan
CLOSER TO ORIGINAL SOUND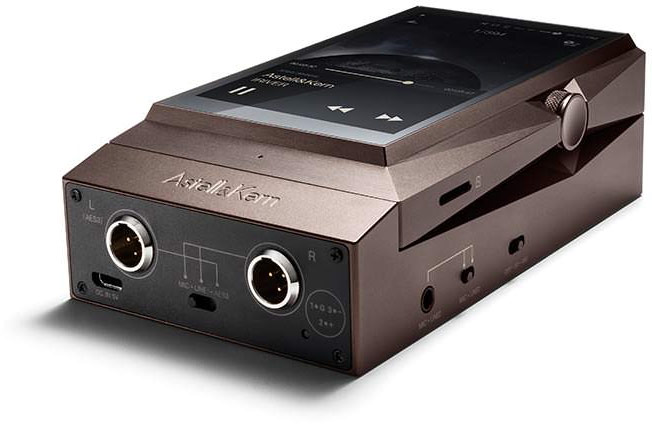 Key Features:
- First of its kind in a portable recorder.
- DSD 5.6MHz recording.
- Supports professional condenser microphones.
- Granular control of microphones and pre-amplifier Gains.
- Interface that spans both the analog and the digital.
- Digital limiter for professionals.
- Peak hold & low cut filter.
- Supports a number of recording capabilities including pre-recording.
TRUE RECORDING CAPABILITIES
Astell & Kern wanted to go beyond merely listening to music to creating it. With the help of the ultimate technology that is represented in Astell & Kern player, we envisioned a product beyond any product that will fulfill the highest possible synergy.
PRODUCT CONCEPT
The AK Recorder, which refers to a combination of any AK300 Series device and the Recorder Module, provides you with a whole new level of product. The AK Recorder is a professional recorder that provides you with studio-quality sound, the ultimate goal of all Astell & Kern products.

No matter AK300 Series product you choose, you will be surprised to find an aesthetically pleasing design and be able to take advantage of the advanced recording technology in the AK Recorder. Take your first transformational step from music consumer to music producer by combining the AK Recorder with any Astell & Kern Portable Player. The AK Recorder features professional functions never before possible in a portable recorder.

The AK Recorder is capable of recording sounds in a variety of ways.
You can record live sessions, vocals and speech, as well as both analog and digital sounds by connecting it with other devices.

Features
Specifications
Features

Astell & Kern AK300 64GB Portable Audio Player

General Specifications

- Model: AK300

- Body Color: Midnight Black

- Body Material: Aluminum

- Display: 4inch WVGA (480 x 800) Touchscreen

- Supported Audio Formats: WAV, FLAC, WMA, MP3, OGG, APE(Normal, High, Fast), AAC, ALAC, AIFF, DFF, DSF

- Sample rate:

- > PCM : 8kHz ~ 192kHz (8/16/24bits per Sample)

- > DSD : DSD64, Stereo / DSD128, Stereo

- Output Level: Unbalance 1.98Vrms / Balance 1.98Vrms (Condition No Load)

- DAC: AKM AK4490 x1 (Single DAC)

- Decoding: Support up to 24bit / 192kHz Bit to Bit Decoding

- Input: USB Micro-B input (for charging & data transfer (PC & MAC)) / Connection Mode : MTP (Media Device)

- Outputs: PHONES (3.5mm) / Optical Out (3.5mm) / Balanced Out (2.5mm, only 4-pole supported)

- Wi-Fi: 802.11 b/g/n (2.4GHz)

- Bluetooth: V4.0 (A2DP, AVRCP, aptX)

- Dimensions: 2.95 "(75.15 mm) [W] x 4.42 "(112.4 mm) [H] x 0.60 "(15.45 mm) [D]

- Weight: 7.23 oz (205 g)

- Feature Enhancements: Firmware upgrades supported (OTA)

Audio Performance

- Frequency Response:

- > ±0.075dB (Condition: 20Hz~20kHz) Unbalance & Balance

- > ±0.56dB (Condition: 10Hz~70kHz) Unbalance / ±0.55dB (Condition: 10Hz~70kHz) Balance

- Signal to Noise Ratio: 116dB @ 1kHz, Unbalance / 116dB @ 1kHz, Balance

- Crosstalk: 130dB @ 1kHz, Unbalance / 130dB @ 1kHz, Balance

- THD+N: 0.0008% @ 1kHz, Unbalance / 0.0007% @ 1kHz, Balance

- IMD SMPTE: 0.0007% 800Hz 10kHz(4:1) Unbalance / 0.0006% 800Hz 10kHz(4:1) Balance

- Output Impedance: Balanced out 2.5mm (1ohm) / PHONES 3.5mm (2ohm)

Clock source

- Clock Jitter: 30ps(Typ)

- Reference Clock Jitter: 200 Femto Seconds

Battery

- Capacity: 3,100mAh 3.7V Li-Polymer Battery

Memory

- Built-in Memory: 64GB [NAND]

- External Memory: microSD (Max 128GB) x1

OS

- Supported OS: Windows XP, Windows 7,8,10 (32/64bit), MAC OS X 10.7 and up

Astell & Kern AK380 (PRF11) - High Resolution Music Recorder - Titan

General Specifications

Model: PRF11 / AK Recorder

Body Colour: Meteoric Titan

Body Material: Aluminum

Recording Channel: 2 channel, Stereo recording

Audio Inputs:

- mini XLR 3pin type MIC/LINE x2(L/R), AES3 x1(L), 3.5mm MIC/LINE x1

- mini XLR 3pin map 1 : Ground(G) / 2 : Positive(+) / 3 : Negative(-)

Key Interface: MIC / LINE1 / AES3 select key x1, MIC2 / LINE2 select key x1, Phantom Power select key x1 (off / 5V / 48V)

Battery: 4,700mAh 3.7V Li-Polymer Battery

Continuous Recording Time: about 4hours (24bit/96kHz WAV, External Mic & Phantom Power 48V)

Dimensions: 3.17 "(80.7 mm) [W] x 5.01 "(127.4 mm) [H] x 1.17 "(29.9 mm) [D]

Weight: 8.85 oz (251 g)

Audio Performance

Recording Bit Rate: WAV : 16 / 24 / 32bit, DSD64, DSD128

Sampling Frequency: 44.1 / 48 / 88.2 / 96 / 176.4 / 192 / 352 / 384kHz

Frequency Response: 10Hz ~ 40kHz

A/D Dynamic Range: 113dB A-weighted bandwidth

Equivalent Input Noise: MIC : -126dBu, 150ohm source, A-weighted filter

THD+N: MIC : 0.0004% max (1kHz, -15dBu) / LINE : 0.0006% max (1kHz, -15dBu)

Gain: MIC : 9 to 60dB, 3.0dB increments / LINE : -96 to 22dB, 0.5dB increments

Low Cut Filters: 40 ~ 240Hz in 10Hz steps @ 6,12,18,24dB/oct

Compressor & Limiter: 0 ~ -10dBFS, 1:2 ~ 1:20; Limiter, 1~1,000ms attack time, 10~2,000ms release time

Phantom Power: 5V / 48V

DPA SC4061 MIC

Directional Pattern: Omnidirectional

Frequency Range: 20Hz~20kHz

Sensitivity nominal: ±3dB at 1kHz 6mV/Pa; -44dB re. 1V/Pa

Equivalent noise level, A-weighted Typ.: 26dB(A) re. 20µPa(max. 28dB(A))

S/N ratio: (A-weighted), re. 1kHz at 1Pa(94dB SPL) 68dB(A)

Total harmonic distortion: (THD) < 1% THD up to 123dB SPL peak; < 1% THD up to 120dB SPL RMS sine

Dynamic range: Typ. 97dB

Max. SPL, peak before clipping: 144dB

Power supply Phantom Power: 5V

Microphone diameter: 0.21 "(5.4 mm)

Microphone length: 0.5 "(12.7 mm)

Cable length: 5.9 ft(1.8 m)

Weight: 0.26 oz(7.5 g)

Temperature range: -40°F to 113°F(-40°C to 45°C)

contact
No
is
No
brand
No
You may also be interested in the following product(s)
Regular Price: £749.00
On Sale Price £449.00
Regular Price: £4,799.00
On Sale Price £1,999.00
Regular Price: £399.00
On Sale Price £249.00