Product Description
Details
"Astell & Kern advances its most affordable line of portable music players with an extremely appealing all-rounder."
Hi-Fi Standards Redefined, A&norma SR15
The A&norma SR15 uses two audio DAC chips for a Dual-DAC setup. These chips are known for their use in Home Hi-Fi systems which offer greater presence compared to the inferior DAC chips designed for mobile devices.There are many devices that use DAC chips for audio processing, however there are different tiers and quality of chips sought by Hi-Fi audio manufacturers to deliver an experience close to the original performance. A&norma SR15 has adopted the MasterHIFI™ class DAC, CS43198 for the first time in a portable system. At Astell&Kern, we believe that true Hi-Fi should sound as close as possible to the original performance. The CS43198 is one of few DAC chipsets that is capable of bringing us even closer to the original when it's matched with the analog amp design of Astell&Kern. In result, it brings even more liveliness and warmth of sound without distortion. Furthermore, A&norma SR15 supports native DSD bit-to-bit, and gets one step closer to the Hi-Fi system.
Cirrus Logic and Hi-Fi Audio Evolution
Cirrus Logic has built its reputation as an expert in audio IC (Integrated Circuit) chips and solutions for more than three decades and has established its distinguished recognition in the audio industry. Specializing in low power ICs for audio and voice signal processing applications, Cirrus Logic's products span the entire audio signal chain, from capture to playback, providing innovative products for the world's top smartphones, tablets, digital headsets, wearables and emerging smart home applications. Now they have introduced the MasterHIFI™ chipset solutions for excellent audio reproduction performance. MasterHiFI™ class designation is only given to their chipsets that meet their highest audio performance standard. It will deliver your music as the musicians and producers wanted you to hear it.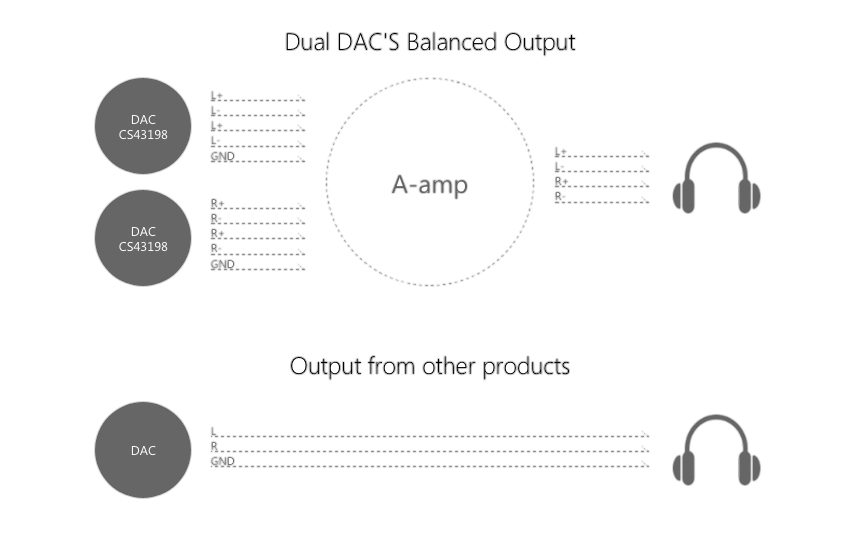 An Evolving Legacy in High-Fidelity Audio
For more than three decades, Cirrus Logic has built its reputation as an expert in audio IC innovation. Cirrus Logic's audio innovation continues today with the development of MasterHIFI™ products from the industry's best audio IC design engineers. These integrated circuits, along with embedded software and DSP algorithms, are driving excellence in audio playback in new generations of mobile products. Cirrus Logic audio products with the MasterHIFI designation meet the company's highest standard in high-fidelity audio playback. MasterHIFI™ products deliver the very best performance in sound clarity and pure, euphoric audio listening just like the artist intended.
The devices should not unintentionally "color" the audio, but should maintain the "brightest" sounds expected from a recorded track.
Enhanced Audio Processing Power with Quad-core CPU
Some may think that only sound matters in Hi-Fi systems. While it does matter greatly, there are other factors that influence your immersive music experience as well. A&norma is designed to remove any distracting elements, including noise, distortion and unintuitive user interface. The Quad-core CPU gives you even more processing power for your digital music and a lot faster, natural UI experience. Get lost in your music without distractions.

24-bit, 192 kHz Bit-to-Bit Playback
The A&norma SR15 plays any resolution of digital files up to 24-bit/192 kHz, bit-for-bit. For 32-bit audio, downsampling is performed by the SRC (Sample Rate Converter) method. DSD is native up to 64 MHz and DSD 128 MHz is converted to PCM for playback.
USB Audio
A simple USB connection will allow the A&norma SR15 to be used as a digital music storage device and/or pre-amp to output digital audio through USB. The A&norma SR15 transfers DSD in native format through DoP (DSD over PCM) and converts DSD to PCM for output for external USB Audio that do not support DoP.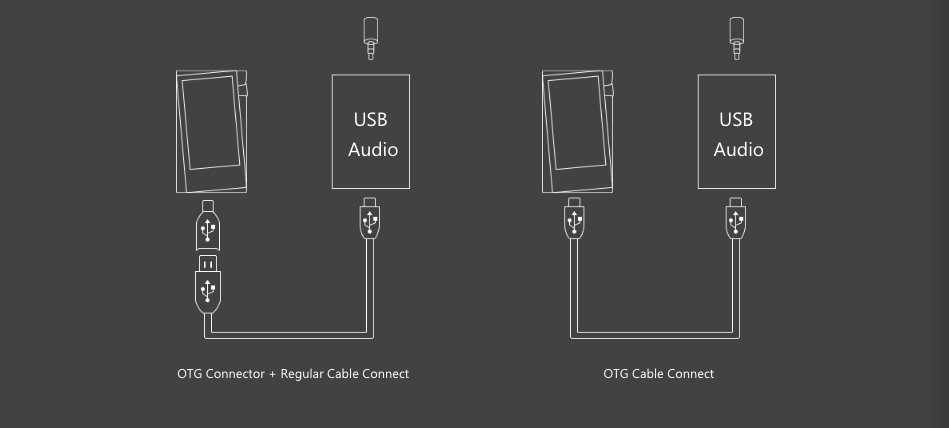 New Intuitive User Interface
A&norma SR15 has adopted the user interface of the A&ultima SP1000, which has grown famous for its intuitiveness and simplicity.
- Player is in the main. All functions are centered on "music replay."
- Secure access to the music DB and features to manage music files
- Minimum menu depth and simple structure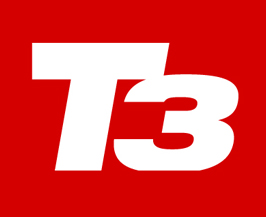 "Optoma NuForce BE Free6 could be just what you're looking for, if you want great sound quality, solid battery life and secure fit at an affordable price.
The standout feature here is probably the audio quality. With a decent amount of bass, good overall clarity and impressive sound isolation thanks to, ahem, 'revolutionary SpinFit TwinBlade® ear tips', the BE Free6 are a narrow cut above other buds at this price point. Bluetooth 5.0 and AAC give improved connectivity and audio quality.
A noise-cancelling mic handles calls, and thanks to the individually pairing miracle of Bluetooth 5 you can use the left or right bud alone, or both together."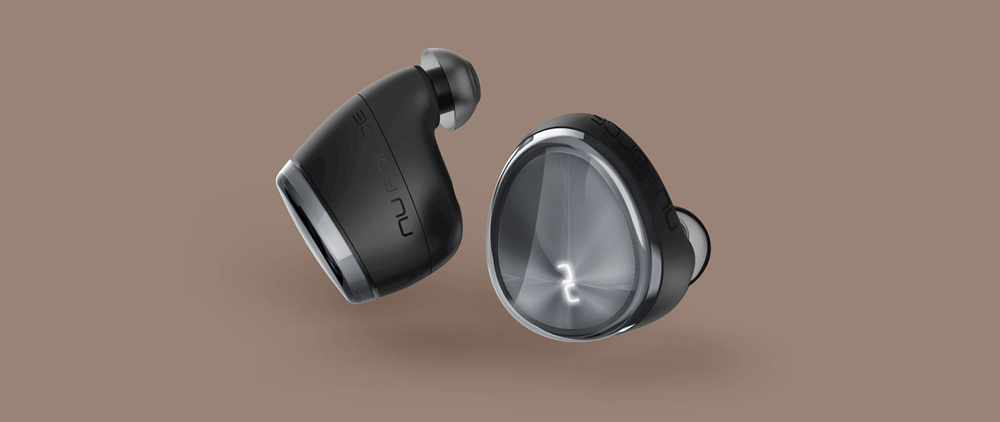 Premium True Wireless Bluetooth In-Ear Headphones
For ultimate convenience and a smoother connection, the BE Free6 true wireless earbuds feature Bluetooth 5.0 along with no cables or neckband for unrestricted movement at any time. Designed for clear, uninterrupted audio, the portable carry case doubles up as a charger - allowing users to stay connected for non-stop listening on the go. Equipped with advanced audio coding and AAC, they deliver audiophile sound quality and stable wireless connection with no lag.
Bluetooth 5.0 technology also means either earbud can be used by itself in mono-mode for listening to audio or making voice calls while the other is charging inside the case - or for sharing with a partner or friend to use independently.
Key Features
- Cable free: True wireless earphones with Bluetooth 5.0
- Quick charge: Just 15 minutes in the case gives you 1 hour of listening time
- Audiophile sound quality with graphene coated drivers: Enhanced with AAC for Apple® and Android™ 8.0
- Non-stop listening on the go: 18 hour battery life with charging case
Wireless Freedom
Free yourself from cables with advanced Bluetooth® technology. This means easy connection to your smartphone and distortion-free listening at any volume. And with a 10 metre (33ft) range you can even leave your smartphone on the floor or in your pocket whilst you focus on your workout.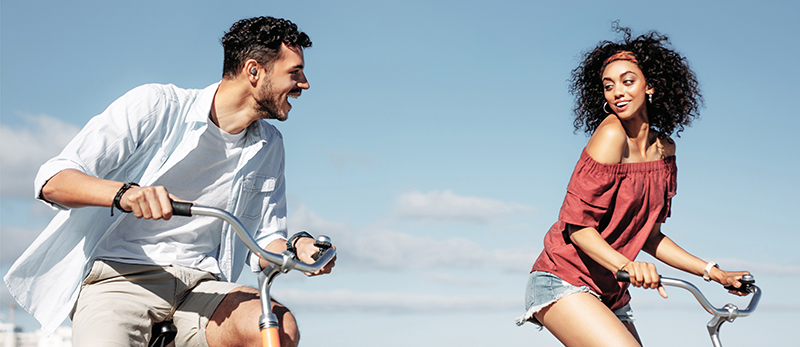 Non-stop Music and Calls
Enjoy continuous uninterrupted audio and phone calls throughout the day on a single charge with an impressive battery life.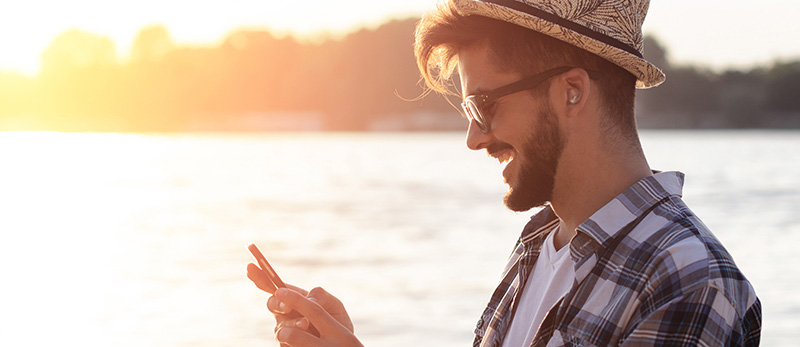 Full Headphone Functionality
These multi-functional truly wireless earbuds have a built-in cVc™ noise-cancelling microphone for calls, and a button on top of the earpiece to to play, pause and skip songs as well as activate Siri and Google Assistant.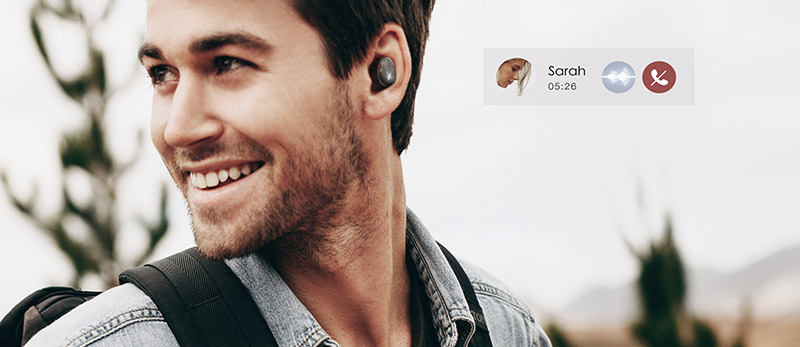 SpinFit® Ear Tips
The newly patented ear tips are developed from high quality silicone. They are uniquely designed to rotate 360 degrees at the centre to allow the earbuds to sit comfortably in your ear.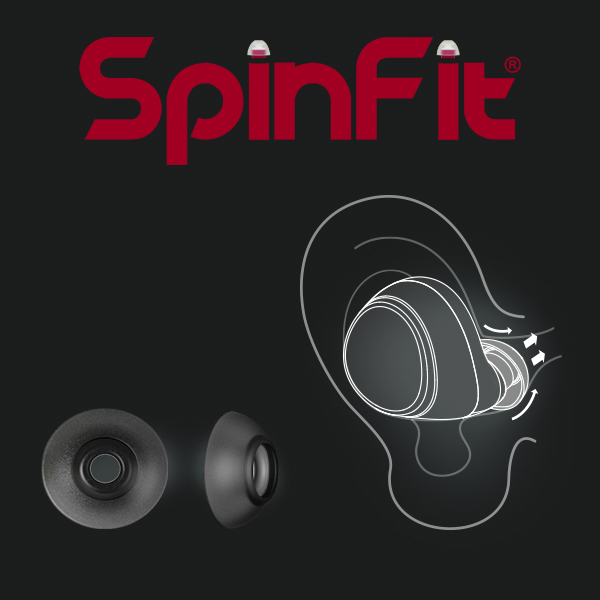 Sweat and Water Resistant - IPX5
Resistant against rain and sweat, these IPX5 in-ear headphones are ideal for any active lifestyle.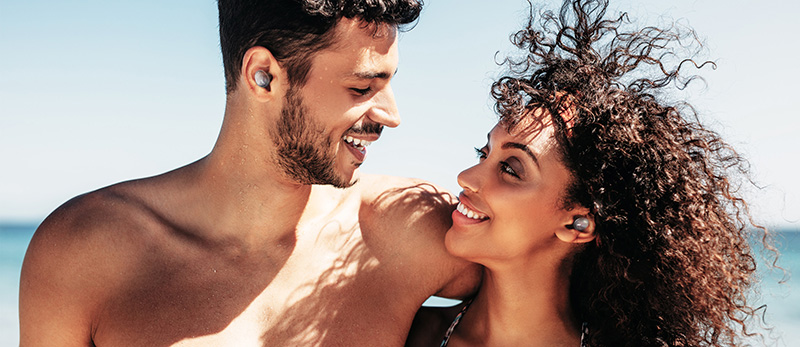 AAC
Hear every detail when playing music from Apple devices and other sources such as YouTube, DAB radio and streaming services.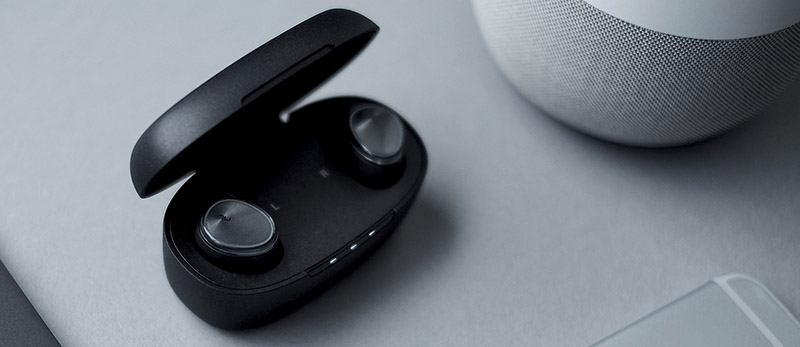 Quick Charge
Enjoy up to an hour of continuous listening with a 15 minute charge.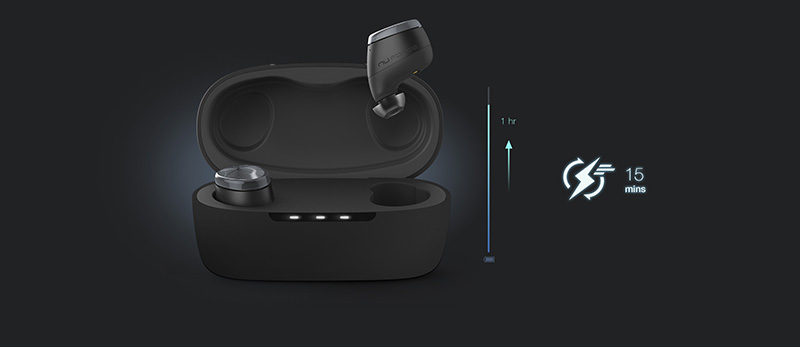 Graphene Coated Drivers
Compared to traditional drivers, graphene coated drivers are lighter, more precise and have excellent conductivity which requires less power to drive. This means that no matter what genre of music you are listening to, the bass, mids and high tones are clearly defined with low distortion.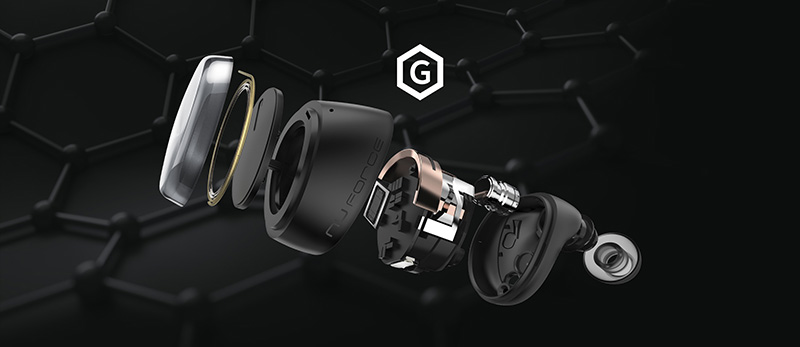 Mono Mode - Sharing
Share one of your earbuds with a friend. Each earbud can be connected independently, so if a friend has forgotten their earphones and wants to listen to their own music, you can pass them one of your earbuds.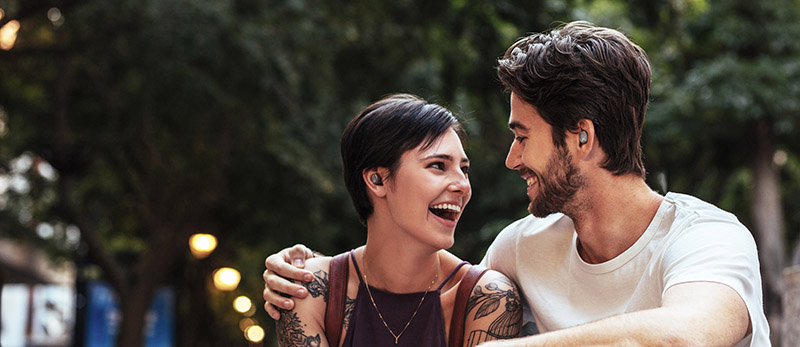 Mono Mode - Control
Each earphone can be used independently as a control. Both earbuds share the exact same button control functions so whether you use the left or right earbud you can play, pause, skip, answer and end calls or activate voice assistant simply and easily without confusion.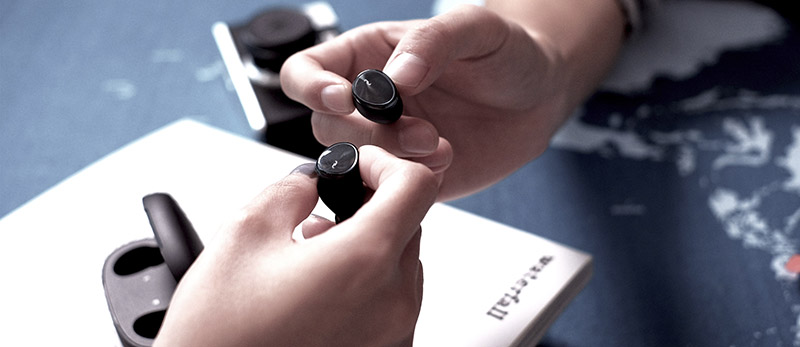 Improved voice calling - RCV
Enjoy hands-free clear calls in any environment thanks to RCV (Real Clear Voice) technology and an omnidirectional microphone. These earbuds expand the range of reception while reducing wind noise. You can even remove the right earbud and use it as a microphone to speak into - perfect for talking discretely in public places.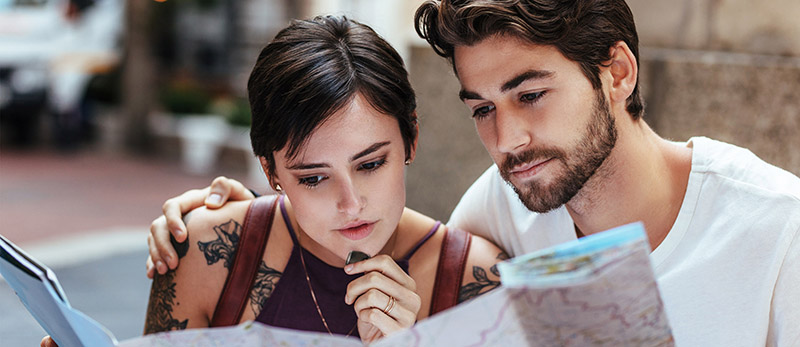 Features
Specifications
Features

Model SR15

Body Color Dark Gray

Body Material Aluminum

Display 3.3inch WVGA (480 x 800) TFT LCD

Supported Audio Formats WAV, FLAC, WMA, MP3, OGG, APE, AAC, ALAC, AIFF, DFF, DSF

Sample rate PCM : 8kHz ~ 192kHz (8/16/24bits per Sample)
/ DSD Native : DSD64(1bit 2.8MHz), Stereo / DSD to PCM : DSD128(1bit 5.6MHz)

Output Level Unbalance 2.0Vrms / Balance 4.0Vrms (Condition No Load)

DAC Cirrus Logic CS43198 x2 (Dual DAC)

Decoding Support up to 24bit / 192kHz Bit to Bit Decoding

Input USB Micro-B input (for charging & data transfer (PC & MAC)) / Connection Mode : MTP (Media Device)

Outputs PHONES (3.5mm) / Balanced Out (2.5mm, only 4-pole supported) Wi-Fi 802.11 b/g/n (2.4GHz)

Bluetooth V4.1 (A2DP, AVRCP, aptXtm HD)

Dimensions 2.26 "(57.5 mm) [W] x 3.92 "(99.7 mm) [H] x 0.63 "(16.1 mm) [D]

Weight about 5.43 oz (about 154 g)

Feature Enhancements Firmware upgrades supported (OTA)

Audio Performance

Frequency Response ±0.030dB (Condition: 20Hz~20kHz) Unbalance / ±0.024dB (Condition: 20Hz~20kHz) Balance ±0.038dB (Condition: 10Hz~70kHz) Unbalance / ±0.065dB (Condition: 10Hz~70kHz) Balance

Signal to Noise Ratio 122dB @ 1kHz, Unbalance & Balance

Crosstalk 137dB @ 1kHz, Unbalance & Balance

THD+N 0.0008% @ 1kHz, Unbalance / 0.0009% @ 1kHz, Balance

IMD SMPTE 0.0004% 800Hz 10kHz(4:1) Unbalance & Balance

Output Impedance Balanced out 2.5mm (1.6ohm) / PHONES 3.5mm (1.1ohm)

Clock source

Clock Jitter 70ps (Typ)

Battery

Capacity 3,150mAh 3.7V Li-Polymer Battery

Memory

Built-in Memory 64GB [NAND] External Memory microSD (Max 400GB) x1

OS

Supported OS Windows 7,8,10 (32/64bit), MAC OS X 10.7 and up

Optoma BE Free6 Premium True Wireless Bluetooth In-Ear Headphones

General

Impedance: 16Ohm

Microphone sensitivity: -38dB +/-3dB

Frequency response: 20Hz - 20kHz

Sensitivity: 95dB +/-3dB at 1KHz

Driver type: 5.6mm

Number of drivers: 2

Battery life: 6 hours (earbuds), Up to 18 hours with charging case

Charge time: 15min quick charge for 1.5 hours of listening (earbuds + charging case), 2 hours (earbuds), 3 hours (charging case)hrs

Wireless Info

Wireless - range: 10m

Wireless - operating frequency: 2.4GHz

Wireless type: Bluetooth v5.0

Weight and Dimensions

Net weight: 0.063kg

What's In The Box

In The Box:

- 3* pairs of silicon ear tips (S/M/L)

- 1* pair of SpinFit ear tips (s)

- Charging case

- USB to USB-C charging cable

- Basic user manual

- Safety instruction
Delivery
Due to the current Covid-19 restrictions - there may be delays of up to 48 hours to our estimated delivery times.

How will you send my item?
We ship to addresses within the UK using Royal Mail and DPD couriers.


How much does delivery cost?
Standard 2-3 working day delivery is FREE on all orders to mainland UK. Next working day courier service is available on all orders for a small fee of £4.99. On some items this is provided for FREE.
For orders to UK Non-mainland and International destinations, there will be an additional charge at checkout. Please see below for more information.


How long does delivery take?
Depending on the delivery service you choose, delivery usually takes between 1-3 working days to mainland UK from the moment we despatch your order. Orders to UK non-mainland and international destinations can take longer.


When will you despatch my order?
Orders placed before 2pm are processed and despatched the same day (excluding bank holidays and weekends). Orders placed on weekends will be processed and despatched the following working day.
*Please note that international orders may require extra checks before we are able to despatch your order so timescales may vary.
Can I track my delivery?
Yes - Order tracking is offered as standard on all items, whether they are shipped via DPD or Royal Mail. You will receive your tracking information via email once we have despatched your order.


UK Non-mainland and International destinations.
Shipping for all items to UK Non-Mainland and International destinations will incur a charge at checkout. If a delivery charge is not applied automatically at checkout, we will contact you to arrange payment and reserve the right to cancel your order if you refuse to pay for appropriate delivery. Please feel free to contact us if you would like to query the prices to your destination.
Shipping to international destinations may require further security checks and I.D. may need to be provided by the cardholder.
Please note that we are unable to ship some items outside the UK. To avoid any disapointment please contact us before making you order.


What do you class as UK Non-mainland?
Rep. Ireland, N. Ireland, Channel Islands, Jersey, Guernsey, Isle of Wight, Isle of Man and Scottish Highlands. If you are unsure whether your address is classed as UK Non-mainland please feel free to contact us and an advisor will be happy to help.


For any further enquiries with regards to your delivery please contact us on 020 8813 7666 and one of our adviser's will be happy to help.
Returns

If you're not happy with your item or you've changed your mind.
Even though we're sure you'll be happy with your purchase, it's important that you are aware of how we deal with returns in the event that you need to send something back.
We understand how inconvenient it can be when you buy a product and aren't 100% satisfied with it. For this reason we have designed our returns policy to prevent any further inconvenience to you in these instances.


Under 14 days
You can return your goods for a full refund or exchange as long as you inform us of your intention to return the goods within 14 days of receipt, starting from the day after you receive your goods (Exclusions apply, see below.)

All return costs are down to the buyer and it is recommended that you return your items using a trackable method with appropriate insurance (if required).

Once we have confirmed your return, please ensure that you return the item within 14 days.

If a returns number is provided then please ensure that the parcel has this clearly marked.

Items need to be returned in "as new" condition in their original packaging. We don't mind if you open the product to check it, however any used or damaged products will be subject to a 25% handling fee so please take care when opening your items.


After 14 days
We will not offer a refund after 14 days of you receiving your delivery unless your product is faulty.


Exclusions from our returns policy
As we're sure you'll understand, there are some products that we can't offer returns on due to their nature. These include:
Special order items and cables cut from a reel (priced per metre). These items will be clearly identifiable.

In-Ear headphones due to health and hygiene reasons.

Products that include software which require activation.
Please note that these exclusions do not apply to items that become faulty.


If your product becomes faulty
We endeavour to get your items to you in fully working order, however in the event that your items do become faulty, please read below on what you should do next.
In a lot of cases with some products, faults can be fixed by performing some basic troubleshooting, so to prevent any further inconvenience to you we advise that you contact our Customer Service team who can guide you through some basic troubleshooting before sending items back.


Under 28 days
If your items become faulty within 28 days of delivery you are entitled to a full refund or exchange. Please contact our customer service centre who will provide necessary returns details.

Please send the items back with a cover note including a description of the fault and your original order number.

Once we have fully tested the item and confirmed the fault, we will process the refund or exchange including cost of carriage back to us (within reason).

If during our testing we cannot find a fault, no refund will be given and you will be charged for delivery of the item back to you.


After 28 days
After 28 days you will still be able to get your faulty items repaired or replaced within the manufacturers warranty and we will be happy to assist you with this. Please contact our customer service team to find out the best way to get your items repaired or replaced. Please be aware that after 28 days we will not cover you for any carriage costs.
You may also be interested in the following product(s)
Regular Price: £89.99
On Sale Price £49.00