Product Description
Details
WAVES NX HEAD TRACKING TECHNOLOGY
Delivers a hyper-realistic 3D audio experience. Nx automatically tracks your natural movements immersing you into a virtual reality audio environment indistinguishable from being in the game or movie theater.

7.1 CHANNEL SURROUND SOUND
For a revolutionary 3-dimensional gaming and entertainment experience. Stay ahead of the competition with crisp audio precision and an immersive soundstage.

50 mm MAGLEV GRAPHENE DRIVER
Get in the game with superior sonic detail and Super Bass VR Shock Wave for high-impact bass and sound you can FEEL.

ENVIRONMENTAL NOISE CANCELLATION (ENC)
ENC Dual microphone technology filters out background noise for crystal clear communication with teammates or opponents.

CUSTOMIZABLE LED LIGHTING
Over 16 million customizable color options for personalizing your gaming style and experience. LED tube can either be extended or shortened for optimal use.

ADDITIONAL 3.5 mm CONNECTOR
Premium stereo only sound experience on gaming consoles, Mac OS, or mobile devices.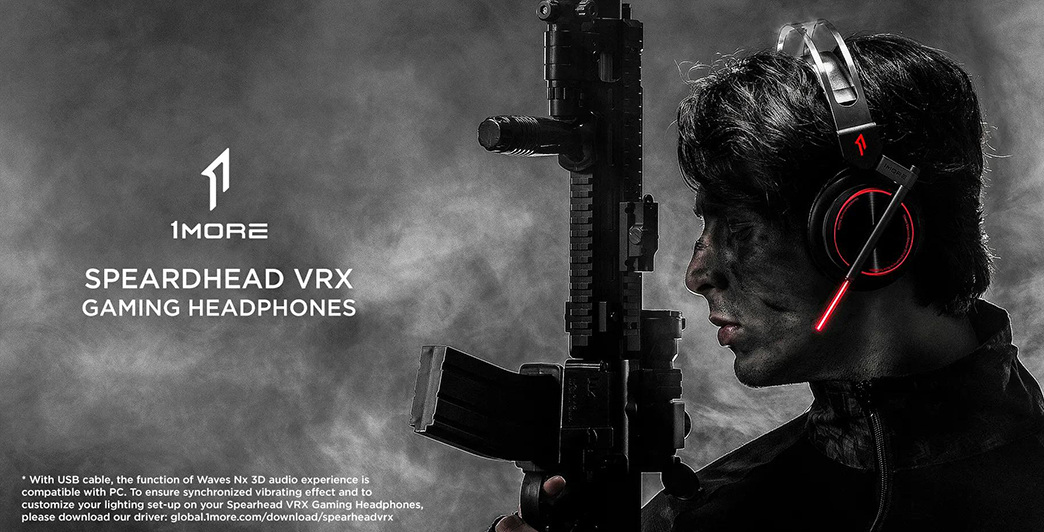 AUDIOPHILE SOUND QUALITY
Created by Waves, the Technical-Grammy® Award winning innovator of the state-of-the-art audio DSP algorithms and software, Waves Nx meets the highest standards of audio performance and delivers uncompromising audiophile sound quality.
THE IMPORTANCE OF WAVES NX HEAD TRACKING
Even the slightest nudge to our head causes the complete audio scene to shift in the opposite direction. Our highly sensitive brain remembers where the sound used to be and where it is now relative to our head, and combines this with the movement of head to locate the static source of sound.
Waves Nx simulates the effect of how our brain processes the acoustic space, the physical properties of the sound source, and our head orientation in order to create a sonically rich and fully authentic 3D audio experience that immerses yourself in a virtual audio reality.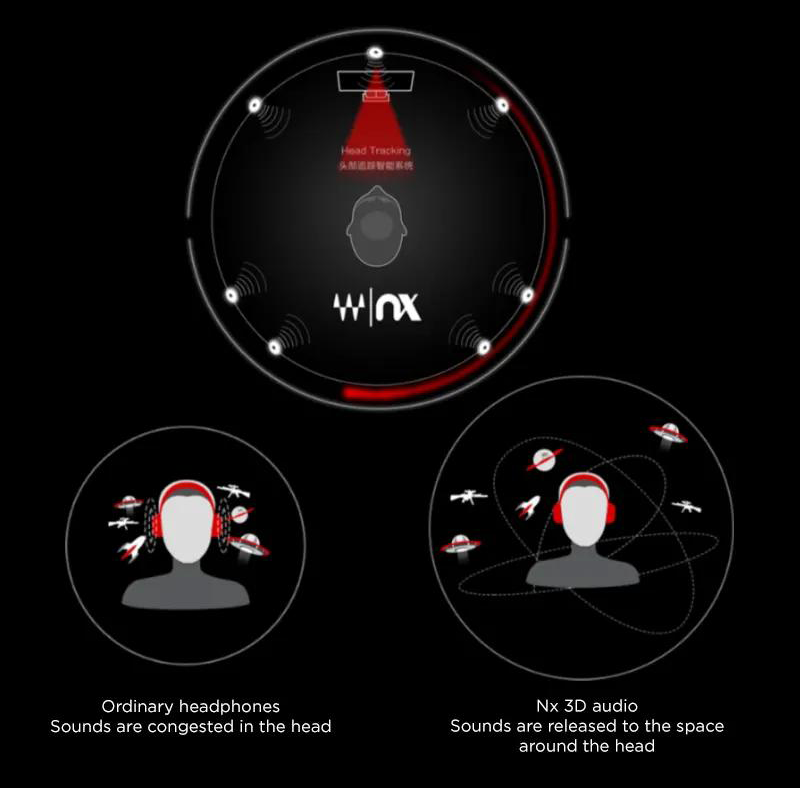 HYPER-REALISTIC 3D GAMING & ENTERTAINMENT EXPERIENCE

50mm SYNCHRONIZED VIBRATING DRIVER WITH MAGLEV DESIGN
50 mm synchronized vibrating drivers with a Maglev design push out deep and thundering bass. Feel the literal vibrations of explosions or car engines resonating in your ear for the ultimate gaming and entertainment experience.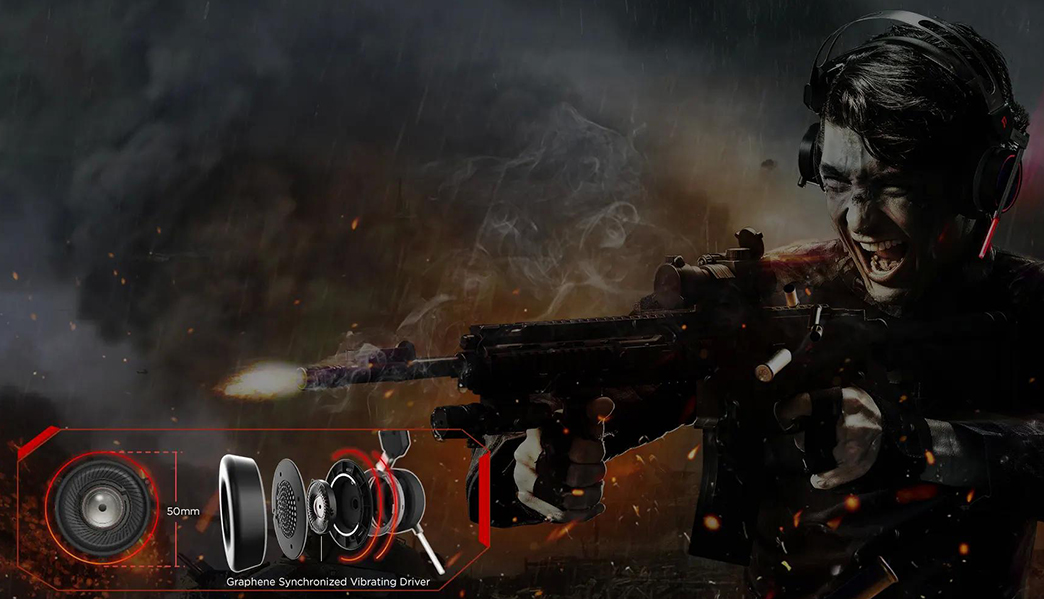 COMPOSITE GRAPHENE DIAPHRAGM
A composite Graphene diaphragm results in higher fidelity, transience, and more abudnant details due ot its lightweight design and high response speed. With an added layer of PET, the Graphene diaphragm delivers extremely accurate sound whether you are playing video games or listening to music.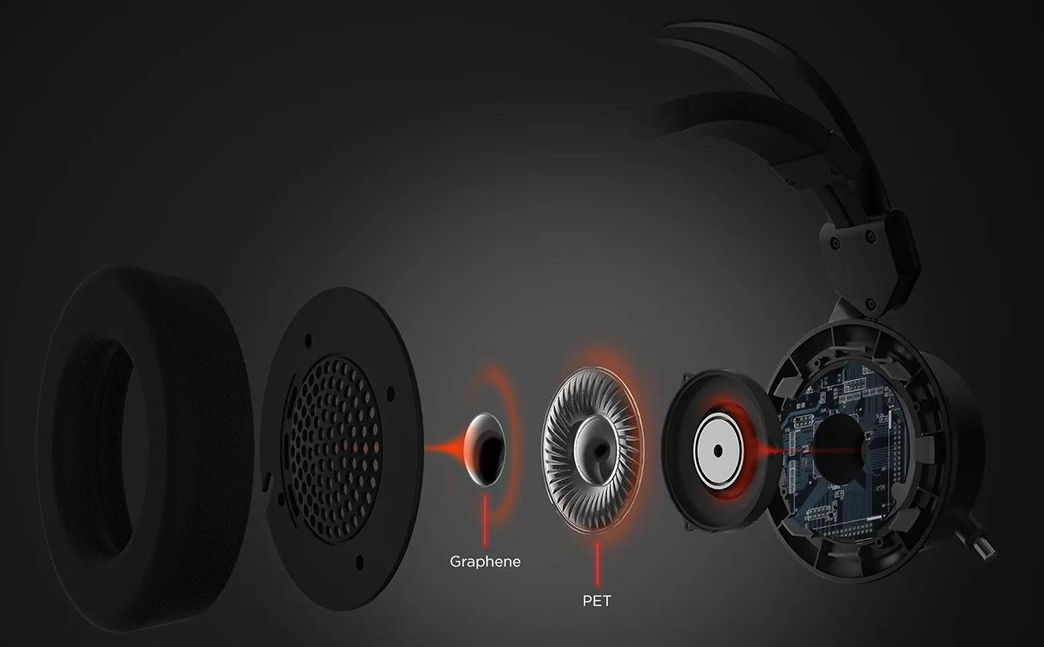 TUNED BY GRAMMY WINNING SOUND ENGINEER LUCA BIGNARDI - 8 EQ OPTIONS FOR GAMING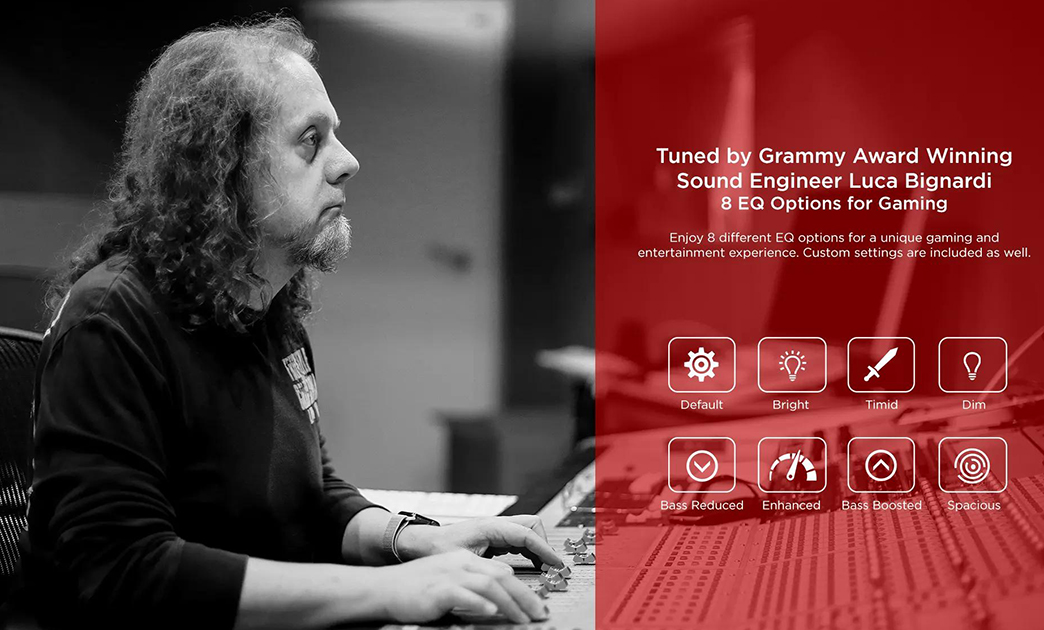 ENC DUAL MICROPHONE TECHNOLOGY
ENC (Environmental Noise Cancellation) dual microphone technology features a precise microphone array that efficiently filters out backgorund noise so communication remains crystal clear no matter which environment you are in.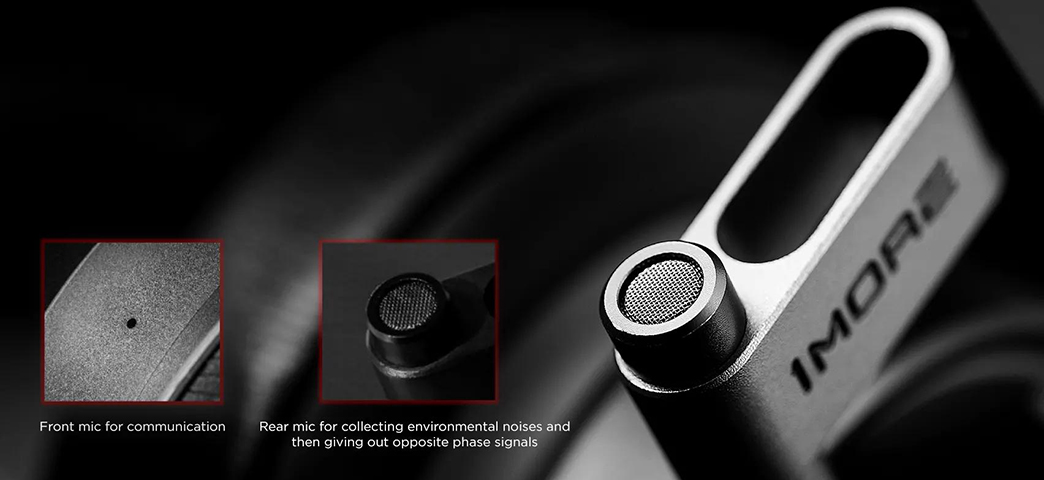 FULLY CUSTOMIZABLE LED LIGHTING
Take advantage of a fully customizable LED light system featuring dazzling colors on the RGB scale.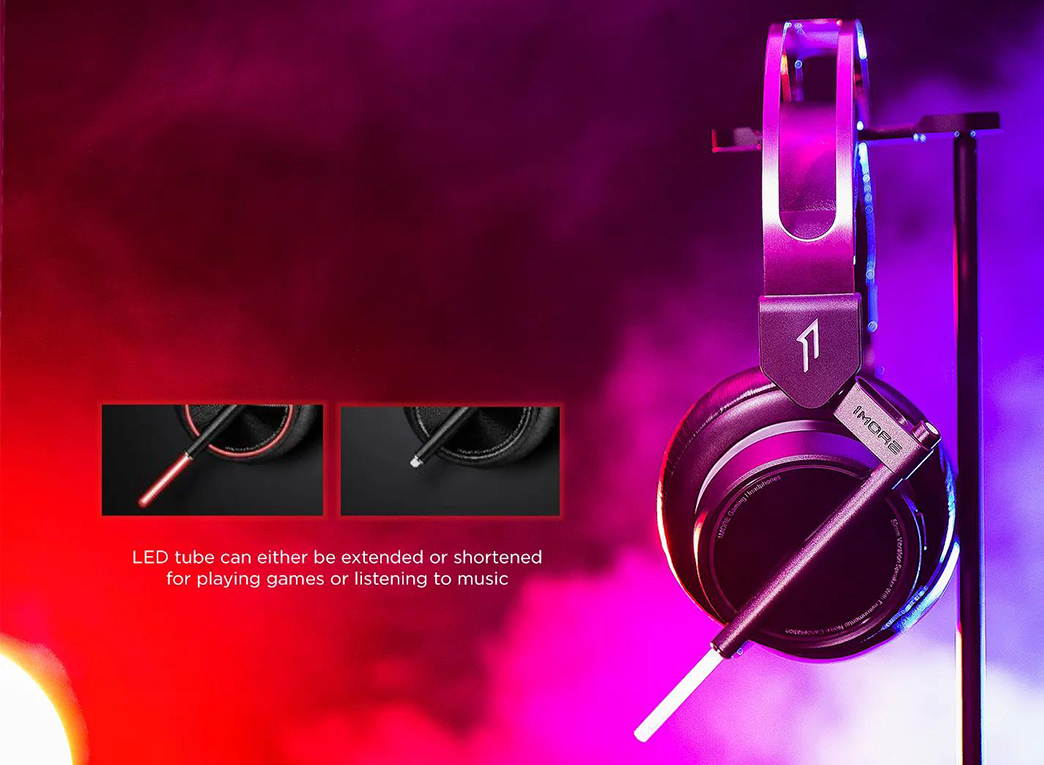 ERGONOMIC STAINLESS STEEL FRAME & ADJUSTABLE HEADBAND
With resilience and comfort in mind, the ergonomic stainless steel frame with adjustable headband is designed for various head sizes providing ultimate comfort and a pressure-free fit for prolonged use.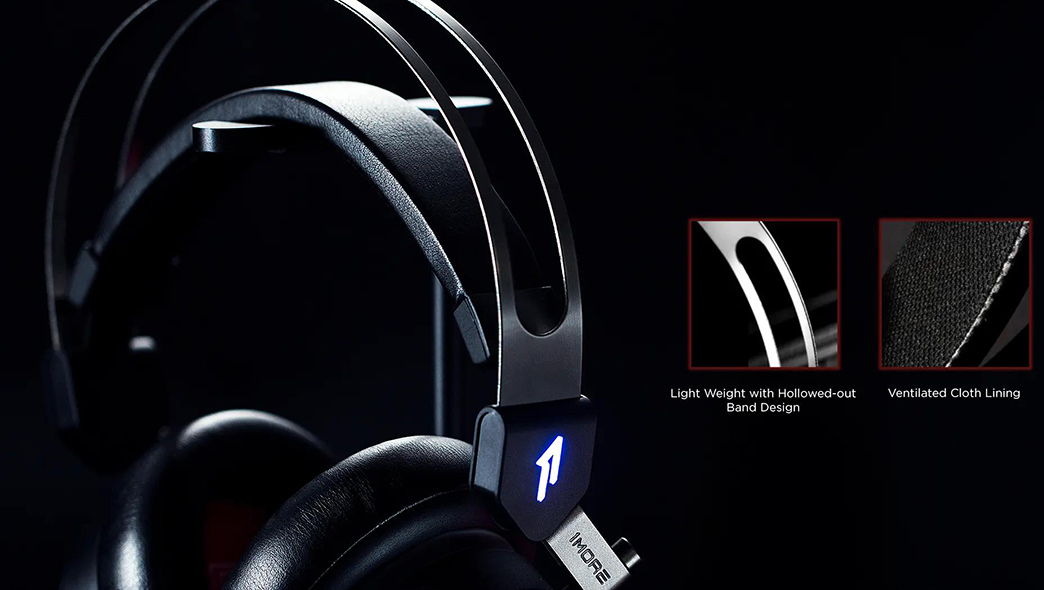 OPTIMIZED EDGES WITH SMOOTH JOINTS & CONVENIENT CONTROLS
Easy access to the volume/bass slider and microphone button on the left chamber allows for effortless controls without having to look.
BREATHABLE EAR CUSHIONS AND 360⁰ ALL-AROUND SUPPORT
Breathable ear cushions with ventilated porous cloth and cooling filled lining helps provide 360⁰ all-around support for ultimate comfort and security.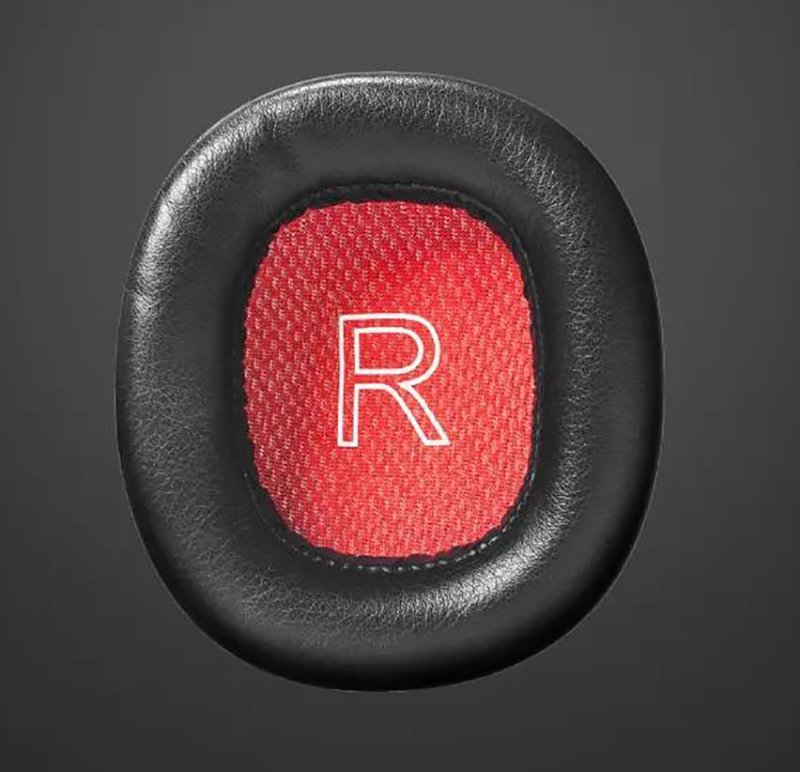 HALE METALLIC DESIGN | INSPIRED BY CYBERPUNK
- Metal brush finish and finger-cutting proof process, 1.5 μ mPVD protection.
- Stainless steel mesh to protect the microphone.
- Chamber cover surface with CD-like carving texture and fingerprint resistant surface.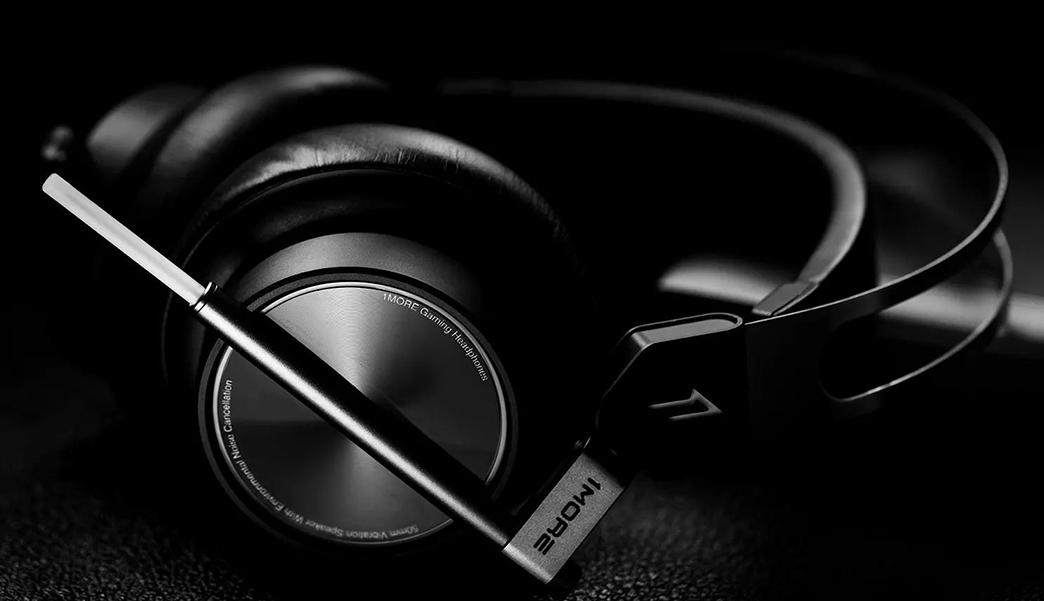 USB CABLE / 3.5mm AUDIO CABLE
- To Enjoy Waves Nx Head Tracking 3D Audio Experience, Synchronised Vibration and Custom Lighting Effects.
- To Enjoy Music as Ordinary Headphones and on your Mobile Device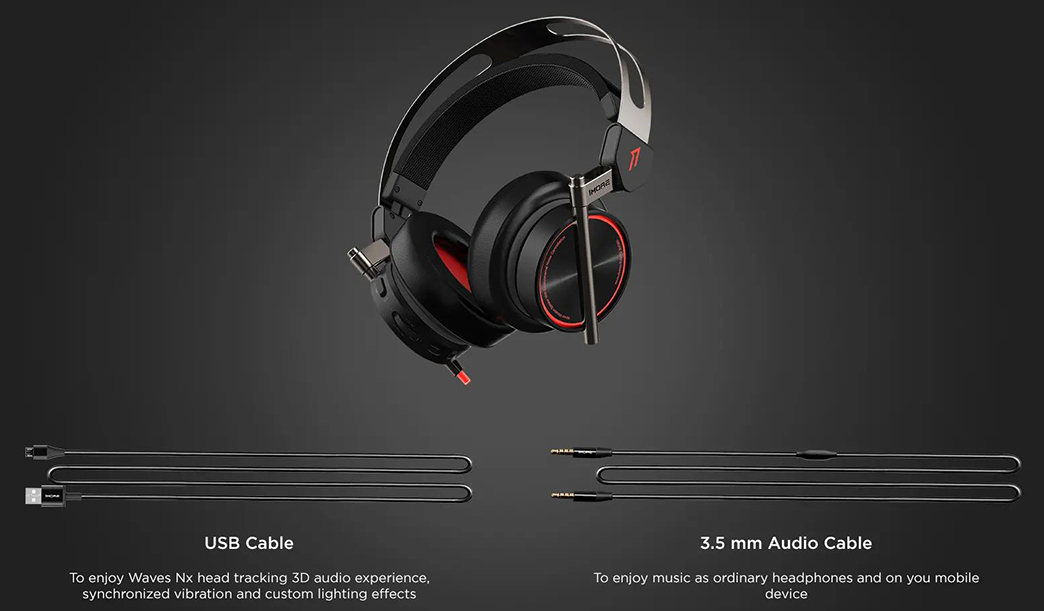 Features
Specifications
Features

SPECIFICATIONS

Type: Over-Ear

Weight: 304g

USB Cable Length: 2m

3.5 mm Audio Cable Length: 1.3m

Plug: Type A - Micro USB (USB Cable) and 3.5mm (Audio Cable)

Wire Material: Enameled Copper Wire

Frequency Range: 20-20,000 Hz

Impedance: 32Ω

Max Power: 20mW