Product Description
Details
This bundle includes:
Numark NS7III - 4 Channel Controller
Pair of M-Audio BX-5 D2 - Active bi-amplified Studio monitor Speakers
Free Numark HF125 Headphones
2 X Free Stagg 6M XLR (F-M) Cables
NUMARK NS7III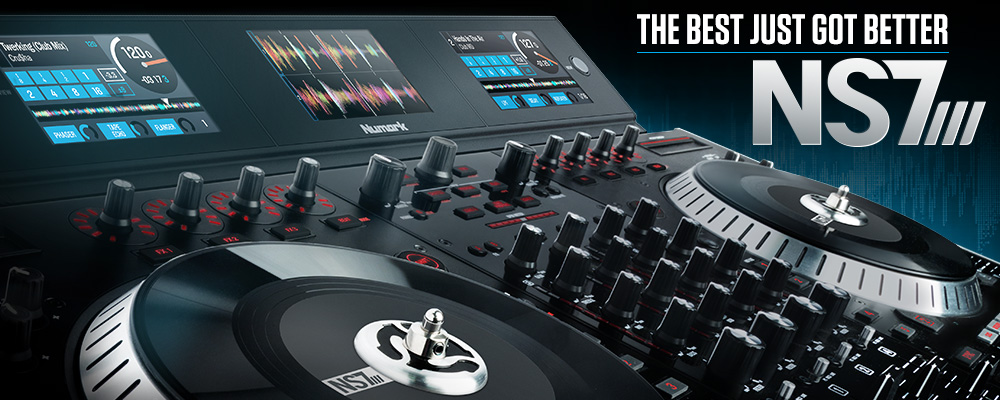 NS7III—The Best Hands-on Controller Money Can Buy. Period.
Our flagship NS7III controller is a premier four-deck controller for Serato DJ. Featuring three high-resolution color screens with a stackable waveform display and an interactive control surface, the NS7III forges a kinetic—no, make that radioactive— connection between the audience and your music.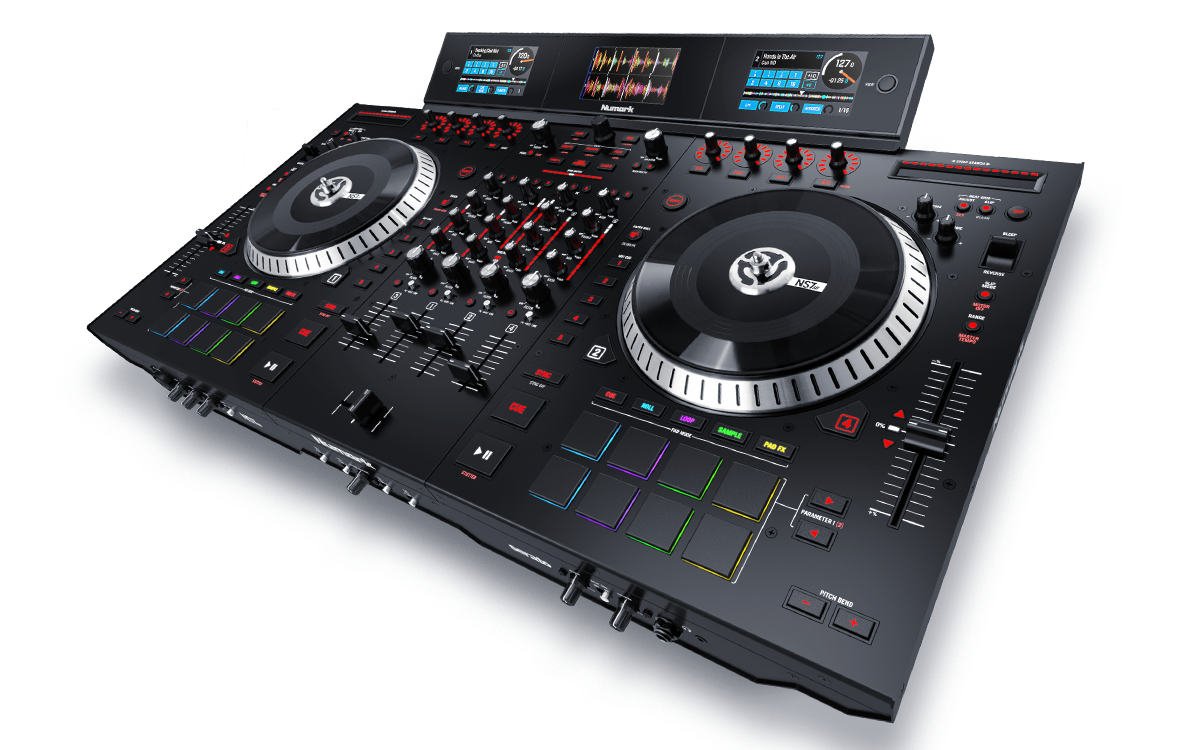 The NS7III is the ONLY motorized controller on the market today that gives the dedicated turntablist a true and authentic mixing and spinning experience. With our exclusive 3 full color LCD screens, we're dedicated to allowing you to focus 100% of you attention on your mix, your controller, your audience, and your craft. While our competitors might still be chasing that dream, Numark has arrived!
This controller offers features and performance that sets it way above conventional DJ controllers, even other companies' so-called "top-of the line" units. This is the Big Daddy of controllers. If you're serious about your performance, this is where you want to be.
Professional Features, Professional Performance
Don't settle for less. You demand no-compromise performance from your equipment and the NS7III delivers—like nothing else out there. Building upon our acclaimed and wildly-popular NS7II, the NS7III continues Numark's "best of both worlds" approach by fusing the power of a Serato DJ-managed digital music library with the highly-desired response of a professional DJ turntable. Then the NS7III really raises the bar with real time visual feedback of Serato DJ via three vibrant, 4.3-inch full-color screens.
Two of the screens provide moving waveforms, playhead, deck, and FX status. The third central screen gives you a dedicated view of your track library. But this is really great—this third central screen can also be switched to display stacked parallel waveforms for complete beat matching control of your active programs. Now, you can manage all your critical performance elements with the source laptop out of sight or closed altogether.

In the "Numark-is-such-a-cool-company" category: The NS7III's 3-screen array is available separately for your NS7II. Yes! You can upgrade your NS7II to NS7III capability!
Create, Innovate, Amaze
There's no limit to what you can do with the NS7III. There are 29 capacitive touch-sensitive knobs for filter, gain, EQ and effects. You can adjust the sound to be exactly the way you need it, for any setting, any situation. There are 16 multi-function backlit MPC® performance pads from Akai Professional so you can add loops, launch samples, and control hot cues to your performance. Use the multi-function touch strip for dynamic FX control and track search operation.
Mix to your heart's content—you can connect up to four (4) audio sources and mix CD players, turntables, MP3 players or any other external source. Channels 1 & 2 have both phono and line-level inputs; channels 3 & 4 are line-only. Best of all, the NS7III's mixer operates standalone, either with or without your computer! The NS7III works with you to make your performance effortless. It never gets in your way or slows you down.
Turns on a Dime!
With your NS7III, you have the best of both worlds. The art of mixing was born on vinyl, and with the NS7III that's where it remains. Our dual 7-inch motorized turntables have an ultra-high resolution MIDI with 3600 ticks per revolution, so you can dial in exactly the effect you want. Exactly. Plus, there are genuine vinyl discs and real felt slipmats for that perfect tactile feel and control.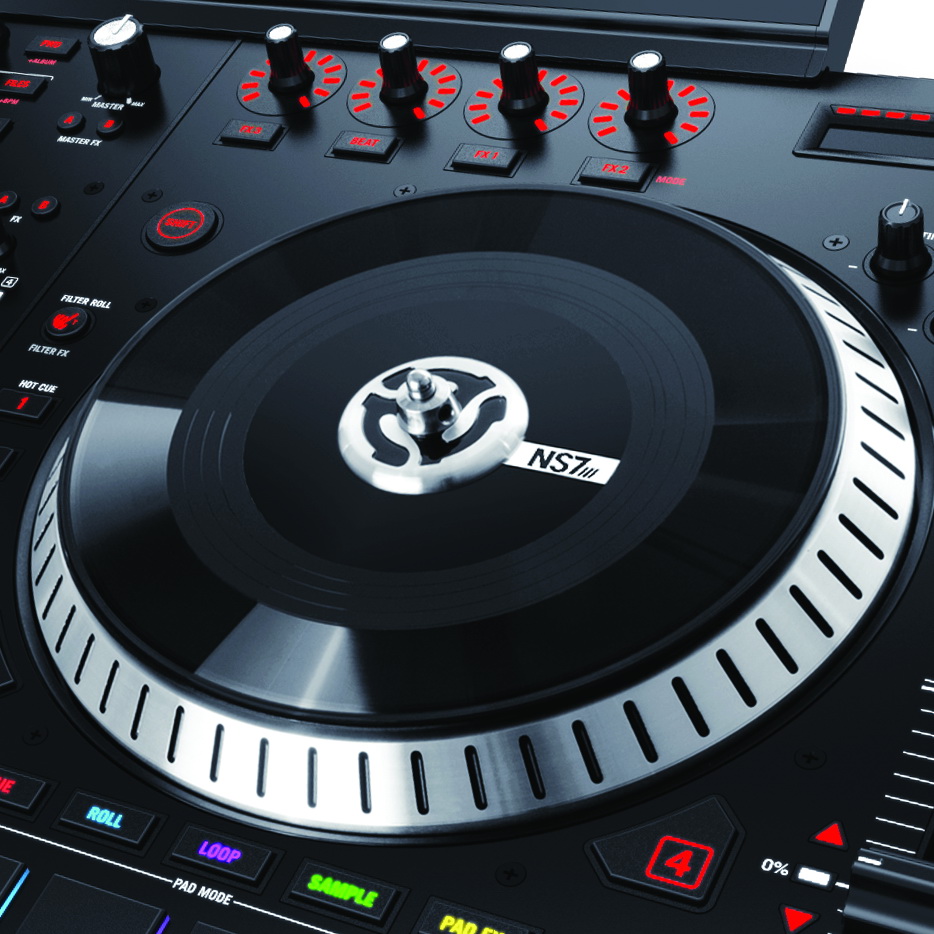 The platters have a high and low torque switch that changes the resistance of the platters. We know that some DJs like their platters a little "looser" to make it easier to scratch and others prefer them a little firmer, to emulate the feel of a turntable more closely. Either way, the choice is yours—as it should be.
When it comes to feel, response, and high-performance mixing, it doesn't get any better. NS7III gives you the unmatched precision and feel of true analog turntables combined with all of the conveniences of your digital music library. You'll feel comfortable with the NS7III right way!
Total Serato Control
The NS7III includes the full version of Serato® DJ software. Get your hands on the most creative tool for Serato DJ available. NS7III gives you the power to unlock never-before-seen features of Serato DJ through new and innovative hardware controls, including Filter Roll, Filter FX, and Touch FX, which all allow you to control Serato DJ simply by touching an element on NS7III's control surface. NS7III empowers you with spontaneous performance capability that feels so natural you'll wonder where you end and the music begin.
M-AUDIO BX5 D2 - Bi-Amplified Studio Monitors

The M-Audio® BX studio monitor series is trusted by more musicians and recording professionals than any other. Now, the BX5 D2 monitors extend the bestsellers' legacy* with an elegant new design inside and out. We leveraged technology from our high-end monitors to extend the frequency response and provide an even more natural listening experience. Custom Class A/B analog amplifiers deliver superior dynamics and tonal accuracy across the frequency spectrum—while the latest-generation woven Kevlar low-frequency drivers and waveguide-loaded silk dome tweeters provide rich, defined sound. With the BX5 D2, you'll enjoy the utmost accuracy in an engaging listening experience.
Accurate and Enjoyable
Whether you're recording, mixing, or mastering, your monitors are your primary reference source. Accurate monitors let you hear exactly what's happening in your mixes—and give you the assurance that your music will translate well to other listening environments. The M-Audio BX5 D2 monitors leverage a decade of monitor engineering expertise to deliver exceptional transparency and sonic definition—allowing you to enjoy marathon mixing sessions with minimal listening fatigue.
Designed for Pros—and Beginners
Countless pros use M-Audio studio monitors to produce and mix the music and audio you hear every day. The BX D2 series makes that same design philosophy and technology available to anyone with a passion for great sound. BX5 D2 helps you understand what's in your mix so you can make better decisions about how it will translate across a wide variety of systems—from MP3 earbuds to car stereos to audiophile rigs.
Silk-Dome, Waveguide-Loaded, High-Frequency Drivers
Our high-frequency domes are made from natural silk to counter the audible ringing that is inherent in the poorly crafted metallic materials often found in other monitors. The high-frequency driver is fully isolated from the rest of the enclosure to ensure minimum distortion, providing ultra-smooth frequency response up to 22 kHz. It also features a built-in waveguide, which offers an expansive sound stage and exceptional imaging.
Kevlar Low-Frequency Drivers
To insure a lifetime of service, we constructed the BX5 D2 monitor's 5" low-frequency driver from woven Kevlar. Kevlar's high mechanical and thermal resilience makes it ideal for use in speaker cones. Our engineers also created a curved conical design that improves room dispersion. High-damping reliable rubber surrounds provide percussive musical bass, and insure that the cone reaches its optimal excursion for accurate reproduction. And our high-temperature voice coils reduce power compression, guaranteeing that your monitors will deliver full performance hour after hour.
Rear-Ported Cabinet Design
The BX5 D2 cabinet is integrally designed with its other components for optimal performance—right down to rounded corners for reduced edge diffraction and superior imaging. The custom rear port is designed to minimize air turbulence and resulting distortion while adding additional low frequency extension.
Bi-Amplified Efficiency
The Class A/B bi-amplified design dedicates separate power amps to the high and low frequencies—providing ample headroom for even the loudest and most dynamic of mixes. Combined with a finely tuned crossover, the design ensures that each driver only delivers the frequencies that it can reproduce most efficiently, resulting in tonal accuracy and cohesive sound across the entire frequency spectrum.
Find the Sweet Spot Quickly and Easily
When monitoring, it's important to sit in the middle position or "sweet spot" between the two speakers—where the stereo image is optimized. BX5 D2 features a pinhole power LED that makes finding the sweet spot easy. You'll know you're in the right listening position when the BX5 D2 power LEDs appear to be brightest.
* The M-Audio BX5a Deluxe monitors are the best-selling monitors in the United States (Source: MI SalesTrak® reports January 2009 – December 2010).
Features
Specifications
Features

NUMARK NS7III

Premium Serato DJ controller with three high-resolution color screens, including the ability to display stackable waveforms
Stacked parallel waveforms on central screen for simple, direct visual beat matching
Screens provide 1:1 real time feedback of Serato DJ, letting you close or move the source laptop and focus on the music
Dedicated track library screen with corresponding navigation controls
4 decks of Serato DJ software control; built-in 4-channel audio mixer
2 variable-torque motorized platters with high-resolution MIDI tracking
Touch-activated knobs produce groundbreaking control of filters, EQ, and more
Authentic vinyl records provide the feel of a professional DJ turntable
16 velocity-sensitive Akai Professional MPC pads with backlit RGB feedback
10 pad modes for hot cues, loops, song slicing, and sample triggering
Dedicated 3-way touch-activated filter knob on each channel
Dedicated touch-activated control of Serato's 12 professional iZotope® FX
Built-in professional 24-bit USB 2.0 audio interface
Zone/booth outputs and balanced XLR outputs for club use
Rugged, road-worthy metal construction
Serato NoiseMap ready for use with extended DVS setups
Plug and play with Serato DJ (included)—no upgrade purchase required

INCLUDES


NS7III Controller
Three Color Screen Array
Serato DJ Software (Download)
Prime Loops Remix Tool Kit (Download)
TOOLROOM Artist Packs (Download)
(2) Turntable Platters
Spindle Wrench
Spindle Screw
Allen Wrench
USB Cable
Power Cable
User Guide
Safety & Warranty Manual

M-AUDIO BX5 D2 - Active Studio Monitor Speakers


Bi-amplified design with 70 watts of distributed power for cohesive, accurate sound
5" low-frequency drivers with Kevlar cones for rich, defined lows
1" high-frequency drivers with natural silk domes and integrated waveguides for smooth, clear highs
Optimized rear ports for extended low-frequency response
Magnetic shielding eliminates interference with other electronic equipment
XLR balanced and 1/4" balanced/unbalanced inputs for connecting mixers, amplifiers, instruments, DJ gear, and more
Volume control
Includes two isolation pads

Specifications

Frequency Response: 56Hz-22kHz
Crossover Frequency: 3 kHz
Low-Frequency Amplifier Power: 40 watts
High-Frequency Amplifier Power: 30 watts
Maximum Signal-To-Noise (Dynamic Range): > 100 dB (typical A-weighted)
Polarity: Positive signal at + input produce outward LF cone displacement
Input Impedance: 20 k ohms balanced, 10 k ohms unbalanced
Input Sensitivity: 85 mV pink noise input produces 90 dBA output SPL at one meter with volume control at maximum
Power: Factory programmed for either 115V ~50/60 Hz or 230V ~50/60 Hz
Protection: RF interference, output current limiting, over temperature, turn-on/off transient, subsonic filter, external mains fuse
Cabinet: Vinyl-laminated MDF
Size: 7.7" x 7" x 10"; 19.5cm x 17.6cm x 25.2cm
Weight: 11 lbs./unit; 5 kg.
You may also be interested in the following product(s)